S. Bryan Medina is a former student of U.S. poet laureate Juan Felipe Herrera and his poetry has graced stages in the San Francisco Bay Area, Los Angeles, Las Vegas, and Kansas City. He founded the Inner Ear as a way to free poetry from the confines of academic institutions, making it accessible to all. Medina has been awarded two City of Fresno Commendations, including the 2014 Fresno Arts Council Horizon Award, for contributions to the rich artistic and cultural heritage in Fresno, California. He has been featured as one of the four "Fresno Poets" from writer Nick Belardes's Distinguished Valley Writers series, and he was an honorable mention for the 2006 Larry Levis Poetry Prize. His work has appeared in journals such as Flies, Cockroaches, and Poets, In the Grove, the San Joaquin Review, Jubilee, and Invisible Memoirs. Medina is a recent graduate of Fresno Pacific University and plans to teach special education.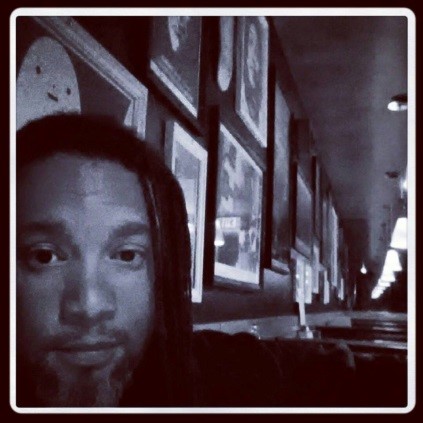 "Poets here (in Fresno) write killer poems in our unapologetic heat, the exhaust of the traffic, or the dream-inducing tule fog." —Fresno poet laureate Lee Herrick, author of Gardening Secrets of the Dead (WordTech Editions, 2012)
Central Valley writers seem to revel in Fresno's bad air and harsh laundry line of obstacles. Its writing history comes from just underneath its rich soil, from the bent backs of field laborers to the city's war on drugs against the black market methamphetamine trade. The place often found at the top of many "Worst Cities in America" lists now can add to its reputation little to no water, thanks to the drought.
Still, Fresnans continue to find bars and converted backyard stages, open mics and coffee houses, filled with hungry ears eagerly listening for their favorite local poet to say one more thing just before the familiar, "Are y'all ready for the next poet?!" I'm proud to be a part of this scene, now thirteen years strong, keeping spoken word/poetry in the forefront of people's minds here in the valley by forging and solidifying relationships, such as the one I have with Poets & Writers.
The Inner Ear's mission is to collaborate with local and national artists utilizing spoken word, art, performance, and music to promote further interest in the arts in Fresno and the Central Valley. The Inner Ear/Beat Down Slam events serve the community by providing a forum for constructive and creative expression in a positive and supportive environment, offering an alternative to violence among Fresno County teens and young adults. The Inner Ear mixes formal poetry aesthetics with rap flair and vitality by taking poetry away from the ivory tower of the universities and moving it to a place where everyone has access. Over the past decade, we have had many participants say that our stage was their first.
This October finds the Inner Ear beginning a yearlong collaboration with the Fresno Grand Opera. Breaking new ground with its first Opera Remix: Music & Verse event, an exciting mix of local spoken word artists and opera musicians will perform together live on the stage of the historic Tower Theater in Fresno's Tower District. In the months between this and next year's event, we are excited to get the chance to work with composer Jakes Heggie and Librettist John de los Santos, and share new music by composer Ricky Ian Gordon (Grapes of Wrath) from the Metropolitan Opera in New York!  
On November 12, the Inner Ear celebrates its thirteenth anniversary with a tribute to fellow Fresno poet and former U.S. poet laureate Philip Levine, which will feature poets Corrinne Hales and Lee Herrick with other local writing notables, and music by Benjamin Boone. If you have never experienced in person one of our blowout anniversary events, you're missing what the Fresno scene is all about: fun, exciting, deep, edgy, and funny performances with live music and special guests all happening at the Fresno Art Museum.

To some, poetry is a mystical, invisible power—energizing raw, untamed thoughts put to paper or read aloud in public places. But here in the valley, that slow rhythmic sound you hear is the tactile heart of Fresno's present, future, and past: the shadow of Philip Levine saying "What Work Is," the familiar mustache and glasses of Juan Felipe Herrera, the mournful prose of an Andres Montoya poem. Poets here have to write killer poems and produce worthwhile poetry events that are as tangible as the fruit grown here, in the middle of nowhere, where we're right at home, struggling.
 Photo: S. Bryan Medina     Credit: S. Bryan Medina
Major support for Readings & Workshops in California is provided by the James Irvine Foundation and the Hearst Foundations. Additional support comes from the Friends of Poets & Writers.