Margarita Cuevas-Cruz is the lead project director of Open Moments NYC, an organization based on the creed "by poets, for the community," which aims to inspire change in the world while enhancing human potential. She holds a BA in Sociology/Anthropology with a minor in History from Utica College. She uses poetry as a tool to promote activism in worldly issues, the youth, and issues of violence and inequality. Cuevas-Cruz has appeared at numerous high schools as a keynote speaker with the YWCA in the Mohawk Valley, was published in their April 2012 newsletter, and wrote an editorial piece about surviving child abuse in the Utica Observer Dispatch. She has been published in the Sunday Writing Circle's No Apologies anthology and has performed for Latinosnyc at the Nuyorican Poets Cafe, Word at 4F, Sneakers and Ale's the DoJo, the Poet's Settlement, and the National Black Theatre with the Full Circle Ensemble.
Open Moments NYC is a grassroots organization that provides a way of expression for all ages through writing, leadership, open mics, and interactive workshops. Open Moments (OM) had its humble beginnings in the 1980s, created by Simon Cruz and Francisca Cuevas. The poetry readings took place at City College, where Simon Cruz attended, and at Barnard College, Francisca Cuevas's alma mater. This is important to the inception of Open Moments NYC, because as Francisca's younger sister, I was given the name of the organization as a token of trust and appreciation for my own work as a poet.
In 2008, I had the luxury of meeting other student poets, Keron Alleyne, Samuel Maldonado, Jamila Cain, and Tiffany Williams, who were starting a poetry group. They agreed that Open Moments was a perfect fit to what they believed the poetry group should be on the campus of Utica College in Utica, New York.  
Now in New York City, Open Moments is growing and taking a "nomadic" approach as we go where they need us. Along with Rashawna Wilson, Keron-Alleyne, Samuel Maldonad, Jasmine Cordew, and many others, we work tirelessly to create a safe space for the arts and social justice. We offer teen workshops, workshops with featured facilitators, and thought-provoking events like "Guess Who's Coming to Brunch?," "Anti-Colonizer Day: Reclaiming Our History," and "Cadence of Hair." We serve as mentors, workshop facilitators, and performers with the hope of enhancing human potential.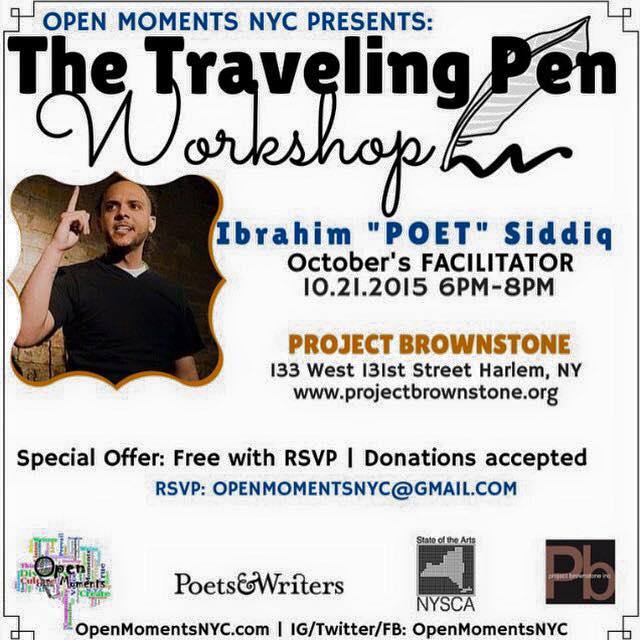 Open Moments NYC, has recently begun receiving grants from Poets & Writers, which has been a huge help for our organization. It helps us to get the best poets and workshop facilitators at events like "Anti-Colonizer Day: Reclaiming Our History," which is being presented in collaboration with ELKAT Productions, and our monthly writing workshop called the Traveling Pen Series. This series was established for writers who want the time to write at a workshop, but do not have the time to commit to attending every week. Every month, we choose a facilitator and provide donation-based workshops to the community at Project Brownstone, Inc. in Harlem. As the organization continues to thrive, we want to utilize this resource provided by Poets & Writers to live up to our mission of giving back to the community as poets.
"By poets, for the community" is our slogan, because regardless of the topic, we infuse the art of spoken word and writing in order to allow our participants at workshops, and our audiences at open mics, to leave with something to think about.
You can read more about us on our website or e-mail us at openmomentsnyc@gmail.com.
Photo: (top) Margarita Cuevas-Cruz. Photo Credit: Leticia Torres
Workshop Poster (bottom). Design Credit: Rashawna Wilson
Support for Readings & Workshops in New York City is provided, in part, by public funds from the New York State Council on the Arts, and the New York City Department of Cultural Affairs, with additional support from the Louis & Anne Abrons Foundation, the Axe-Houghton Foundation, the A.K. Starr Charitable Trust, and the Friends of Poets & Writers.