Tanya Ko Hong explores both cultural and personal experiences with her writing, and seeks to bridge the gap between first-generation Korean immigrants and their Korean American children through her bilingual works. She has been published in Rattle, Beloit Poetry Journal, Two Hawks Quarterly, Portside, Cultural Weekly, Korea Times, and Korea Central Daily News. She has an MFA in creative writing from Antioch University in Los Angeles, and is the author of four books, including Mother to Myself (Prunsasang Press, 2015). 
On a chilly January evening, the Korean language reverberated through the Poet's Garden at Beyond Baroque in Venice, California for the "Bittersweet: The Immigrant Stories" event. In all the mainstream poetry readings I've attended, the voices of these first-generation immigrants have been absent. Many immigrants want to express themselves but cannot due to language, social, and cultural barriers. In the Korean writer circles, the few who give voice to the immigrant experience aren't even confident that their stories are worthy of translation or performance in English. Without translation, these original stories are in danger of dying out with the immigrant generation. I want to prevent that. As Toni Morrison said, "If there is a book that you want to read, but it hasn't been written yet, you must be the one to write it."
Since there didn't seem to be an event celebrating the works of immigrants, I knew I had to do it. Why should my fellow immigrant artists feel invisible, voiceless, and unworthy? This evening was the realization of my dream to celebrate their works with a multicultural audience. Light evening breezes tossed the overhead string of lights as eleven artists shared immigrant experiences of Korean, Mexican, Filipino, and other cultures. Korean poets read selections as originally written, and then American poets read the translations.
Heard in English for the first time, "Sugarcane Arirang" by So Hyun Chang, recounted the first Korean Americans' long days in the sugar fields of Hawaii. In Korean, the refrain of "Arirang" conveyed the rhythm of life in the fields and longing for home. The translation spoke of the raw and emotional experience. It was not a coincidence that the event date coincided with the one hundred and fourteenth anniversary of the first documented Korean immigrant's arrival in Hawaii. The bittersweet aspect of the evening was the truth of the immigrant experiences and generational differences, which had been kept in silence for so long.
At the end of the evening, I read "American Dream" in both Korean and English, which ends with the question, "Who am I to you, America?"
The chill of the night was replaced by the warmth of friendship as we physically huddled together to conserve heat. The audience included writers who seldom venture outside of the Korean community, let alone to a Los Angeles venue like Beyond Baroque. The shared laughter and tears began to dismantle the barriers, borders, and fences of race, language, culture, gender, and age that often keep us divided.
On April 29, 2017, I will cohost an event at Beyond Baroque to commemorate the twenty-fifth anniversary of the Los Angeles riots, an upheaval shared by Angelinos across cultural lines but seldom discussed today. As with "Bittersweet," my goal is to bring voices to the shared pain and anguish of our neighboring communities. Let us express and listen to each other. We have suffered in silence too long.
As a poet, I learned to break the silence and have the courage to speak out. My work carries me forward.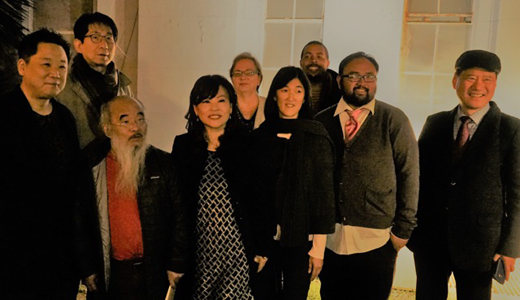 I thank all the participants; my cohost Julayne Lee; and the artists So Hyun Chang, Alexis Rhone Fancher, Christine Gonzalez, liz gonzales, June C. Kim, Soo Bok Kim, Duk Kyu Park, Kuya Paul, and Hiram Sims for making "Bittersweet" such a special night.
Special thanks to Beyond Baroque and their director, Richard Modiano.
Major support for Readings & Workshops in California is provided by the James Irvine Foundation and the Hearst Foundations. Additional support comes from the Friends of Poets & Writers.
Photo one: Tanya Ko Hong (Credit: Alexis Rhone Fancher). Photo two: The Immigrant Stories readers: (front, left to right) June C. Kim, So Hyun Chang, Tanya Ko Hong, Julayne Lee, Kuya Paul, and Soo Bok Kim. (back, left to right) Duk Kyu Park, Christine Gonzalez, and Hiram Sims (Credit: Patrick Hong).