Jamie Asaye FitzGerald, Director of Poets & Writers' California Office and Readings & Workshops (West) program, blogs about the California program's twenty-fifth anniversary celebration, which took place on March 6, 2015, in Los Angeles.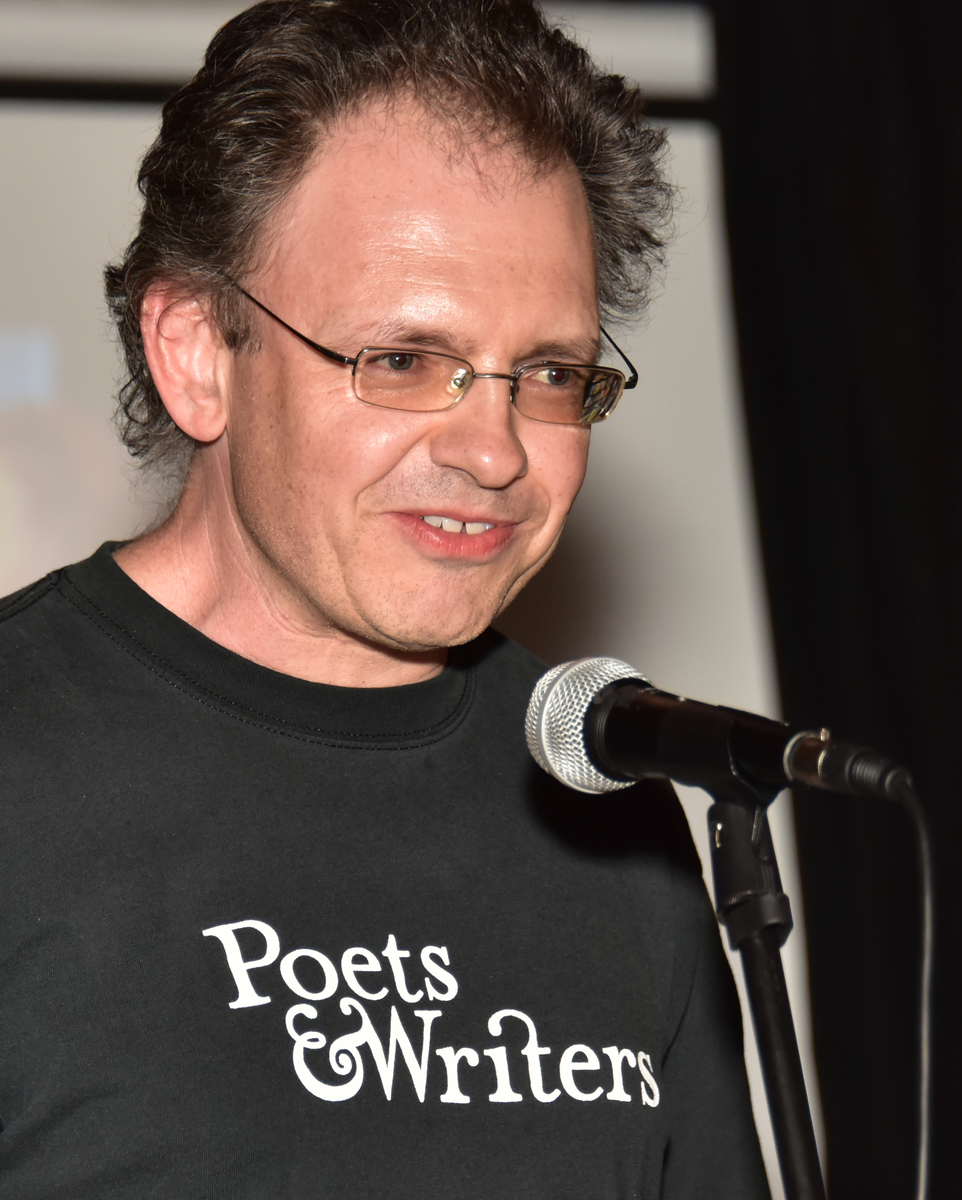 The excitement in the room was palpable. The open mic sign-up sheets were filling up with names (fifty-two, to be precise!). Free copies of Poets & Writers Magazine were flying off the table. The audience of nearly one hundred sat in chairs, congregated in the aisles between bookshelves, and leaned on the balcony railings of downtown Los Angeles's the Last Bookstore for a special celebration.
For twenty-five years, Poets & Writers has served California through the Readings & Workshops program, providing grants to thousands of writers and reaching an audience of tens of thousands annually. We offer regular roundtable meetings for the literary community, sponsor an annual cross-cultural reading, and much more.
The evening's featured readers were introduced by emcee Mike "the Poet" Sonksen, himself a P&W-supported writer, and included Gloria Alvarez, Olga Garcia Echeverria, Kate Gale, Dorothy Randall Gray, Peter J. Harris, Richard Modiano, Ruth Nolan, Cati Porter, and Terry Wolverton, as well as past Readings & Workshops program directors Ryan Tranquilla and Cheryl Klein. Together, these writers represented organizations that included Avenue 50 Studio, Red Hen Press, Urban Possibilities, the World Stage, Grand Performances, Beyond Baroque, Inlandia Institute, and Writers at Work. Between open-mic readers, program assistant Brandi M. Spaethe raffled off fantastic P&W door prizes!
Writer Ruth Nolan, who drove to Los Angeles from the blooming desert of California's Inland Empire to participate in the event, thanked P&W for building writing communities in unlikely places with unlikely people.
Poet and teacher Dorothy Randall Gray, who has received P&W support for her Urban Possibilities workshops serving Los Angeles's Skid Row, summed it up: "I sometimes think of writers as swimming in a sea of creativity—and, you know, in this sea we have tidal waves and monsoons and tsunamis. We also have blue skies and smooth waters and smooth sailing. I think of Poets & Writers as people, as vessels, who help us get to the shore of success by giving us their support—but even more than support, by saying, We believe in you and we believe in what you're doing, and we're going to put our money where our mouths are. They have always been there to support, to guide, to say, Hey, we're gonna back whatever you do. So I just want to give a huge thank you. Thank you, thank you, for all the support that you've given to me and all the writers that are sitting in this audience, and those writers to come."
Poets & Writers is proud to serve and partner with the writers and literary presenters of California, and we hope to do so for years to come.
Photo 1: Former program director Ryan Tranquilla. Photo 2: (Left to right): Featured poet Cati Porter, featured poet Richard Modiano, P&W intern Tammy Tarng, P&W program assistant Brandi M. Spaethe, P&W program director Jamie Asaye FitzGerald, former P&W intern Leticia Valente, featured poet Ruth Nolan, emcee Mike "the Poet" Sonksen. Credit: Katy Winn.
Major support for Readings & Workshops in California is provided by the James Irvine Foundation. Additional support comes from the Friends of Poets & Writers.