On June 20, 2016, the Readings & Workshops (East) program alongside the Queens Center for Gay Seniors organized a celebratory evening of poetry for LGBTQ seniors in Jackson Heights, New York. Poets & Writers brought together LGBTQ teaching artists Amber Atiya, Regie Cabico, Shira Erlichman, and Emanuel Xavier to perform their work. The reading culminated four months of writing workshops with diverse programming ranging from playwriting to watercolor poetry comics. The reading at the Queens Center for Gay Seniors was a heartwarming and unique experience, bringing together LGBTQ New Yorkers across many generations. We asked the evening's performers their thoughts on the experience. Below are their responses.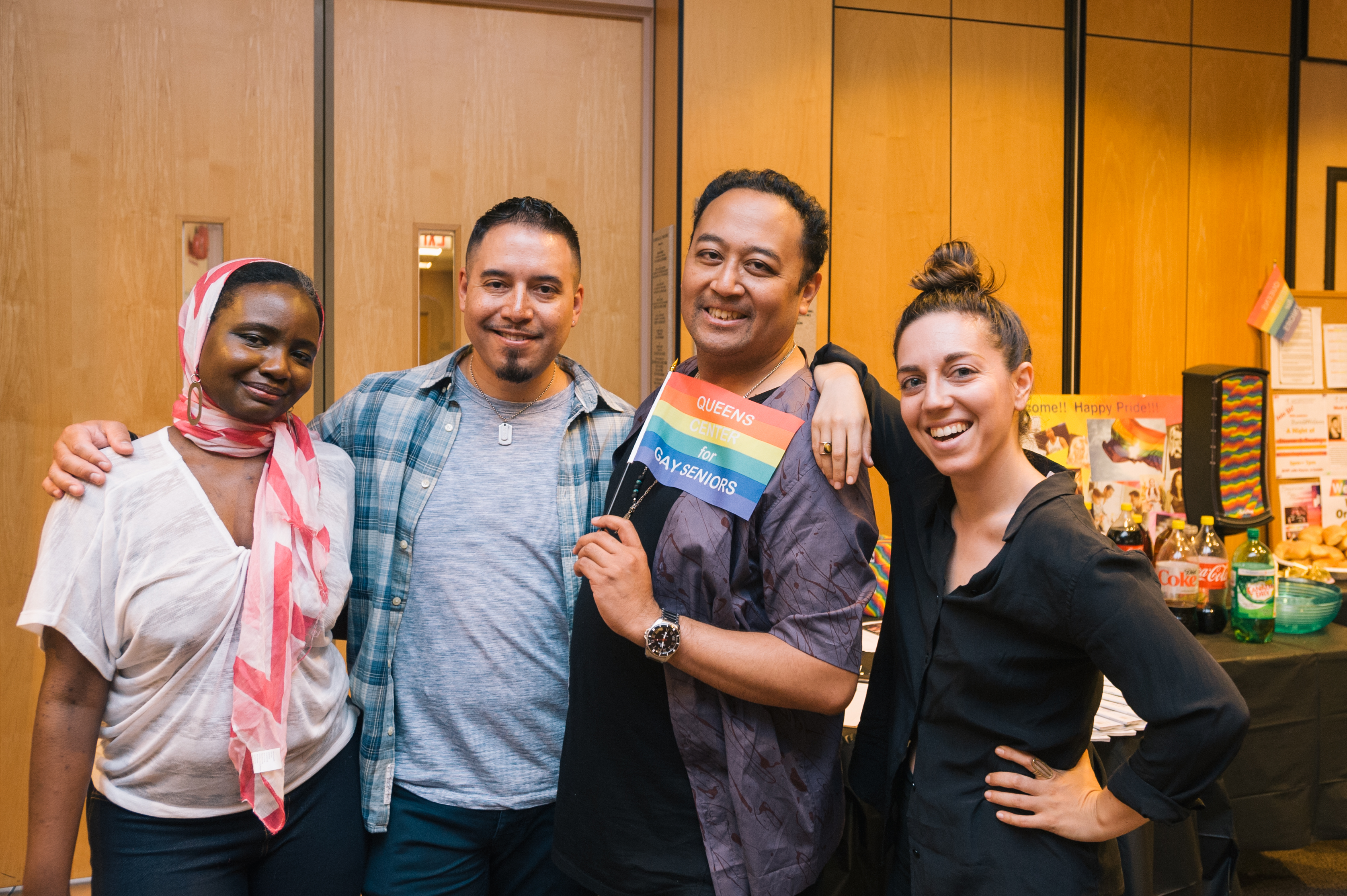 "From the start the seniors were incredibly warm, present, and receptive. I heard deep 'ooofs' and 'oooos' after some of us poets' riskier lines. They were there with us—100 percent—start to finish. We were able to turn sharp corners as readers and trust that they'd be open and follow our lead. Simply put, I loved it. I was touched that I could read about illness, specifically mental illness, the stigma that comes along with it, the 'coming out' process of saying, 'I have mental illness,' the specifics of medication and the resilience it takes to grapple with it all and have a bright-hearted crowd listening intently, finding ways to enter my narrative, to connect, even if they didn't directly relate to everything. As a reader, what more can you hope for? And yet, it's not just the way they listened during the performance. After the show they made a point to reach out, introduce themselves, and say a few words; our private conversations were tender, their gratitude so felt, their own stories filling the air. I got hugs and posed for goofy pictures. I was made to feel not just welcomed, but included, at home."
—Shira Erlichman, writer and musician, whose album Subtle Creature is forthcoming in August 2016.
"LGBTQ seniors + Jackson Heights + poetry = why I still love New York City. I was thrilled to connect with elders who have seen and lived through so much (and endure), who were attentive and lovely, and welcomed four poets into their space. (What a treat to perform in a zip code that doesn't begin with 1-0-0 or 1-1-2!) Many thanks to Poets & Writers for inviting me to perform and for recognizing the importance of intergenerational programming. Thank you to Shira, Regie, and Emanuel for their words and hearts and jokes. To the queerest borough and the Queens Center for Gay Seniors: love and love to you, always."
—Amber Atiya, poet and book artist, and author of the fierce bums of doo-wop (Argos Books, 2014).
"My workshop was an intimate celebration of seniors' lives in Jackson Heights. It was my first time working with an elderly population and their candidness blew me away. Hearing stories of coming out during the pre-Stonewall era, romantic foibles, and their political passion to be themselves was heartbreaking and humorous. The audiences at the senior center's banquet were riveted and inspired by hearing four younger diverse queer voices. So many of the seniors were not exposed to the theatrically charged works of the readers. So many audience members came up to me and thanked me. These seniors have seen and related to so much of the readers' work on mental health, family, religion, and race. An audience member from the workshop shared his struggle with cancer to the group in a way that he had never shared before. These brave hearts embrace poetry, they listen with a rainbow pride. They inspire me to be fearless."
—Regie Cabico, spoken word pioneer and slam champion, and coeditor of Flicker & Spark: A Contemporary Anthology of Queer Poetry and Spoken Word (Lowbrow Press LLC, 2013).
"I've read in front of many different audiences throughout the years, everywhere from universities to prisons, and I always walk away astounded that my work doesn't only appeal to my age group or younger but mostly to those that are much older. As a gay Latino poet, it amazes me when a little old white lady comes up excitedly to meet me in, like, Ohio. Sometimes we forget how our work can be widely universal and speak through the generations. That's why being invited by Poets & Writers to read for our LGBTQ seniors was such an honor because it was an opportunity to share our words with such a vibrant part of our community. It is just as important for us to listen to their stories and acknowledge those that came before us because our LGBTQ history should never be forgotten. Our struggle for equality continues but our journey was nothing compared to theirs."
—Emanuel Xavier, poet and activist, author of the poetry collections Radiance (Rebel Satori Press, 2016) and Americano: Growing up Gay and Latino in the USA (Queer Mojo, 2012), and the novel, Christ Like (Queer Mojo, 2009).
For more photos of the event, click here.
Photos: (top) Poets Amber Atiya, Emanuel Xavier, Regie Cabico, Shira Erlichman. (bottom) Queens Center for Gay Seniors group photo. Photo credit: Christian Rodriguez.
Support for Readings & Workshops in New York City is provided, in part, by public funds from the New York State Council on the Arts, and the New York City Department of Cultural Affairs, with additional support from the Louis & Anne Abrons Foundation, the Axe-Houghton Foundation, the A.K. Starr Charitable Trust, and the Friends of Poets & Writers. This program is supported by public funds from the New York City Council, in partnership with the New York City Department of Cultural Affairs and Department for the Aging.