Estelle Ford-Williamson, is coauthor of Seed of South Sudan: Memoir of a "Lost Boy" Refugee, and editor of the Lou Walker Center Writers Anthology, Vols. 1 and 2. She has received Poets & Writers grants to teach creative writing to young adults who have timed out of the foster care system in Atlanta, Georgia.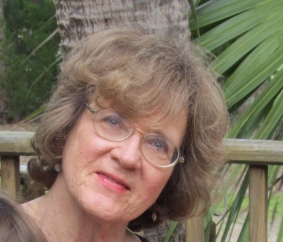 On the other end of the phone, a willing librarian listened: Would a library in north-central New York State be interested in a former Lost Boy of Sudan and his coauthor reading and discussing their recent book about his experience fleeing death in a religious/ethnic war, and his subsequent life adapting to Atlanta and now living on two continents?
Fortunately, the answer from Oswego Public Library's Edward Elsner was yes. My coauthor Majok Marier and I began to put together an extensive road trip that included readings in four cities far from our Atlanta roots: Lakewood (Cleveland), Ohio; Oswego and Syracuse in New York; and Washington, D.C. One grant to appear at the Oswego Public Library was the catalyst that encouraged us to set up other readings–the grant was through Poets & Writers. During our tour, we met former Lost Boy John Bul Dau, author of God Grew Tired of Us and a South Sudan aid leader, and many others involved in refugee issues.
Our book, Seed of South Sudan: Memoir of a "Lost Boy" Refugee was published in May by McFarland and Company. It updates the story of the young men and women, thousands who arrived in America in 2001. Their resettlement was a part of an unprecedented airlift to provide futures for the young children facing limited lives in refugee camps due to a decades-long war. Now young men and women, they are spread throughout the United States (Australia and Canada, too) as they pursue an education and jobs that enable them to support family back home, as well as help build the new nation of South Sudan.
The welcome was warm at the Oswego Library, the "Castle on the Hill." The historic building is a shrine to abolitionism and to the Free Library movement as the library was built by noted abolitionist Gerrit Smith. Our book tour coincided with heated protests in another part of the country to block entry of underage migrant children from Central America. It was probably one of the most emotional times in the recent national debate on refugees in the United States.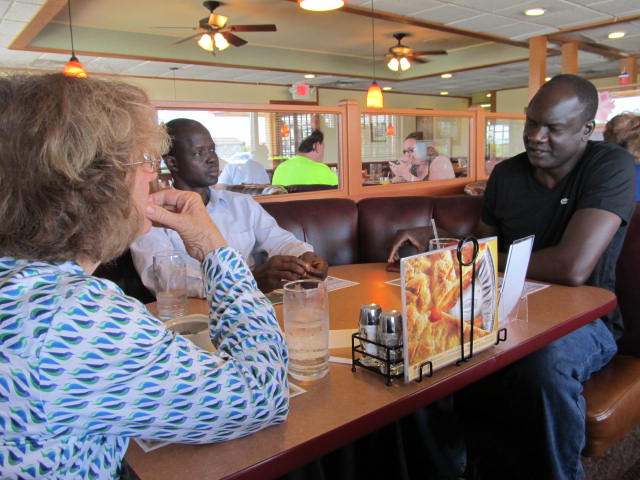 The reading yielded only appreciation, encouragement, and a desire to learn more about Majok and our journey together as coauthors of his story–his semi-nomadic life as young Dinka tribesman in the Rumbek area before fleeing his village in the war. Even more interest centered on his goal of drilling the first water wells in such villages.
Our trip affirmed the value of such face-to-face exchanges, and I highly recommend that writers contact this library and other venues in states and cities served by the Readings & Workshop program. All it took was a minimal amount of research, a willingness to cold-call possible sponsors, and an interest by a library to enrich their patrons' literary experiences.
Photo: (top) Estelle Ford-Williamson.
Photo: (bottom) Estelle Ford-Williamson, Majok Marier, and John Bul Dau. Photo Credits: Richard Williamson.
Support for Readings & Workshops in New York is provided, in part, by public funds from New York State Council on the Arts, with additional support from the Friends of Poets & Writers.