The Center for Book Arts, located in New York City, is committed to exploring and cultivating contemporary aesthetic interpretations of the book as an art object, while invigorating traditional artistic practices of the art of the book through classes, exhibitions, public programs, artist opportunities, and collecting. Founded in 1974, it was the first not-for-profit organization of its kind in the nation, and it has since become a model for others around the world.
The Center for Book Arts, now in its fortieth year, is pleased that once again Poets & Writers joins forces with us to present our upcoming Poetry Chapbook Reading. This annual program is an invaluable opportunity for emerging poets to receive feedback from established writers and to have their work formally presented to the public.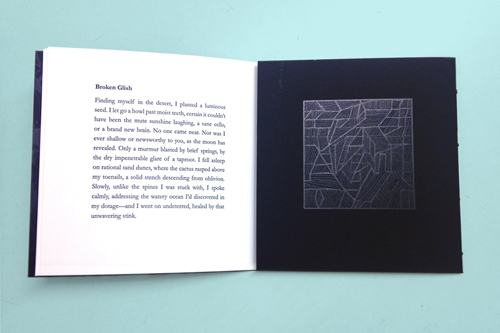 Each year, the Center invites a notable poet to serve as guest curator along with program curator Sharon Dolin. For 2014, the American poet David St. John graciously agreed to fill this role and has selected, out of a wide variety of submissions, Sara Wallace as featured poet, and M. Callen and Carol Ann Davis as honorable mentions.
The Poetry Chapbook Reading will take place October 17, 6:30pm, at the Center for Book Arts and will feature readings by St. John, Wallace, Callen, and Davis. The Center is currently producing a limited edition, letterpress-printed and hand-bound chapbook for guest curator St. John—designed and printed by artist Amber McMillan—as well as for the featured honoree Wallace—created by artist Ed Rayer. The Center is also printing a broadside of poems from each of the honorable mentions. The chapbooks and broadsides will be shown for the first time at the reading, and a reception will follow.
David St. John has described featured honoree Sara Wallace's work Edge as: "A brilliantly conceived collection that is both searing and tender by turns. Visceral, fierce, and unapologetic, these poems confront the reader like a series of shattered mirrors. Operatic in scope yet incisive as a laser, this work will seize you—so be warned—and refuse to let go."
St. John also commended M. Callen for Preferred Apocalypse, calling it: "A stunning sequence of raw-edged yet impeccably crafted poems. This is the chapbook I will happily carry with me when that apocalypse finally arrives." He praised Carol Ann Davis' work as well, noting: "Davis is a remarkable poet of elegant, sweeping lines that enfold us in their meditative beauty. Busy Their Hands is another of her gorgeous and consoling collections."
Poet David St. John has been honored with fellowships from the National Endowment for the Arts and the John Simon Guggenheim Memorial Foundation, among many others. He currently teaches at the University of Southern California in Los Angeles, where he founded and directed its first Ph.D. program in Literature and Creative Writing. St. John is the author of ten collections of poetry as well as a volume of essays, interviews, and reviews. He is also the coeditor of American Hybrid: A Norton Anthology of the New Poem.
Program curator Sharon Dolin, a Fulbright Scholar to Italy, received the 2013 Witter Bynner Fellowship from the Library of Congress and holds a Ph.D. in English from Cornell University.
The Center for Book Arts invites submissions to its 2015 Poetry Chapbook Program, which will feature guest curator Cornelius Eady. Submissions must be received by December 1, 2014. For more information, visit their website.
Photo: (top) Broken Glish: Five Prose Poems, by Harryette Mullen, guest curator of the Center's 2013 Poetry Chapbook Program. Letterpress printed and bound at the Center by Delphi Basilicato. Photo: (bottom) Sharon Dolin. Photo Credit: Center for Book Arts.
Support for Readings & Workshops in New York City is provided, in part, by public funds from the New York State Council on the Arts, and the New York City Department of Cultural Affairs, with additional support from the Louis & Anne Abrons Foundation, the Axe-Houghton Foundation, the A.K. Starr Charitable Trust, and the Friends of Poets & Writers.