Writer, vocalist, and sound artist LaTasha N. Nevada Diggs is the author of TwERK (Belladonna, 2013), as well as the album Television. She has received scholarships, residencies, and fellowships from Cave Canem, Harvestworks Digital Media Arts Center, VCCA, the Laundromat Project, the Jerome Foundation, New York Foundation for the Arts, the Eben Demarest Trust, and Millay Colony. As an independent curator and artistic director, she has directed literary/music events at Lincoln Center Out of Doors, Symphony Space, Bam Café, the Schomburg Research Center for Black Culture, Dixon Place, El Museo del Barrio, The David Rubenstein Atrium. A native of Harlem, New York, LaTasha, along with writer Greg Tate, is the founder and editor of yoYO/SO4 Magazine, which has been funded by the Poets & Writers Readings & Workshops Program.
This is not an essay on self-publishing, but rather on what has been and what could be the motivation behind the act of publication—why we desire our words or the words of others to be read, shared, celebrated. When I returned from graduate school, Quincy Troupe was one of those few cats with whom I had permission to ask questions (often idiotic questions) and let him "call it like he sees it." Quincy's stories brought me to the archives at the Schomburg for Research in Black Culture so that I could read Al Young and Ishmael Reed's work for a Cave Canem Legacy conversation I was invited to "moderate" between the two of them. There I discovered just how much their roles as editors and publishers were connected to David Walker, Frederick Douglas, Martin Delany, Margaret Walker, Sun Ra, Black Herman, Black Panther Party, Jayne Cortez, Eugene B. Redmond, Nation of Islam, E. Ethelbert Miller, Jessica Care Moore, Sylvester Clark Long, and the litany of street literature sold by vendors on 125th in Harlem. There is a history. Yet in 2009, for Greg Tate and myself, it appeared a handful of folks had forgotten.
Our little journey in creating a literary/arts journal began with a listserv post. The complaint had to do with the lack of publications supporting writers of African ancestry. What followed was a trail of debates, heated insults, and what I found to be no resolution. To Greg and myself, the answer seemed so simple. My previous research on Young and Reed's work, their long history of editorial work and creating publications to support work outside of their own, was also part of that answer. To complain about erasure and/or exclusion of black and brown voices in major publications bored us. And in our rant over the rant, we decided to create a magazine. Our argument: If you have a problem with the absence of voices not heard, create your own shit. And thus, our first collective venture into creating a literary/arts journal was Coon Bidness.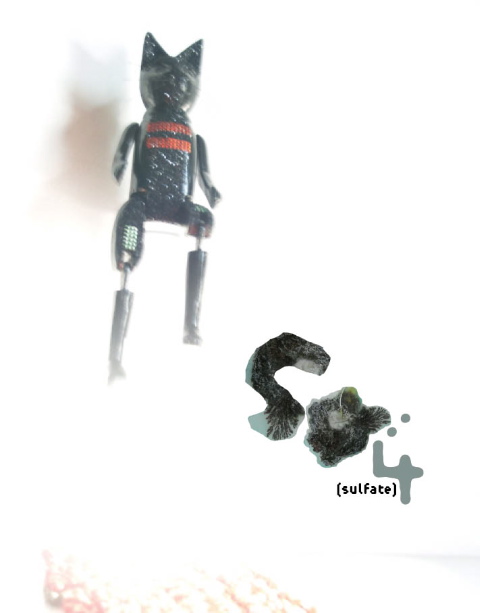 I will admit, we were challenging folks with the name. Taken from a Julius Hemphill album, we were paying tribute to the album and challenging those who felt themselves powerless in the realms of literary publications. Suffice to say, the political landscape of this literary universe can feel cryptic at times. During our call for submissions, it felt that only mainstream publications were more desirable than our meager DIY. Polite smiles don't always tell you if someone respects you, your work, or your madness. Even so, they don't tell you if you're a member of their clan. Nonetheless, we insisted on making a point. We found a coalition with those bold enough to understand the initiative to create other avenues where artists and writers we believed in could be featured. The publication took a year to be produced. Greg brought on board LaRonda Davis to design the magazine and Sun Singleton to copy edit. As a bonus feature, Coon Bidness was two journals back to back. SO4 (a nod to a short lived rap/poetry trio in the late '90s and to Fader magazine) would consist largely of poetry and visual art. The tone between the two was also different. In order to print and distribute it, we decided on MagCloud, an online "self-service content publishing platform" that printed on demand.
On January 11, 2010, thanks to former associate curator Rashida Bumbray, we held our pre-inaugural launch party at The Kitchen Performance Space. The concept: a variety show featuring readings by contributors mashed up with performers and visual artists. Our little showcase would provide a preview for what we felt the journal could itself become: a baritone saxophone player and UK Punk veteran; Stevie Wonder covers in Maori; a text on Oscar Grant recited in French and created into a video performance; avant-garde Puerto Rican poetry; an opera singer performing a Debarge tune while accompanying a poet acting as comedian; a choreographer interpreting a painting and the visual artist functioning as music producer; traditional Tahitian dancers. And Quincy Troupe. No one saw this spectacle coming.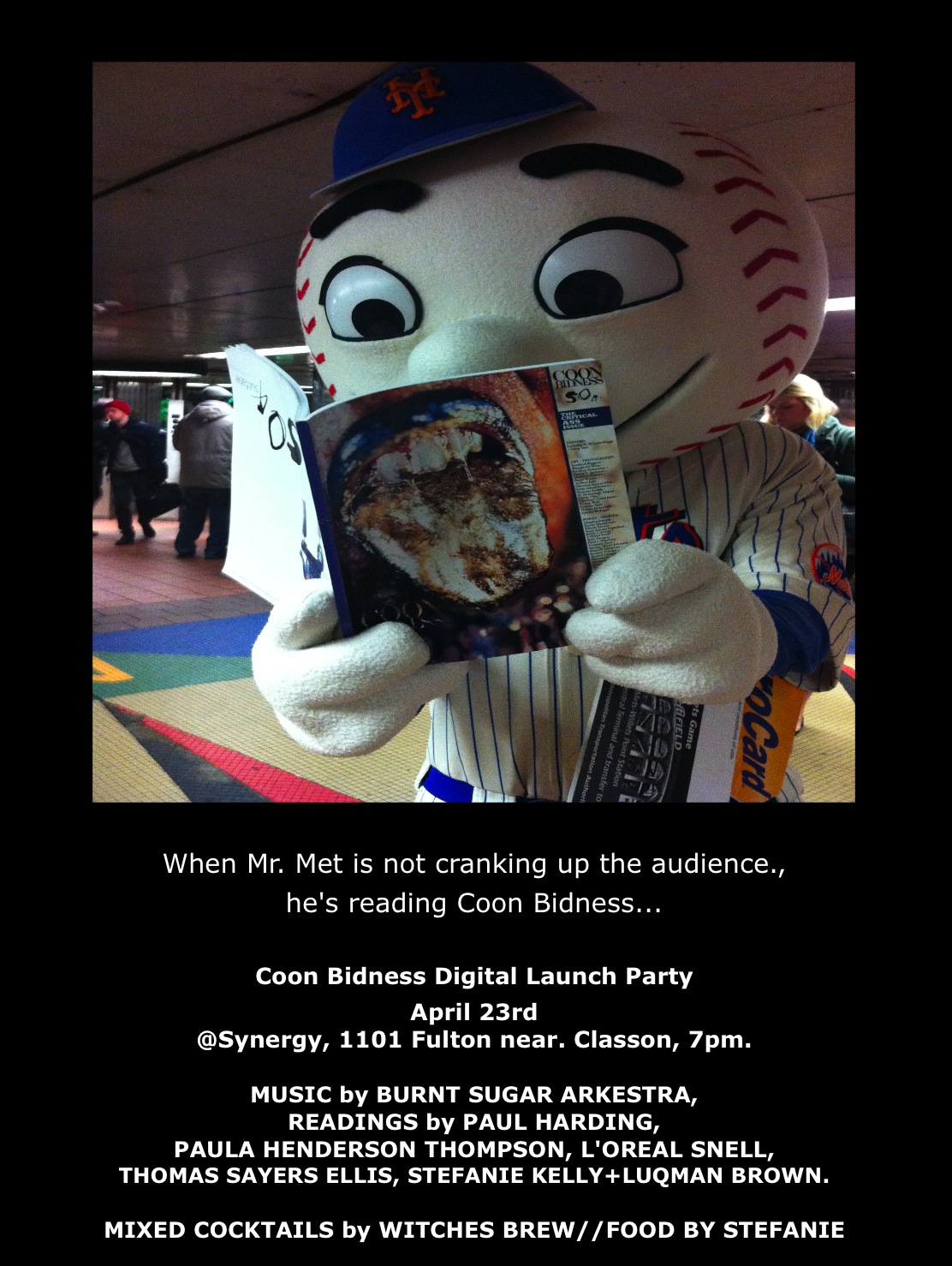 Quincy—because it was a launch party—did not expect compensation for everyone who participated. When I handed him two checks (one from our Kitchen budget and the other from Poets & Writers), he looked up at me and said, "Oh shit! I'm getting paid?" For some reason, he forgot, or I forgot to send the memo. It wasn't a lot of money either. But the satisfaction in his tone told me how much he appreciated the gesture. A hard truth within the poetry community has to do with the absence of honorariums. Often poets are not paid for public readings. Often poets are expected to do so because that is what the landscape has established for so many years. And as much as our little journal was about the act of creating more publishing opportunities, one of our personal mantras has been Abbey Lincoln's "You Gotta Pay the Band." The 'band' is what we fashioned it to be. It included as many poets as there were dancers; as many musicians as there were video artists. And all of them deserved compensation. The time we dedicate to our craft deserves at least one bill to be paid (or any number of monthly, weekly Metro Cards) after we've shared ourselves with an audience.
Coon Bidness existed as one issue and later transformed into yoYO. SO4 remains as the counterpart to whatever we decide the issue to be named. The beauty of this is freedom and improvisation. Time and deep listening will determine what aspects of ourselves will be represented and featured. CB, yoYO, and SO4 were for us examples of what is possible and what has always been possible, and perhaps the seed that brought forth a Fence, an African Voices, a New Yorker, a Callaloo. Someone decided to create a platform for what they felt was necessary, for what they felt was absent from the conversation of letters. Be it a cultural or aesthetic argument, the point (or goal) is not so much about longevity but that of being part of the conversation, showing through example what is possible and what builds that architecture. DIY is just that.
Two DIY journals to keep your eyes on:
Bone Bouquet, founded by Krystal Languell, a biannual online/print journal that publishes the new writing by female poets and artists both established and emerging.
As/Us, founded by Tanaya Winder, a literary and scholarly journal with an interest in publishing works by "underrepresented writers particularly Indigenous women and women of color."
Top Photo: Coon Bidness Invite Credit: Nevada Lightfoot. Second Photo: SO4 Cover. Middle Photo: Coon Bidness Invite with Mr. Met. Photo: yoYO/SO4.

Support for Readings/Workshops events in New York City is provided, in part, by public funds from the New York State Council on the Arts with the support of Governor Andrew Cuomo and the New York State Legislature, and by the New York City Department of Cultural Affairs in partnership with the City Council. Additional support is provided by the Louis & Anne Abrons Foundation, the A.K. Starr Charitable Trust, the Cowles Charitable Trust, and the Friends of Poets & Writers.