Alice Lovelace is a cultural worker, poet, playwright, and performer. She is coeditor of "Art Changes" at In Motion Magazine, an online journal dedicated to issues of democracy. Lovelace earned her MA in Conflict Resolution at Antioch University's McGregor School. Her focus is on community art as a form of mediation. In 2011, Lovelace and visual artist Lisa Tuttle collaborated on "Harriet Rising," commissioned by the City of Atlanta Office of Cultural Affairs Public Art Program and Underground Atlanta, for its four-month long exhibit, Elevate: Art Above Underground in Atlanta, Georgia. The installation remained at Underground Atlanta for one year, and was named one of the fifty best public art projects in the nation by Americans for the Arts' 2012 Public Art Network Year in Review. 
"Harriet Rising" was born in 2011 when visual artist Lisa Tuttle asked me out for lunch and we discussed the possibility of an artistic collaboration. That was the year the country began reflecting on the 150th anniversary of the Civil War.
The art would be on display at the Underground Atlanta, a shopping and entertainment district in downtown Atlanta. Lisa and I joined our interests in community-built art, envisioning the project as an opportunity to educate the public about universal social conditions faced by women and girls, and the organizations women have built in resistance.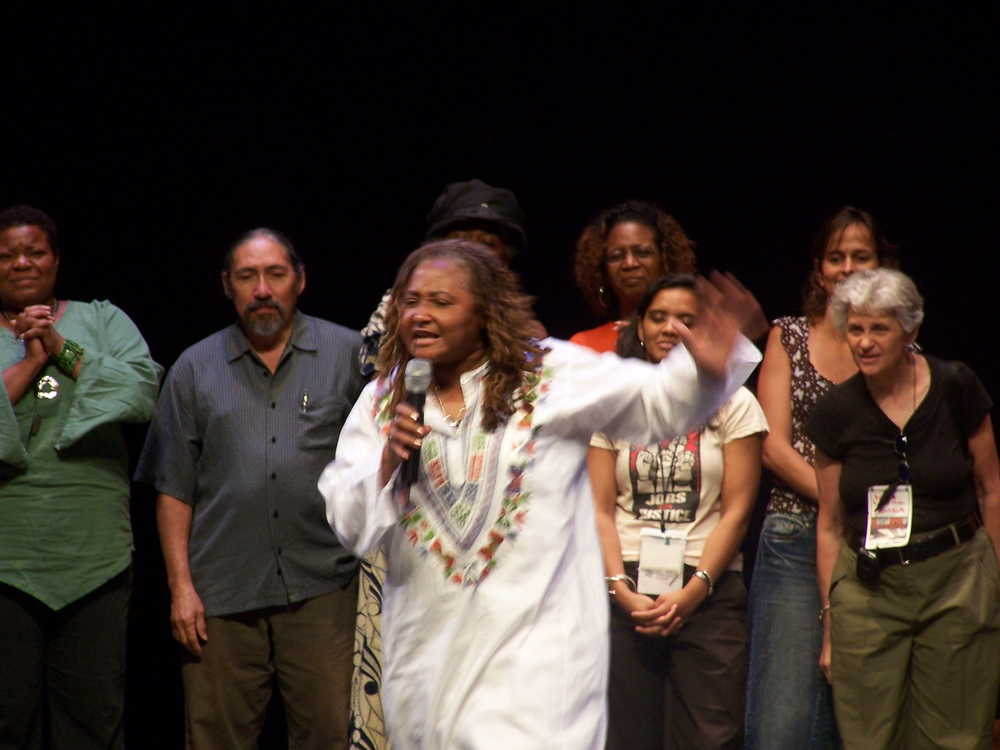 The focus on Harriet Tubman was the perfect choice. Her contributions to the war effort are seldom mentioned or taught. We often see paintings or photos of Tubman as an elderly woman, but she was in her late twenties to early thirties when she brought over three hundred people out of the South, up the Ohio River to freedom via the Underground Railroad.
Years later, during the Civil War, she was commissioned by President Lincoln as spy and strategist for the Union Army. She also served as a nurse to black soldiers, while challenging the President and Congress over the issue of equal pay for equal service and sacrifice. In the 1863 Campaign on the Combahee, she helped over seven hundred slaves escape plantations along the river in South Carolina.
"Harriet Rising" was commissioned by the City of Atlanta and Underground Atlanta, as part of the exhibit, Elevate: Art Above Underground, which opened in October 2011. Lisa installed "Harriet Rising" onto eight four-sided columns in the heart of an Atlanta downtown hub. On the four sides of each column, we combined photography, poetry, historical and educational text, honoring the spirit and legacy of Harriet Tubman, the American hero.
The exhibit included oral histories of current women activists. One fall Sunday afternoon, women dressed in white arrived at the American Friends Service Committee Georgia Peace Center to tell me their stories, and to have Lisa photograph them. They were asked to wear white to signify their relationship to Harriet Tubman, who dreamed of being led to safety by a heavenly host of "ladies in white." The women were members of 9to5 Atlanta, Atlanta Grandmothers for Peace, Georgia WAND, Refugee Women's Network, SisterSong, Women of Color Reproductive Justice Collective, Women Watch Afrika, Inc., Tapestri, Inc., and the Toni Cade Bambara Writers/Scholars/Activists Collective.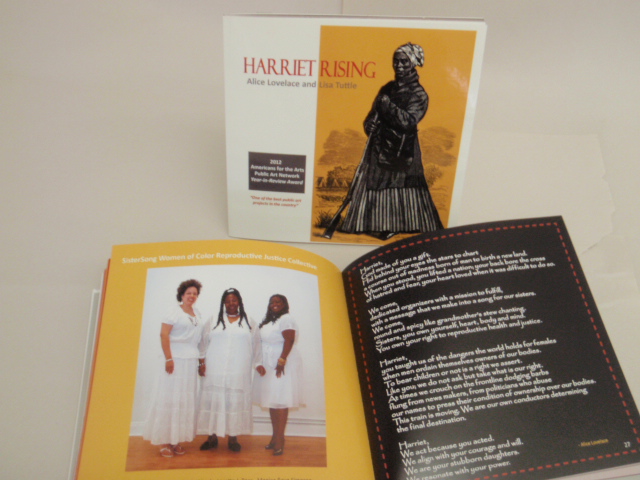 Funding from Poets & Writers for our Readings & Workshops program allowed us to include some of the most dynamic poets from the local slam scene. I was joined for onsite readings by Theresa Davis, Mariangela Manu Mihai, April 'Ap' Smith, Chauncey Beaty, and M. Ayodele Heath, along with singer/activist Monica Simpson. Three times we called, and the community gathered around Harriet's columns. The crowds grew. We had repeat visitors and earned the attention of those standing in nearby businesses.
Working with Lisa Tuttle and the community of women organizers was a dream come true for a poet/cultural worker like me—I was able to play a major role in a popular public art exhibit and to bring the voices of over thirty women into the public arena. I can't wait to do it again!
Photos: (top) Alice Lovelace at US Social Forum. Photo Credit: Nic Paget Clarke. (bottom) Harriet Rising Book Cover. Photo Credit: Lisa Tuttle.
Support for Readings & Workshops events in Atlanta is provided by an endowment established with generous contributions from the Poets & Writers Board of Directors and others. Additional support comes from  the Friends of Poets & Writers.