Heather Buchanan is the owner of the Aquarius Press, now celebrating its fifteenth year. She, along with longtime partner Randall Horton, created the press's literary division, Willow Books, which develops, publishes, and promotes writers typically underrepresented in the field. A graduate of Wayne State University (WSU) and the University of Michigan-Dearborn respectively, Buchanan was a WSU National Institute of Health Research Fellow in cognitive science. Actively involved with work in the field of narrative psychology, she has taught Composition, English, African-American Literature, and World Literature at several colleges and universities, most recently for UM-Dearborn and the College for Creative Studies. In addition to teaching, she presents on arts and literature at conferences across the country, most recently for the Ragdale Foundation. A past Poet-In-Residence for the Detroit Public Library system, she also served on the Board of Governors for UM-Dearborn's College of Arts & Sciences Affiliate and was the Chief Operating Officer of the Wayne County Council on the Arts, History & Humanities. A musician, Buchanan is currently working on a musical project honoring the Harlem Hellfighters and a World War I centennial book.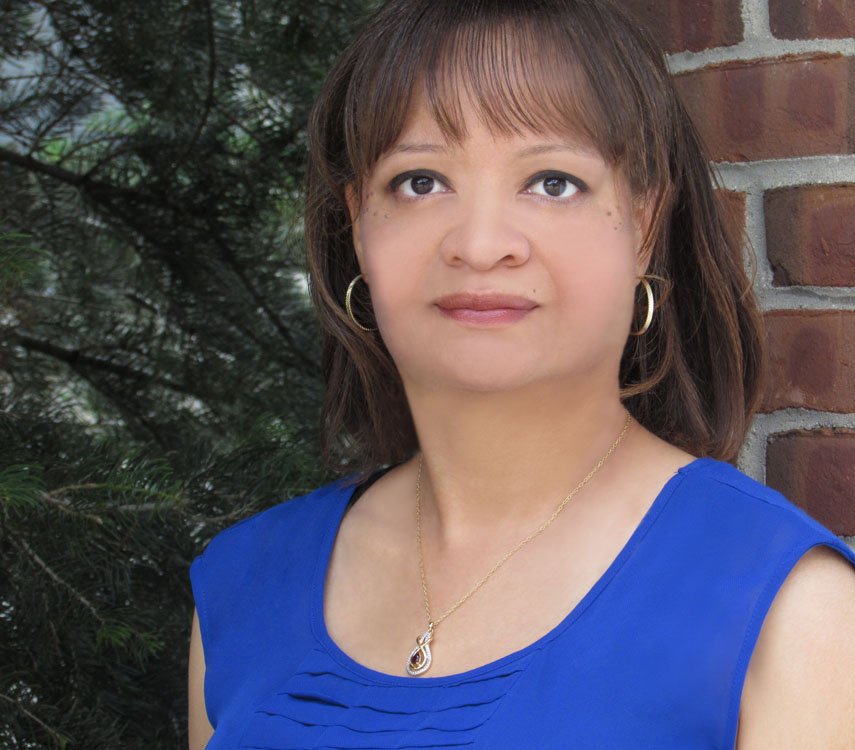 Out of the bustling mass of high schoolers being dismissed after our poetry workshop, one young man stopped in the doorway to utter these words, "that thing changed my life," with a look of wonder upon his face. His classmates had already reinserted their earbuds and pulled out their phones for the bus ride back to school. After this student had said his piece, the look faded and he went to catch up with the group. Fleeting moments like that keep me inspired.
Authors from our press had just completed day one of a two-day workshop and public reading program in Detroit, my hometown, at the Carr Center. "Life, Imagined: Michiganders in Literature" was a writers residency for authors who had published literary works about notable Michiganders. The authors gave public readings with a Q&A for the general public and held poetry readings and workshops with Detroit-area high school students. The event was co-sponsored by the Michigan Humanities Council and funded in part by Poets & Writers, Inc..
The program's goal was to demonstrate how literature intersects with history to provide meaningful cultural experiences for contemporary audiences. Moderated by Randall Horton and Angela May, the fall 2013 Writers-in-Residence were Lita Hooper author of Thunder in Her Voice: The Narrative of Sojourner Truth and Derrick Harriell author of Ropes. The public reading was also a debut for Harriell's collection, which contained a suite of poems on famed Detroit boxer Joe Louis. The spring 2014 program featured Karen S. Williams author of Peninsula: Poems of Michigan and Curtis L. Crisler, a Michigan native whose newly-released Wonderkind is a poetry collection on the musical genius Stevie Wonder.
The students were from areas typically underserved when it comes to arts programming, so this program was inspiring for more than one reason. The students were not only able to engage with poetry itself, but were able to engage with poetic scholars of color. In addition to making history come alive for these students, the authors shared their experiences as published writers who also teach on the college level. At the outset, only a handful out of the approximately 125 students said they read poetry. After the program ended, however, post surveys showed that 65 percent of the students were now more likely to read poetry and could even envision themselves as poets in the future.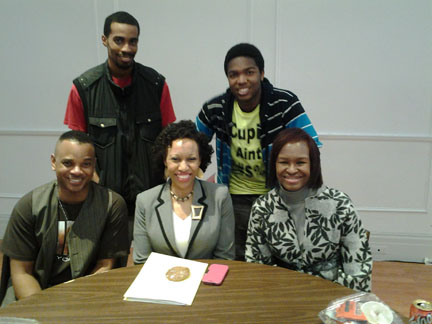 As the students shared the poems they had created in the workshop, the air was electric. There was a sense of pride, accomplishment, and camaraderie for fellow readers. Sadly, during both workshops, more than one female student shared her own story of abuse. Any teacher in Detroit will tell you that many of our youth carry a great deal of internalized trauma and need creative outlets to process and express it. Our workshop was a safe space where everything could be said aloud, if only for a little while.
The Poets & Writers Detroit program has enabled our press to put on several great literary events over the years, but I count this project as one of the very best.
Photos: (top) Heather Buchanan, (bottom) Curtis L. Crisler, Angela May, Karen S. Williams with students.  Photo Credit: Mike McMurray.
Support for Readings & Workshops in Detroit is provided by an endowment established with generous contributions from the Poets & Writers Board of Directors and others. Additional support comes from the Friends of Poets & Writers.