Former wildland firefighter Ruth Nolan was born in San Bernardino, California and has lived in the neighboring Mojave Desert and Coachella Valley for most of her life since. She is Professor of English and Creative Writing at College of the Desert and is a prolific poet and writer whose work has appeared, and is forthcoming, in the Rattling Wall, Riverside Press Enterprise-Inlandia Literary Journeys, Tin Cannon, and New California Writing (Heyday Books, 2011). She is editor of the critically-acclaimed anthology, No Place for a Puritan: The Literature of California's Deserts (Heyday Books, 2009) and the winner of the Mojave River Review Magazine nonfiction chapbook contest for California Drive. An avid California desert advocate, lecturer, conservationist, and literary scholar, she has taught writing workshops for the Desert Institute at Joshua Tree National Park, the California State University Desert Studies Center, the University of California, Riverside Extension, and the (In) Visible Memoir Project. Nolan earned her MFA in Creative Writing and Writing for the Performing Arts in the University of California, Riverside Low Residency Program and her MA in English/Creative Writing from Northern Arizona University. She lives in Palm Desert, where she teaches, and writes, and often sneaks away into the desert to hike. She is the proud mother of daughter, Tarah, and overjoyed by new baby grandson, Simon.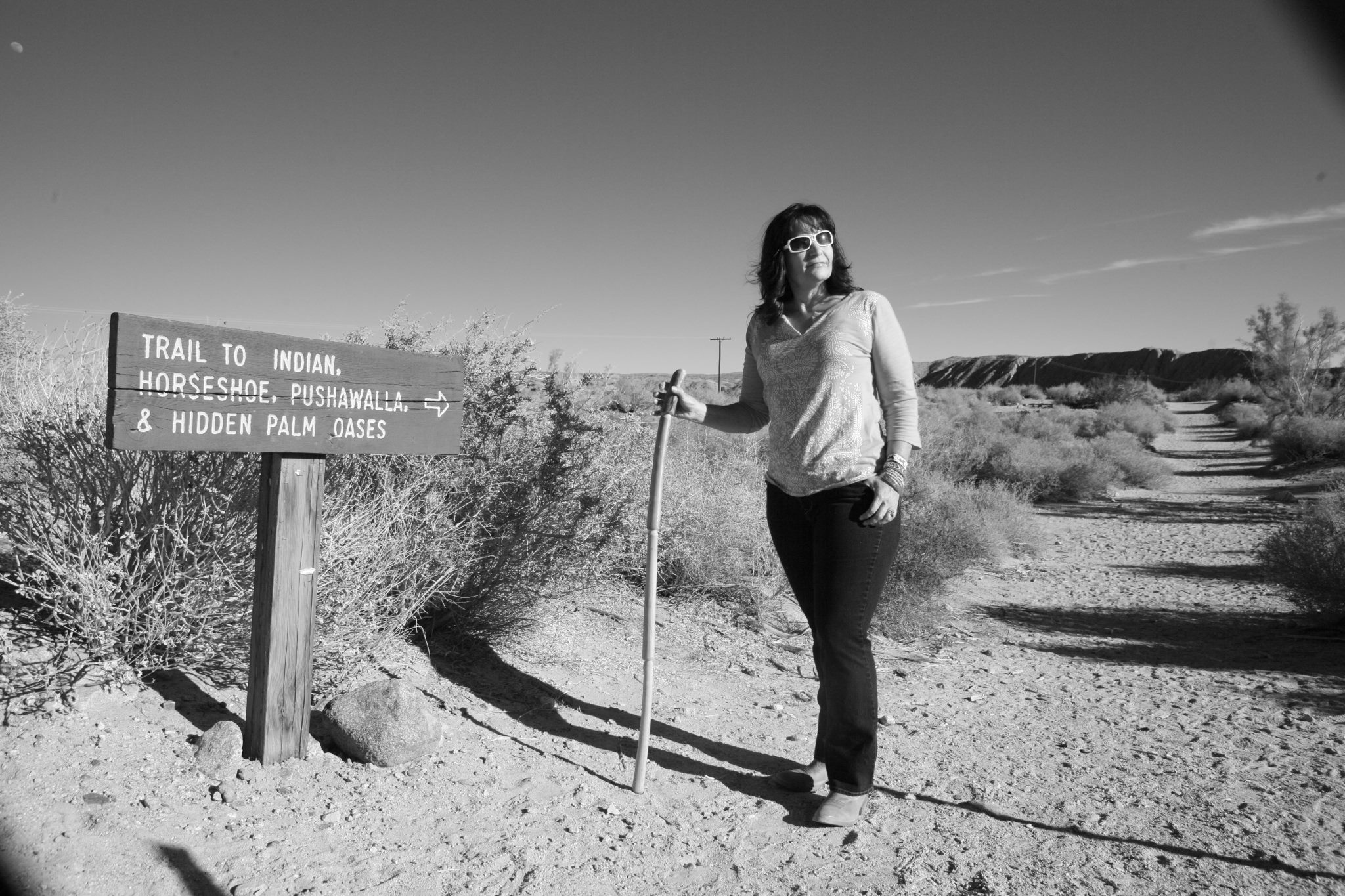 What are your reading do's?
My reading do's are: Read from the heart and try to remain humble. For me, a reading is a form of ceremony, one that involves audience participation and allows for a sense of group and individual transformation. When I read, I'm sharing stories of places, people, and deep emotions that run as powerfully inside of me as the underground Mojave River in the desert. It's my responsibility to the audience to evoke that as best I can. If not, I would honestly rather be out hiking in the desert than reading stuff I don't believe in or wasting my audience's precious time. I find it imperative to honor my audience, and fellow readers, and to do all that I can during my reading to hold and express the greatest respect for those who have taken the time to come hear me read.
…and your reading don'ts?
My No. 1 rule is don't be an asshole. Never, ever, ever go more than the time limit you are asked to observe. If anything, less is more. Don't abuse the audience. Don't waste their time, or yours.
What's the strangest comment you've received from an audience member?
Being told many times my writing is highly sexy and sexual. After one reading, a man approached me and smarmily told me that he was turned on by me, because when I'd read a certain poem, I'd moved my hips suggestively in perfect, sexy synchronicity with the contents of the sexy poem I was reading.  Ever since then, I've always tried to stand behind a podium when I read, and when I can't, I am self-conscious about my hips, as silly as that sounds. I've had other people, men and women, tell me that my writing is very sexy. It's always a shock to me to hear this because I don't feel sexy or sexual at all when I'm reading. I feel like the nerdy, glasses-wearing thirteen-year-old I once was in junior high school. In retrospect, I do see that my writing is full of many sexual escapades, in one way or another. It's just that I don't personally relate to these experiences. I just write about them, and read about them, and get surprised and embarrassed when someone points it out to me after a reading. To this day, I'm not sure why that is, except that I'm functioning from some kind of writer disconnect. Maybe this disconnect is the reason I write: to connect that indiscernible and slippery gap between consciousness, identity, and experience.
What's the craziest (or funniest, or most moving, or most memorable) thing that's happened at an event you've been part of?
Every event is memorable to me, and life-nurturing. However, there have been several funny, memorable, bizarre, and cosmic things that have happened at some of these readings and events over the years that particularly stand out. One moving and memorable experience was the time a homeless man walked into the Inlandia Writing Workshop at the downtown Riverside Library (which I cofounded and taught for five years from 2008-2012) saying he'd just gotten off the city bus and saw a sign for my workshop on the library window. He joined us for that workshop and wrote several amazing poems about his life.
Another memorable time was at the Poetry at the Peaks reading I helped coordinate and host, as part of the International United Nations/NYC Poets for Peace readings series. It was a late winter afternoon and attendance was high. We were in a window-filled room overlooking the San Jacinto Forest, and right as the reading started, snow started to fall outside, filtering beautifully through the mountain cloud-lit canopy, gracing our reading with hope and beauty.
I also recall the Poetry for Peace reading the following year in 2002 at Moorten's Desert Botanical Gardens in Palm Springs, just as the United States controversially was about to begin bombing Iraq, and vitriolic, patriotic emotions were running high nationwide. I was interviewed by the Palm Springs news media, who goaded me with inflammatory questions about the purpose of our event, obviously trying to depict our event as a disrespectful, unpatriotic event. Our readers blew that out of the water with a powerful, transformational reading that celebrated the magic of healing words and verse.
And, of course, I've been lucky to have been part of some amazing readings and workshops that I've helped coordinate across the California deserts. In the balm of palm trees at Anza Borrego State Park one January, far out in the Mojave Desert at Death Valley, and bringing a small group of women writers together at Furnace Creek to write and hike on a warm October weekend. Then, there's the unforgettable memory of Sal y Muerte, the fantastic writing workshop Poets & Writers sponsored on Dia de los Muertos in 2013 at the Salton Sea North Shore State Park. I'll always be inspired by the fireside poetry reading and performance we held on the shore of the Salton Sea, which included some of my local College of the Desert students, and poets and writers from throughout Southern California and beyond.

How does giving a reading inform your writing and vice versa?
I can feel if I'm hitting the mark in my writing or if I'm full of shit and maybe would be better off hanging up that particular poem or part of a piece and going out for a hike in the Mojave, and then returning to make revisions. If I see or feel the audience shifting in their seats, I know it's time to roll up my sleeves again. If I see or feel the audience leaning on the edges of their seats, if the room is completely silent, if I feel completely in the zone (as I did when I played my best games during my competitive tennis playing years), then I know I must be doing something right. Giving readings, both for myself at home and in public, is, for me, crucial to hearing my voice. I feel the energy of what I've written, feel the connection or disconnection in what I'm trying to do, and feel more connected to my own writing, and to the effect that it is having on any given audience. I feel it's important to spare the audience. If they're bored, I don't feel it's fair for me to waste their time listening just to be polite. I have an obligation to put on a show, to make their investment in hearing my writing matter to them. It's vital to respect my audience and communicate with them in this sense.
What do you consider to be the value of literary programs for your community?
The value of literary programs for my community, the California deserts, which encompass twenty-five percent of the state of California geographically, is immeasurable. These programs connect the people in my 'hood with an essential and much valued community building toolkit, across hundreds of mostly desolate but story rich miles of open spaces and crossroads of present and historical times. Here, literary programs bring people together to share their stories and offer the chance to articulate their experiences and insights with the literary community at large. They help us fill in our arid desert landscapes with the blessing of rain showers of words, bringing us together from far and wide to rejoice and celebrate.
Photo: Ruth Nolan   Credit: Pablo Aguila Photography
Major support for Readings & Workshops in California is provided by the James Irvine Foundation. Additional support comes from the Friends of Poets & Writers.