Sara Eliza Johnson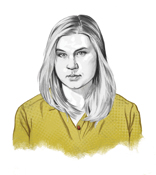 BONE MAP
Milkweed Editions (National Poetry Series)
all moments will shine
if you cut them open,
glisten like entrails in the sun.
—from "As the Sickle Moon Guts a Cloud"
HOW IT BEGAN: The book began as a sea­faring narrative—influenced in part by a stormy winter in Provincetown, Massachu­setts, on Cape Cod—and expanded outward into the world of Bone Map. As the poems expanded outward, as they further consid­ered the contemporary American moment, they also became more visceral and brutal, and eventually I realized I was writing an organic and ancient violence into the book, that the book was in some sense about violence as origin.
INSPIRATION AND INFLUENCES: I immersed myself in the materi­als of strange, old worlds (ones often as alluring as they are terrifying): Grimm's Fairy Tales, the 1967 Czech film Marketa Lazarová, the Anglo-Saxon elegies and riddles, the sixth-century voyage of Saint Brendan the Navigator, Schubert's song cycle Die Winterreise. The poets and artists who have particularly influenced me include Lorca, Plath, Celan, Ingmar Bergman, and the Polish artist Zdzisław Beksinski, who said, "I wish to paint in such a manner as if I were photographing dreams."
WHAT'S NEXT: I'm still in the early stages of the next book, but it's one preoccupied with the apocalyptic moment. I'm writing a lot about human annihilation and alien or inhuman spaces, such as primordial earth, future earth, outer space, and deep sea.
WRITER'S BLOCK REMEDY: I'm always looking for new sources of fascination to spark my imagination: a book on black holes or human evolution, a visually exciting film, a visit to a museum or the aquarium. If I'm experiencing writer's block or feel stuck in a comfort zone, I'll more aggressively seek those sources out. It's in part this curiosity—and the potential to transform my curiosities into art—that keeps me writing and creating.
ADVICE: Don't be afraid to cut the dead weight. Beware of nostalgi­cally clinging to poems that marked artistic milestones for you. And just because a piece is good—or has been published in a grand venue—doesn't mean it belongs in the project you've undertaken. If you think of the book as a dynamic, breathing thing, or as a unique textual place, every page should seem indispensable when you read through it.
AGE: 30.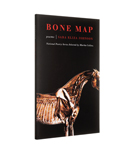 RESIDENCE: Salt Lake City.
JOB: I'm a PhD student in the creative writing program at the University of Utah, where I also teach.
DOES YOUR JOB ALLOW TIME TO WRITE? Though often my academic and creative work intersect, it is not always easy to balance work obligations and writing, especially because it can be a challenge to switch on the creative regions of the brain at will. It is not only necessary to carve out the time to write, but the mental space as well. To get myself in the right headspace, I usually clear my desk of papers and books, put on some music (headphones are essential), and pour some coffee if it's daytime or (just a little) bourbon if it's night.
TIME SPENT WRITING THE BOOK: About five years.
TIME SPENT FINDING A HOME FOR IT: Bone Map was selected for the National Poetry Series in its first round of submissions. The NPS was the fourth book contest to which I submitted the manuscript.
Sara Eliza Johnson reads the poem "Dear Rub" from Bone Map. For more of Johnson's work visit saraelizajohnson.com.
***
F. Douglas Brown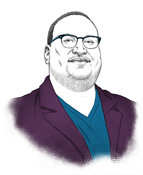 ZERO TO THREE
University of Georgia Press (Cave Canem Poetry Prize)
my body, rain drenched on the inside
and you arriving faster
than the next song
—from "The Talk"
HOW IT BEGAN: What initiated this book was the birth of my son, then that of my daughter, five years later. It really came to­gether thanks to the Cave Canem retreat and the influence the writers gave then and continue to give. I am both a Cave Canem and Kundiman fellow, and the folks who are connected to these two phenomenal organizations are generous, intelligent, and the best advocates for poetry that I know. They all helped me push and delve deep into the work. When my father died five years ago, so many poems erupted. When I stepped back and looked at the body of work, a book made sense.
INSPIRATION AND INFLUENCES: My kids and father were the im­mediate sources for this. As I mentioned, the poets of Cave Canem and Kundiman really push all of us involved to believe in the work we're doing. However, back in '99 or so, I was in the MA Creative Writing Program at San Francisco State University, where I took a class called "What the Body Knows." Toni Mirosevich and the rest of the class helped push me to see my father body as a vehicle for exploring my growing baby who was walking, talking, and figuring out the world. Music also factors into my work. I recently wrote a poem trying to imitate the cadence of Beyoncé's song "Flaw­less." Cornelius Eady's You Don't Miss Your Water and Yusef Komun­yakaa's serial poem "Songs for My Father" were also big inspirations. Both helped me take mere observation and make it stand up to the duty of fatherhood. Later, Natasha Trethewey's books helped me reexamine pain, and [learn] how to open the voices of fatherhood that had been surrounding me as a parent.
WHAT'S NEXT: I am working on two projects: first, more fatherhood poems, and second, my namesake. The fatherhood poems are a collaborative work with poet Geffrey Davis, who I met at the Cave Canem retreat in 2012. At that time he was a new father, and what we shared regarding fatherhood—mostly our attempts to be better fathers—inspired us to continue via poetry. We are conducting workshops together, discussing poems on fatherhood from seminal poets, and doing our own work to complete what we hope to be a manuscript. Whatever it becomes, the work is good thus far, and liberating. 
My complete name is Frederick Douglas Brown. How could one named after such a remarkable figure avoid it? In my work I am specifically responding to the paintings of Frederick Douglass's life by the Harlem Renaissance painter Jacob Lawrence. My ekphrasis poems have been a pleasant journey for me. I have been able to do plenty of research, but I hope to view the Lawrence work face-to-face before releasing a final manuscript. As it is, I have completed fifteen poems.
WRITER'S BLOCK REMEDY: Reading is the best cure for me when the words are not coming together on the page or are nowhere near the page. Reading gives me permission to try new approaches. If I'm stuck or in a rut, an imitation poem helps. To see my friends publish work helps too. There is a bit of competition in every poet, and I don't want to fall behind. I let that happen before, but Cave Canem teaches us how valuable our voice is.   
ADVICE: Two things were told to me that really helped me finalize the work: 1) This is not your thesis. Approach it as a means to speak to a larger audience. 2) Friend and poet Jenny Factor told me, "Doug, this is not the only book of poems you'll write about your kids or your dad."
AGE: 42.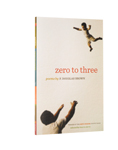 RESIDENCE: Los Angeles.
JOB: I'm an English teacher at Loyola High School of Los Angeles. I'm also a deejay on the side.
DOES YOUR JOB ALLOW TIME TO WRITE? Most of the time is does not! I have been a teacher for twenty years. From my experience, teaching and writing dip from the same well. When I am "on" in the classroom, rarely does that translate to being "on" in my writing. I am accustomed to having my hands in as many projects as possible: parenting, writing, teaching, deejaying, etc. When I am at my best as a writer or teacher, my job is singularly that. This, of course, excludes fatherhood, which asks/needs me to be whatever my kids need.
TIME SPENT WRITING THE BOOK: This work took sixteen years to complete. The poems about my kids took a while, mostly because I did not want the book or any individual poems to be a slideshow of my family. Also, many of the poems explore the mystery of fatherhood, so the logic of the poems, like parenting, had to be thoroughly sifted. I was learning how to be a father as I was writing the poems (and still am). The poems about my father came rather quickly: I waited a year after his death, and then started writing them. The drafts were strong and needed minor tweaking, but tweaking nonetheless.
TIME SPENT FINDING A HOME FOR IT: I submitted the manuscript on three separate occasions. The first two submissions were a year before I won the Cave Canem Poetry Prize in 2013.
F. Douglas Brown reads two poems from Zero to Three, published by University of Georgia Press. For more of Brown's work visit fdouglasbrown.com.
***
Cindy Williams Gutiérrez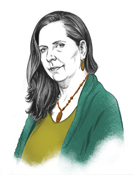 THE SMALL CLAIM OF BONES
Bilingual Press
Garland my bones with those who have gone before, colli,
And the ones who have gone before them, colli. Return,
Return."
—from "If I Were a Nahua Poet"
HOW IT BEGAN: When I entered the University of Southern Maine's Stonecoast MFA Program (graduation was a gift to myself for my fiftieth birthday), I knew I wanted to explore two things: Mesoamerican poetics, specifically Aztec "flower and song," and the poetry of feminist Sor Juana Inés de la Cruz, who secured a cell of her own 250 years before Virginia Woolf insisted on her own room. I realized later that this was my way of bridging borders as well as history. I was born and raised in a Texas town on the border of Mexico, and my father worked for the U.S. Immigra­tion Service on the bridges in Brownsville for more than thirty years. Though he is the "Williams" in Williams Gutiérrez, he was raised in a Mexican mining camp in Santa Bárbara, Chihuahua. Primarily of Welsh and German ethnicity, he was also one-quarter Cherokee and had an abiding respect for native peoples and their way of life. My mother's heritage (the "Gutiérrez" in Williams Gutiérrez) can be traced to a sixteenth-century land grant from the King of Spain. In exploring Mexico's history as a backdrop for my own mixed heritage, I realized that I was not bicultural (Anglo and Hispanic), as I had thought growing up, but rather multicultural—braiding together my father's indigenous and Anglo roots with my mother's Hispanic heritage.
INSPIRATION AND INFLUENCES: My father has been my muse. He was a history buff and loved telling stories about Mexico. He was also always fascinated by women's lot throughout history: He read voraciously and spoke often about the misogynistic treatment of Mary Magdalene, Joan of Arc, Sor Juana, even Marilyn Monroe. Early on, he made me believe I could do anything, that the world was mine.  In high school, he'd return from his shift on the bridge after midnight and read my English papers. I would awaken to a full, handwritten page of thoughtful remarks. I reference this in the poem "The Gift," which is the seminal poem in the first section of my book. I would also have to say that Charles Martin, my first mentor at Stonecoast, inspired (and terrified!) me when he suggested I create poems in the voices of Nahua poet-princes. This book would not have been born without his provocation. Aside from Sor Juana and Nezahualcoyotl and other Mesoamerican poets, my literary guiding lights are Yeats and Lorca—both tapped into ancestral memory and revived the local imagination. I draw inspiration from the silent and silenced voices of history.
WHAT'S NEXT: I'm searching for homes for my manuscripts that have remained tucked in my computer for the past two years. I also have an idea incubating for a play inspired by a Rumi poem. And today I awoke with an idea for a chapbook inspired by—no surprise—women's lot. Though my father passed away a year and a half ago, he still speaks to me in my sleep.
WRITER'S BLOCK REMEDY: I haunt cafés. All I need is the aroma of coffee and a strong dose of people-watching (and the accompany­ing eavesdropping) and something (some image, line, dialogue, idea) will emerge.
ADVICE: I have found that the more I write about my writing, the better I can shape my collections. An abstract is a beautiful thing: It encapsulates your inten­tion for the book in less than a page. More than once, this has helped me perform the hardest task of all—prune poems from a budding manuscript.
AGE: 56.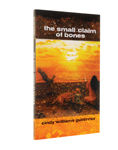 RESIDENCE: Oregon City, Oregon.
JOB: I split my time between my careers as a business consultant and as a literary artist. My firm, Sage Marketing Associates, has provided strategic planning and marketing consulting services to West Coast–based global technology companies, regional healthcare organizations, and local nonprofits since 1997. I am also a poet-dramatist, producer, and educator. I have taught poetry (mostly in English, sometimes in Spanish) to every grade from kindergarten to twelfth through the Portland Art Museum, the Right Brain Initiative, Wordstock, and Writers in the Schools. I also teach poetry to adults at my home in the country and at Studio 410 in Portland, Oregon, where I offer an annual ekphrastic poetry class in response to Russell J. Young's photographs. 
DOES YOUR JOB ALLOW TIME TO WRITE? I have striven to piece together a writing life since 1997 when I left my job as a marketing executive in Silicon Valley (I have a Bachelor's degree in Computing Science and a Wharton MBA). Consulting has afforded me the flexibility to become a serious writer as well as to return to graduate school to earn my MFA and, afterward, to teach. It continues to be a challenging balancing act, particularly because I am equally devoted to theatre, which is incredibly consuming, especially in the role of producer. My most recent production was Words That Burn—a dramatization of World War II experiences of William Stafford, Lawson Inada, and Guy Gabaldón (in their own words), which I created and coproduced in commemoration of the William Stafford Centennial. The show was featured in Milagro Theatre's 2014 La Luna Nueva festival, which celebrates Hispanic Heritage Month in Portland, Oregon.
TIME SPENT WRITING THE BOOK: Two years. I wrote the poems during my first two semesters at Stonecoast and then spent the last semester editing and shaping them into a collection. But the collection wasn't in its finished form for another few months after graduation.
TIME SPENT FINDING A HOME FOR IT: During the 2009 AWP book fair, I shopped my manuscript around and received interest from Arizona State University's Bilingual Press. I followed up three months later with a book proposal and my manuscript. About a year and a half after that, I received the press's letter of acceptance. In the meantime, I received fifteen rejections.
Cindy Williams Gutiérrez reads the poem "Micacuicatl, Or Song For The Dead" from The Small Claim of Bones. Original pre-Hispanic music by Gerardo Calderón (www.grupo-condor.com). For more of Gutiérrez's work visit grito-poetry.com.
***
Danniel Schoonebeek

AMERICAN BARRICADE
YesYes Books
The question of whether the idea of America is dead is not a
question.
—from "Correction"
HOW IT BEGAN: There's this feeling in the United States that the country is somehow finished. I wanted to peel off that scab, and peel off the scabs I found underneath, which for me were family power dynam­ics, the American workforce, taboos of love, the rifts surrounding gender and class, the problem of having a name and a history, the misnomer of the word America. I wanted to dig into that American disgust.
INSPIRATION AND INFLUENCES: In place of inspiration, which I don't think I feel, what I feel instead is ca­maraderie. And to that end the names can be endless. But Rukeyser and Woolf, global protest, James Agee, the Clash, running in winter, August Wilson, gunpowder tea, Eileen Myles, Lyudmila Ulitskaya, postcards, the Anti-Rent War, anxiety, Poet in New York, C. D. Wright, Pieter Brue­gel the Elder, the Occupy movement, Paul Thomas Anderson, living in a cabin, Claudia Rankine, rush hour, Allyson Paty, percussion, Brigit Pegeen Kelly, Frank Bidart, night walks, Austria, Walker Evans, Sarah Kane, Camus, shaving, Simone Weil, Jules Renard, Marina Tsvetaeva.
WHAT'S NEXT: I'm finishing a book of prose, a travelogue called C'est la guerre. It details a two-month reading tour I did in support of American Barricade last year. C'est la guerre will be published by Poor Claudia in 2015. (I sometimes hear grovelers say that certain poems feel like prose broken into lines, and I think C'est la guerre is maybe poetry broken into prose; I want to see who'll grovel at that). And I'm also, every day, writing poems that will be my second book of poetry. Which so far appears to be about problems of capital.
WRITER'S BLOCK REMEDY: It helps me to think of a poem as a house you can demolish. When the lines aren't budging but I know they can move, I like to start knocking down walls and prying up floorboards and putting the rooms back together the wrong way, with new lighting and banisters. Experimental editing is something I urge upon myself, and more times than I can count it's resulted in a radi­cally different poem that I had to essentially destroy in order to make.
ADVICE: Any advice people give only distracts other people from writing the book they need to write. In my life and in my writing I've been grateful when I can stop and remind myself to revolt against what revolts me. Always un­settle myself into myself, if you will. I'm always asking myself to write the poem and the book and the sentence that I don't want to write.
AGE: 28.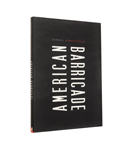 RESIDENCE: Brooklyn, New York, and the Catskills.
JOB: I write books and read poems aloud for a living. I publish poems written by other people and I have conversations about art and politics for a living. At some point we all have to make our own distinctions between living and money. To make money I work as an editor, a booking agent, and an occasional book critic.
DOES YOUR JOB ALLOW TIME TO WRITE? It's a little war every day, and you have to antagonize the conflict in a new way every day. The simple answer is never. I find that most jobs are the opposite of writing, or creating any art that will matter to people. I felt this for the first time when I was young, and ever since then I've written poetry from a place where the poems want to jam themselves into the gearworks of this problem.
TIME SPENT WRITING THE BOOK: About four years. Some of the poems were drafted and edited for years. A few poems were written in a fever pitch and finished within a week or two.
TIME SPENT FINDING A HOME FOR IT: My publisher was actually the one who found me. I read a poem in a really crowded basement bar in Boston about two years ago and she was in the audience; she got in touch with me a few days later and asked if I'd written a book. I wish that scenario happened more in poetry. Before that I mailed the book around to publishers for about a year.
Danniel Schoonebeek reads five poems from American Barricade. For more of Schoonebeek's work visit dannielschoonebeek.tumblr.com. 
***
Tarfia Faizullah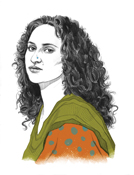 SEAM
Southern Illinois University Press (Crab Orchard Series in Poetry First Book Award)
How thin
the seam between
the world and the world:
a few layers of muscle
and fat, a sheet wrapped
around a corpse: glass
so easily ground into sand.
—from "Reading Tranströmer in Bangladesh"
HOW IT BEGAN: I learned about the wide­spread rape of Bangladeshi women by the Pakistani Army during the 1971 Liberation War. I wanted to know more, and I applied for a Fulbright fellowship to go to Bangladesh and interview the women. A number of them are still alive. Seam emerged from my time there.
INSPIRATION AND INFLUENCES: The courage of other artists who share beautiful and difficult stories about the conversations taking place between their interior and exterior lives. I'm in awe of Detroit poets: Vievee Francis, Nandi Comer, francine j. harris, Jamaal May, Matthew Olzmann, and Tommye Blount. I'm moved by Eugenia Leigh's Blood, Sparrows and Sparrows and David Tomas Martinez's Hustle. I always return to poets in translation such as Rumi, Hikmet, Faiz Ahmed Faiz, Anna Akhmatova, César Vallejo, and Tomas Tranströmer.
WHAT'S NEXT: A second book of poems, Register of Eliminated Villages, and a memoir, Kafir.
WRITER'S BLOCK REMEDY: I try to get into the physicality of what the vastness inside and around me looks like. I listen to the train going past our house and wonder at the science and magic that collided to cre­ate its vibrations. I wonder who decided to write the informational signs at the top of a mountain during a hike, and what that person looks like. The world isn't material for my poems; it's its own fabric and when I'm not writing, I'm disconnected from it. For me, what keeps me going is mindfully rolling around in the world and feeling it in my whole body.
ADVICE: Let yourself be surprised. Relentlessly do the work of mak­ing every word of every line of every poem sing. Make mistakes and let them lead you into unexpected and wondrous places. A quote that has become my mantra is by the poet Russell Edson, who said, "Desire and patience takes us where we want to go."
AGE: 34.
RESIDENCE: Detroit.
JOB: I teach at the University of Michigan Helen Zell Writers' Program as the Nicholas Delbanco Visiting Professor in Poetry, and codirect the Organic Weapon Arts Chapbook Press and Video Series with Jamaal May.
DOES YOUR JOB ALLOW TIME TO WRITE? Absolutely. Even when it doesn't seem like there's time, there's always more.
TIME SPENT WRITING THE BOOK: Five years.
TIME SPENT FINDING A HOME FOR IT: Two years.
Tarfia Faizullah reads the poem "Instructions for the Interviewer" from Seam, published by Southern Illinois University Press. For more of Faizullah's work visit tfaizullah.com.
Melissa Faliveno is the associate editor of Poets & Writers Magazine.
[Credits]
Ilustrations by Eugene Smith; books by David Hamsley