Ten years ago, Poets & Writers Magazine launched its annual Debut Poets series—a feature that aimed, quite simply, to highlight some of the best first books of poetry published in the previous year. In the decade since then, the series has grown into something all its own, bringing to light some of the most inspired, and inspiring, emerging poets from across the country—along with the ambitious, vital, and lasting collections they create. A number of the poets we've featured have gone on to become familiar names in the national writing community—Dan Albergotti, Todd Boss, Jericho Brown, Victoria Chang, Michael Cirelli, Thomas Sayers Ellis, Aracelis Girmay, Dana Goodyear, Tyehimba Jess, Dorothea Lasky, Joseph O. Legaspi, Alex Lemon, Ada Limón, and Justin Marks, to name just a few from the early years. But what's most remarkable, when looking back through this list of poets (which you can see in full starting on page 90), is that all of them, regardless of how prolific or well known, made a commitment to writing, dedicating themselves to bringing words to life despite the jobs, everyday obligations, and myriad challenges that inevitably arise as time ticks along.
In celebration of our tenth annual Debut Poets roundup, we reached out to those poets—all 111 of them (one, Landis Everson, sadly, passed away in 2007)—and asked them to recommend their favorite debut collections of 2014. A good number responded, building for us a longlist of some of the year's most exciting books. From that we selected the ten poets featured in the following pages. The task was not easy: We looked at both the work within those collections and at the poets themselves, in an attempt to curate not only a broad range of voice, style, content, and form, but also a diverse list of poets representing a unique breadth of age, background, and experience. These ten poets find inspiration in everything from neuroscience, outer space, black holes, and race to Anglo-Saxon elegies, Vietnamese musicals, honey badgers, and Nina Simone. Despite their many differences, though, they all point to a sense of wonder, exploration, curiosity, and community as essential to their writing—and they are all creating urgent, powerful, and important work. And what connects them even more fundamentally is that regardless of where they come from, what they do for a living, or where they draw inspiration, they all do it for the same reasons: for love of the work, and, as Sally Wen Mao puts it, to break into the silence, disarm the solitude, and find a place where poetry lives.
Sally Wen Mao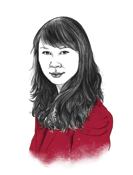 MAD HONEY SYMPOSIUM
Alice James Books
Abandon hive. If the hornet breaks the heat net,
save yourself. Abandon yen. Abandon majesty.
Spit the light out because it sears you so.
—from "Apiology, With Stigma"
HOW IT BEGAN: In early 2012, I decided that the poems I had collected needed to transform into a manuscript. What compelled me? Probably the naked trees on Linn Street, my tiny yellow living room full of books and ghosts, or the radio silence of the days. Those winter days were short and frigid: Every day I walked past a frozen waterfall and slipped on cracked ice. I knew I had to write to break into that silence, disarm that solitude.
INSPIRATION: The earliest incarnation of this manuscript was a thesis project I titled "A Field Guide to Trapped Animals." In this manuscript, I sought trapped animals: the honey badger, Laika the space dog, endangered flightless birds such as the kakapo, taxidermists' specimens, disgruntled pandas in captivity, a flock of doomed pigeons. I admired the honey badger for its inane yet marvelous tenacity to sate its appetites for dangerous animals. From that obsession I found bees, and the magical honeys that they can make, including mad honey (meli chloron), a noxious honey made from rhododendrons or azaleas or oleanders that causes drunkenness, hallucinations, and heart palpitations in humans. There I was able to find the manuscript's spine—humans who poison themselves for the sake of their desires.
INFLUENCES: Ai, for her poems are fire escapes into the terrifying psyches of others. Lorca, for his theory of the duende, and his poems that wander through the darkest and loneliest spaces in New York City. Amiri Baraka/LeRoi Jones, for Preface to a Twenty Volume Suicide Note, one of my earliest introductions to poetry. Most recently Cathy Park Hong and Bhanu Kapil, women writers whose hugely exciting works transgress boundaries and shift borders in terms of subject, syntax, and form.
WHAT'S NEXT: I'm working on a new manuscript, Oculus, that maps out the border between exposure and invisibility: ghosts, cinema, digital life, and Internet voyeurism. In this manuscript, Anna May Wong, the Chinese American film actress who peaked in the 1920s and 1930s, acquires a time machine and travels through time searching for her perfect role. Along the way, she meets some of her contemporaries (Josephine Baker and Zora Neale Hurston), and some of her successors (Bruce Lee), and she is dismayed to see some of the future films that continue to cast Asian Americans in a stereotypical light. Other poems in this manuscript are about magnetic levitation trains, Chinese bodies exposed in the Bodies Exhibition, a model who wears a homeless man's pants, and girls competing for a national singing competition.
WRITER'S BLOCK REMEDY: Sometimes the writing stops, but there is never enough material for a poet's arsenal. I look for high places and vantage points, new spaces to invade and interrogate. I look for old books in science libraries. I research poetic obsessions or I try to look for new ones. I visit contemporary-art museums, natural-history museums, planetariums, space museums, botanical gardens, science libraries, bookstores, parties, concerts, or arboretums. I love the feeling of movement, of being on a train heading to someplace unknown. My entire self is built around this wonder, this movement, this search for adventure. I seek adventures, and they float back as poems eventually.
ADVICE: Be impermeable. Research your presses: Read their books, see if you like their covers, get to know their submission and evaluation process. It's like finding an apartment, really: Send your manuscript to those presses that you could envision as a home for your poems to live. The key is to find a place where your poems live.
AGE: 27.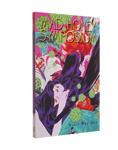 RESIDENCE: Brooklyn, New York.
JOB: I'm an instructor in the Asian American Studies program at Hunter College in New York, where I teach Asian American Poetics, and a teaching artist at several sites around Brooklyn.
DOES YOUR JOB ALLOW TIME TO WRITE? Yes, thankfully, but who knows for how long. In the mornings I write, or late into the night with a cup of milk tea.
TIME SPENT WRITING THE BOOK: About five years.
TIME SPENT FINDING A HOME FOR IT: Ten months.
Sally Wen Mao reads five poems from Mad Honey Symposium, published by Alice James Books.
***
Charlotte Boulay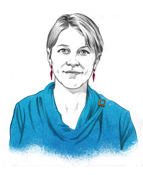 FOXES ON THE TRAMPOLINE
Ecco
As much as I wanted that boy saved,
I wanted him eaten.
—from "Watson and the Shark"

HOW IT BEGAN: I've written poetry since high school, and graduate school helped me think about ways a disparate collection of poems might become a more or less co­hesive whole. Foxes isn't a book "project," although it has some themes and inter­ests that run throughout. These include exploring ideas associated with journeys, both concrete and abstract, as well as ques­tions about desire and loss.
INSPIRATION AND INFLUENCES: I've joked that in almost any of my poems you can find references to animals and weather, but I think these are less inspirations than touch points that help me structure my concerns. I spent time in my early twenties living in India, and that was certainly an education, as well as an inspiration. I'm also continually inspired by visual art—paintings and photography and sculpture can do things that words can't, but poetry can create a dialogue with them. This book owes a debt to Cy Twombly, whose work continues to fascinate me. In working on Foxes, I particularly relied on and admired the work of poets Saskia Hamilton, Nancy Willard, Robert Hass, and Susan Hutton.
WHAT'S NEXT: I'm working on both poems and essays. I'd love to write a second book more quickly than this one, but we'll see.
WRITER'S BLOCK REMEDY: I try to get outside and take a walk, if I'm smart, and if not I try to turn as far away from my own obsessions as possible, to get out of my own head. That may be how I discovered the YouTube home video of foxes jumping on a trampoline in someone's backyard—aimless Web surfing. What keeps me going is reaching for the moment when a poem comes together, when it becomes itself and something separate from me.
ADVICE: Keep going. Cycles of feeling good about your work that alternate with doubt that any of it is worthwhile are completely nor­mal. Listen to the judgments and suggestions you get from readers you trust, test them out, and then throw them away if they don't feel right. Submit to all the places where you've always dreamed of being published. Don't hold anything back.
AGE: 36.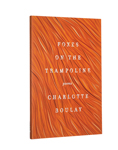 RESIDENCE: Philadelphia.
JOB: I'm a grant writer at the Franklin Institute science museum.
DOES YOUR JOB ALLOW TIME TO WRITE? This is something I continue to struggle with. I thought that leaving teaching and entering a 9-5 job would leave me freer to write without the burdens of grading and office hours, but in fact I'm pretty invested in my day job, and it often occupies my thoughts both inside and outside the office. I do make more money than I did as an adjunct, though, so that's something, but I have much less time off. I'm still figuring out how to make more room in my daily routine for poetry. I'm not very good at writing in small snatches of time, but I'm working on it, and hoping it will help me in ways I haven't discovered yet.
TIME SPENT WRITING THE BOOK: I worked slowly on the book for about seven years.
TIME SPENT FINDING A HOME FOR IT: I sent it out to contests two years in a row, but had to withdraw from a few the second year after Ecco took it. My editor contacted me to ask for the manuscript after seeing a poem of mine in print, so that can still happen.
Charlotte Boulay reads the poem "Fleet" from Foxes on the Trampoline, published by Ecco. For more of Boulay's work, visit www.charlotteboulay.com.
***
Hieu Minh Nguyen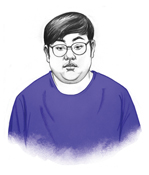 THIS WAY TO THE SUGAR
Write Bloody Publishing
Sometimes
you don't die when you're supposed to,
and sometimes you do.
—from "Flight"
HOW IT BEGAN: For a long time, I didn't know how to write about my traumas. I found myself writing the same poems over and over again, even if they didn't make any sense to the world, even if I was the only person who would understand the significance of something as basic as a peach. I guess the hope was that if I could write the poems, if I could speak about my trauma in a way that didn't seem careless, I could stop trying to explain myself. It is stupid to feel the need to explain yourself at all, but I spent a lot of time being ashamed of my experiences as a son, a body, a survivor, and I believe in the importance of confession as a tool to combat shame.
INSPIRATION AND INFLUENCES: So many movies! Since a lot of my book talks about my childhood, I spent a lot of time archiving my past, which meant interviewing my mother, visiting old neighbor­hoods, and watching movies from when I was younger. I spent end­less nights watching and rewatching cai luong, which are essentially Vietnamese musicals. I was obsessed. Because my start in poetry began in spoken-word and slam poetry, many of my earlier influences came from performance poets, often poets who could transcend the arbi­trary boundaries between the performance world and the written one, such as Rachel McKibbens, Bao Phi, and Patricia Smith. Through my participation in the performance world, I was lucky enough to have been introduced to the work of poets outside of spoken word, including Li-Young Lee, Anne Sexton, and Philip Levine.
WHAT'S NEXT: Currently I am applying to college. I abstained from going to college directly after high school, but now it seems like the right time. So basically a lot of my time has been spent writing college admission essays and studying for the ACT. It's pretty terrifying; I haven't done math in six years. As for poetry, I am currently working on poems about time travel.
WRITER'S BLOCK REMEDY: I spend a lot of my time alone in my apartment writing, so when I come to a block, I feel like I've taken all I can from that space and need time to let it recharge. Usually, it requires engaging in something visual and half-social, like writing alone in a public location.
ADVICE: Give yourself permission to not explain everything.
AGE: 23.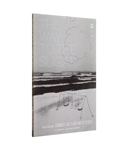 RESIDENCE: Minneapolis.
JOB: Right now I am on a book tour, but when I'm back home I work at a haberdashery, selling fancy hats to fancy people.
DOES YOUR JOB ALLOW TIME TO WRITE? My job has been incredibly supportive; I'm very lucky. I've been able to take large chunks of time off of work to focus on writing or traveling, and am always welcomed back.
TIME SPENT WRITING THE BOOK: Most of the poems in the book were less than two years old, some even a few months old, by the time it was released.
TIME SPENT FINDING A HOME FOR IT: I started submitting the early version of the manuscript about two years before it got accepted.
Hieu Minh Nguyen reads a poem from This Way to the Sugar, published by Write Bloody Publishing. For more videos of Nguyen's work visit www.hieuminhnguyen.com.
***
Saeed Jones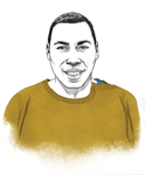 PRELUDE TO BRUISE
Coffee House Press
in this town everything born black
also burns.
—from "Anthracite"
HOW IT BEGAN: The poems exist in the space between the reality of my life as a gay black man from the American South and the mythology I often dreamed of in my isolation. With that said, I wrote about half of the poems in the book before Boy, the character we follow throughout the col­lection, appeared to me. I wrote a poem in which a boy wakes up from a beautiful dream to find his father standing silently in the doorway of his bed­room. The silence of that moment—the interior and exterior worlds colliding—stunned me. Prelude to Bruise exists in the form it does now because I wanted to know what happened next and why.
INSPIRATION AND INFLUENCES: Homer's The Odyssey, the last few collections Alexander McQueen designed before he took his own life, the way Toni Morrison involves landscapes and weather in the plot of her novels, and Nina Simone's music. The poems of Lucie Brock-Broido, Patricia Smith, Rigoberto González, Anna Journey, Eduardo Corral, Jericho Brown, Anne Sexton, Sylvia Plath, and Audre Lorde. The es­says of June Jordan, James Baldwin, Toni Morrison, and Susan Sontag.
WHAT'S NEXT: I'm writing a memoir that charts a course from 1998, when I was 12, the year Matthew Shepard and James Byrd Jr. were killed in hate crimes, to 2008, the year a straight man invited me into his bedroom, stripped down to his boxer shorts, and tried to kill me.
WRITER'S BLOCK REMEDY: When I'm struggling to write, I tend to begin reading in even more earnest than usual—earnest in the sense of pushing myself to read work beyond what I regard as my intellectual home and artistic neighborhood. I read to find work that will jolt me out of my usual habits and ways of approaching whatever I'm working on. Usually this works, but now and then it doesn't. I've yet to be blocked in the sense of not being able to write for an extended period of time. Much more likely, I get frustrated because I hate what I'm writing and can't tell if I should keep going or go in a different direction entirely. Reading then is like consulting a map for the best path forward.
ADVICE: Read five poems for every one poem that you write. You have to understand the broader landscape and community in which your work exists.
AGE: 29.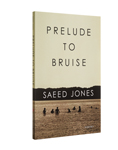 RESIDENCE: New York City.
JOB: I'm the editor of BuzzFeed LGBT.
DOES YOUR JOB ALLOW TIME TO WRITE? I've essentially finished one book and started another in the two years I've been working at BuzzFeed. 
TIME SPENT WRITING THE BOOK: I worked on the book for five or six years.
TIME SPENT FINDING A HOME FOR IT: I submitted my manuscript to two contests; it was a finalist for the 2012 Cave Canem Poetry Prize. A few months later, Erika Stevens from Coffee House Press e-mailed me and said she wanted to talk. I was thrilled because Coffee House has published work by writers I love and respect, Patricia Smith among them. In retrospect, it all happened pretty quickly. I know I'm very lucky. Friends had told me to brace myself for a long haul so I tried to resist expectations. I'm glad my book wasn't picked up as soon as I started submitting it; the act of being rejected and having to wait forced me to keep working at it. 
Saeed Jones reads five poems from Prelude to Bruise for BuzzFeed. For more of Jones's work visit theferocity.tumblr.com.
***
Bianca Stone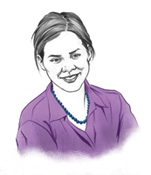 SOMEONE ELSE'S WEDDING VOWS
Tin House/Octopus Books
What man does is build whole universes out of miniscule
disasters and educational degrees.
—from "The Future is Here"
HOW IT BEGAN: After I graduated from NYU's graduate writing program in 2009 these poems just flooded in. I thought I'd be publishing my thesis, but that was just a stepping-stone to this book. When I look at Someone Else's Wedding Vows, I realize that so many of these poems speak to past poems I've written. That's important to me, to have my work never be static, moving forward but with those older poems still vital. For this book I wanted to write out the complexities of human love; how rich, but also how destructive it can be—and always somehow deeply inspiring. Being loved by someone is a great responsibility. And loving someone can be very hard, if part of their love is problematic.
INSPIRATION AND INFLUENCES: I've always been drawn to science, especially neuroscience. I feel that poets look at the world so differently because of something to do with the way their brains are wired: It's not the normal, happy, healthy brain. It's something else entirely. I also find inspiration in art—from reading comic books to sitting for hours in the Byzantine section of the Metropolitan Museum—as well as space travel, religion, and mythology. In addition, Vermont, where I'm from, is very important to the landscape in my poems, and I'm endlessly inspired by my friends and colleagues, all the amazing poets I know: listening to them, reading their books, collaborating with them. That's really what keeps me going sometimes. I grew up spending a huge amount of time with my grandmother, the late poet Ruth Stone, and her poetry is ingrained in me. As is the work of my mother, novelist Abigail Stone. But of course I paved my own way too. I fell in love with Sylvia Plath and William Butler Yeats early on. Contemporary poets like John Ashbery, Sharon Olds, Claudia Rankine, Anne Carson, and Mark Strand have been hugely influential.
WHAT'S NEXT: I'm writing a lot of poems, some of which feels like a kind of memoir-essay-elegy-poetry hybrid book. I'm exploring narrative storytelling within the surreal. I'm also working a lot on what I call my Poetry Comics: that's visual art and the lyrical working together, without one explaining the other. I use pen and ink with watercolor to do this. I find combining the text and image one of the most challenging things, but one that can be very exciting. We've been seeing a lot more of visual art in the writing world. I think it's generative for students, too, to think about other means to express themselves and break out of the institutional bubble. Lastly, I'm in the (massive) process of rescuing and fixing up Ruth Stone's house in Goshen, Vermont, and turning it into a nonprofit writers retreat and artist space.
WRITER'S BLOCK REMEDY: Sometimes I'm not feeling anything and I take a break from myself, find a well-written, engaging book of poetry and immerse myself. Getting out of your own head is just the key. Drawing or painting, too, lets my mind rebuild.
ADVICE: Be patient. Rather than focus on book contests, focus on making a community of support. Do readings, start magazines, take classes; make connections with like-minded poets and use those connections. Once you have a good, solid, thriving community of contemporaries, everything follows.
AGE: 31.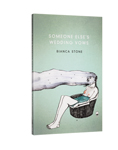 RESIDENCE: New York City.
JOB: I think this is a great question for writers, because usually it's not as simple as saying, "I'm a poet!" Although, I always say that first, bluntly, without apology or pretention. I love people's reactions. Usually they say, "Not a lot of money in that, huh?" and I say, "We actually make it work!" Really, there's always so much more to being a writer than people think. Being a writer means you usually do many things, all of which is informed by your creativity. My livelihood comes from being a personal assistant to a poet at NYU. I also teach online classes in poetry and the visual image, guest lecture and teach, and do poetry-related freelance illustration. I'm also the chair of the Ruth Stone Foundation and editor-cofounder of Monk Books.
DOES YOUR JOB ALLOW TIME TO WRITE? I work from home mostly, and my work involves lots of multi-tasking. It's a blessing and a curse because everything I do is self-motivation based. It's hard sometimes to pick which task to focus all my energy on. But yes, compared to everyone else I know, I have lots of glorious writing time. I just have to make myself do work-work and poetry-work equally.
TIME SPENT WRITING THE BOOK: About four or five years. It went through so many revisions, editing, cutting, and adding. I was editing poems right up until the last second. It's a lot of deciding what's working, and what you're clinging to that perhaps should be let go.
TIME SPENT FINDING A HOME FOR IT: Four years. I submitted to a lot of contests, which is really a crapshoot. I started to realize I needed to find other ways to get it in someone's hands. A lot of times that happens at poetry readings, when you get along with someone who is a publisher, and they like your poems, you're like, "Well, guess that I have this book you can look at!"
Bianca Stone reads a poem from Someone Else's Wedding Vows, along with original illustrations and animation by the poet, for Tin House. For more of Stone's videos visit vimeo.com/tinhouse.