Born in Iloilo City, Philippines, Angela Peñaredondo is a Pilipinx poet and artist (on other days, she identifies as a usual ghost, subdued comet, or part-time animal). Her first full-length book, All Things Lose Thousands of Times (Inlandia Institute, 2016), is the winner of the Hillary Gravendyk Poetry Prize. This past spring, she taught the senior workshop for Poets & Writers' inaugural Intergenerational Workshop Exchange (IWE), where teens and seniors wrote in response to each other, then shared their work at a celebratory reading. Below, Peñaredondo reflects on the project, sharing a few excerpts from participants. (Be sure to check out last week's companion blog post by IWE organizer and cofacilitator, Melissa Sipin.)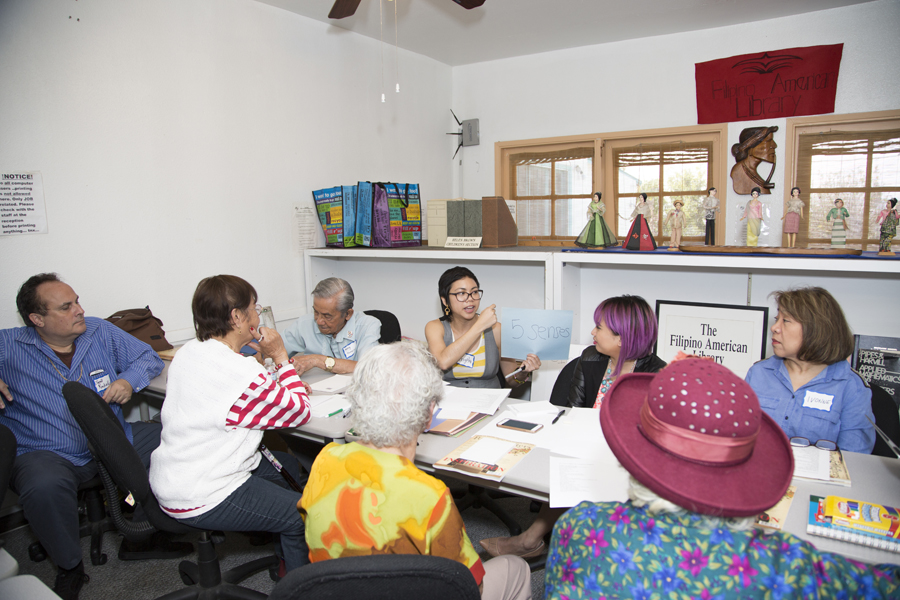 To be invited to participate as a teaching artist in Poets & Writers' Intergenerational Workshop Exchange in Los Angeles was an honor and a gift. I knew the experience would be a rare one. It was the type of experience that opened a time portal—the kind only poetry could bring about.
It was a rich kind of transport, but not an easy one.
My grandfather, Perpetuo Peñaredondo Sr., and his youngest brother, my grand uncle Jesus Peñaredondo, were guerilla fighters on the island of Panay. One worked in intelligence (you could call him a spy), the other was a foot soldier. My grandfather died almost ten years ago. My grand uncle, who is ninety years old now, has moved back to the island of Panay. My grandfather lived without receiving the full recognition of his service during the war. My uncle continues to live without receiving the full recognition of his service. Like I said, I was deeply ecstatic to work with this community, who reminded me so much of my grandfather and a lineage that cannot afford to live or die here in the United States.
The workshop I led took place at the Filipino American Service Group, Inc. (FASGI) headquarters in Historic Filipinotown, a location that has existed for almost thirty-five years. FASGI is an inner-city center that functions as many things: community center, community garden, service provider, transitional shelter, backyard party venue, and a place where you can see a real nipa hut built by the hands of Filipino World War II veterans.

The workshop setting was small, intimate, and warm with moments that felt fragile and painful, but not without acts of strength or creative surprise. With some gentle persuasion even my parents joined in and shared their stories connected to the war. During one of the writing exercises, I asked participants to close their eyes, focus on the sound of their breath, picture a particular object from their youth, imagine it in their hands, and to observe the weight and look of it inside their palms. When asked to write a poem about that single object, my mother wrote about her mother's silver ring (forever lost in the flux of war and migration). Franco Arcebal, a World War II Filipino American veteran participant, wrote about the pen he used to write a letter to his granddaughter, about being a prisoner of war, how his then young body suffered intense torture and his body still remembers even after so many years have past. As I listened to him explain and read his poems, it sounded like both a love letter to his granddaughter and to the pen.
After the meditation and writing exercise, Arcebal spoke of his desire to be a better writer and that he always wanted to write a book, but not about the war. I enjoyed watching him scribble with intention in his small notepad. Observing him helped me write my own poem during a letter writing exercise I gave as a second writing prompt.
Other workshop participants included three wives of deceased World War II veterans: Beverly Siapno in her mauve hat, Cleo Bisnar in her bright citrine dress, and Anacurita Santos, who in her candy cane striped sweater said (always with a smile) that she couldn't do this. She could not write it down. It was too hard for her, she would tell me without explanation, again with a sweet smile. There were times I saw her jot down a few precious notes, but Anacurita could not bring herself to read her words aloud. I understood her. My grandmother was very similar—silent and curt, communicating indirectly with her hands. Anacurita communicated indirectly with her smile, lovely and charming, but also cryptic and resilient.
Beverly's letter poem begins with the line:
There are things you need to know about where you come from—where we come from.
And she ends with:
And so that you will not become like how we once were: poor, hungry, searching for freedom.
Beverly read her poem during the culminating reading, still wearing her mauve hat like a small, red sun in the middle of the dark reading room.
Cleo was not able to make it to the reading. Instead, I imagined her reading her lines in her soft, graceful voice:
As an orphan, there was nobody to push me. Nobody who told me to try hard in school. Nobody who put food on the table. Nobody who said I love you and goodnight.
But—I had natural knowledge. I thank God for this. So, I can read and write a little. I wrote you this poem. I give you this gift.
You can read work produced by teen and senior participants of the inaugural Poets & Writers' Intergenerational Workshop Exchange in a special issue of TAYO Literary Magazine titled "Connecting Generations."
Photo 1: Workshop participants (front, from left) David Rockello, Anacurita Santos, Cleotilde Bisnar, and Beverly Siapno; (back) Franco Arcebal, workshop leader Angela Peñaredondo, P&W fellow Melissa Sipin, and Ivonne Peñaredondo. Photo 2: Beverly Siapno and Cleotilde Bisnar. Photo 3: Connecting Generations Reading participants and partners (front row, from left): workshop leader Traci Kato-Kiriyama, Beverly Siapno, Franco Arcebal, Rose Rteimeh, Rosalinda Flores; (middle row) Ivonne Peñaredondo, P&W fellow Melissa Sipin, workshop leader Angela Peñaredondo; (back row) St. Bernard High School teacher, poet, and emcee Mike Sonksen, and P&W staff Jamie Asaye FitzGerald. Photo credit: Tess. Lotta.
Major support for Readings & Workshops in California is provided by the James Irvine Foundation and the Hearst Foundations. Additional support comes from the Friends of Poets & Writers.