Kimo Armitage is the author of over twenty children's books, and his first novel, The Healers, was published by the University of Hawaii Press in April 2016. He is currently looking for a publisher for his first collection of poetry, These Shackles Fit Perfectly.
My writing group tells me to submit to the Maureen Egen Writers Exchange Award for poetry. I am hesitant. I am not ready for New York City and my inner voice tells me that I might never be ready.
Luckily, my writing group is there for me. We meet monthly and workshop our work. After I receive positive feedback for the poems, I decide to listen to them and send in my collection of poems. These poems are inspired by the traumatic and joyous histories of people in the Pacific who have been affected by colonization, nuclear weapon detonation, immigration, foreign military occupation, and other events. Hawaiʻi is another world compared to New York City and I do not know how I—a Hawaiian, Chinese, Maori, English, and Portuguese Pacific Islander raised by my mother's parents—will be received. My worry is that my voice and my stories will be dismissed. I am shocked when I am told that I have won.
Now, I am in New York City. I am excited and terrified. I have just arrived on the red-eye into JFK. Alicia Upano, a fabulous writer and the WEX winner for fiction, arrived the day before and we are meeting for brunch at a famous NYC dim sum eatery. She is also from Hawaiʻi and we are friends. My first task is to drop my luggage off at the hotel—included in an all-expenses-paid trip to the city to meet with agents, authors, publishers, and others in the literary community, as well as the opportunity to participate at a one-month residency at the Jentel Artist Residency Program in Wyoming.
I hail a cab to get into the city. My suitcase is filled with gifts for the people that I will meet. There are boxes of chocolate-covered macadamia nuts and aromatic coffee from Hawaiʻi. I have also brought along copies of my completed poetry manuscript, These Shackles Fit Perfectly.
Alicia meets me at the hotel. We cab to Chinatown and eat an amazing lunch. We sightsee before heading back to the hotel for our initial meeting with Bonnie Rose Marcus and Wo Chan, who work in the Readings & Workshops (East) department at Poets & Writers.
The week is an amazing mix of meetings, information, and being genuinely starstruck. We discuss literature and topics in Uptown offices, trendy restaurants, private homes, and modest workspaces. Each person listens and offers advice. These resonated with me:
Send your poetry out to different publishers. It will get your name and work out until you find the right publisher.
You have to write. Period.
Storyline is just as important as character (and vice versa).
There is a difference between writing and editing. You need both.
There is no single path. All writers have their own journey.
It is the last advice that cinches it for me. The New York literary scene is intimidating and frustrating and worthwhile at the same time. I am beyond grateful for being chosen to see how it works. But the greatest takeaway for me is that there is no right way to get here. Never pass up an opportunity; it might be the key that lets you in.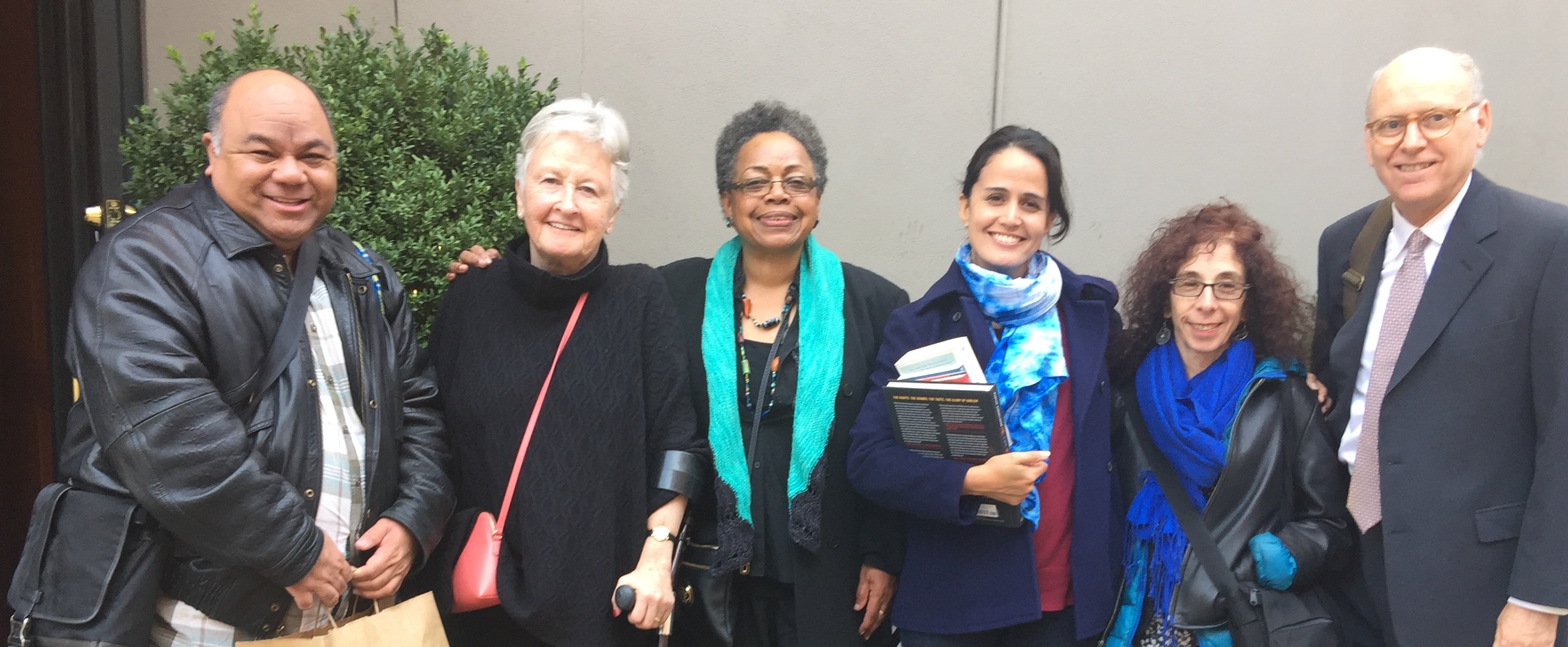 Photos (top): Kimo Armitage, (middle) Kimo Armitage and Sarah Gambito, Kimo Armitage and Alicia Upano. Photo credit: Alycia Kravitz. Photo (bottom, left to right): Kimo Armitage, Maureen Egen, Marie Brown, Alicia Upano, Bonnie Rose Marcus, Elliot Figman. Photo credit: Anonymous.
The Maureen Egen Writers Exchange Award is generously supported by Maureen Egen, a member of the Poets & Writers Board of Directors.