Micah Zevin is a librarian poet living in Jackson Heights, New York with his wife, a playwright. He works for the Queens Library and has recently published poems in the Best American Poetry Blog, Headlock Press, the Otter, Newtown Literary Journal and Blog, Poetry and Politics, Reality Beach, Jokes Review, Post (Blank), the Tower Journal, and the American Journal of Poetry. Zevin received his MFA in Poetry from the New School in 2014 and is the founder and curator of the Risk of Discovery Reading Series, now at Blue Cups in Woodside, New York.
Shortly after graduating from the New School, I started to think about how I could continue the same sense of community, support, creative energy, and stimulation that I received from my fellow students and professors. I saw a post on Facebook that was searching for someone to host and curate a reading series/open mic at a new comedy and creative venue in Astoria. The idea was to feature a diverse mix of Queens and non-Queens-based writers, and get local writers from my New School MFA connections and on social media to bring another reading series to the often overlooked borough of Queens and its budding literary scene, which happens to be my home and birthplace.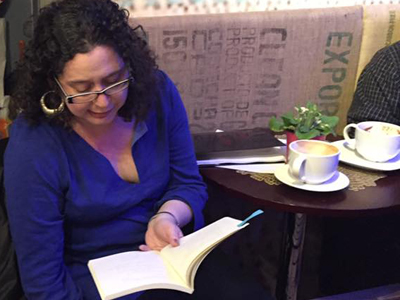 The "Risk" and "Discovery" in the reading series title was inspired by essays on writing by Yusef Komunyakaa, which emphasize the surprise that can come in one's writing when challenging subjects or ideas are tackled in an unorthodox or imaginative way. At the most recent incarnation of my reading series, I give my attendees a handout with poetry prompts that asks them to write instant poems (the discovery), and then read them aloud (the risk). These poetry prompts have also been an effective way to jumpstart my own writing and bring things out of me from angles and perspectives that wouldn't have otherwise been extracted or mined. Featured readers, such as Mathew Yeager, Nicole Goodwin, and Ryan Black, have taken the challenge and read their "instant poems" aloud.
Joanna Fuhrman was a featured poet for our February 21 event, and upcoming events include poets Matthew Hupert and Bill Lessard on March 21, and Uche Nduka and Francine Witte on April 18 during poetry month.
Featured poets who are paid an honorarium are thrilled that this reading series has received grants from the Readings & Workshops Program at Poets & Writers, which encourages writers to travel and go on tours to promote their collections. The option to pay featured readers attracts a wide range of writers to my reading series, and it has grown and built a regular audience over the last three years.
The Poets & Writers Literary Events Calendar is the perfect place to post information about the series and upcoming featured writers, and posts can be shared on social media.
Ultimately, running a reading series, despite organizational and logistical challenges, is a rewarding experience because it connects writers and literary enthusiasts with one another, and helps build a network in the borough of Queens and beyond.
Support for the Readings & Workshops Program in New York City is provided, in part, by public funds from the New York State Council on the Arts, and the New York City Department of Cultural Affairs, with additional support from the Louis and Anne Abrons Foundation, the Axe-Houghton Foundation, the A.K. Starr Charitable Trust, and Friends of Poets & Writers.
Photos: (top) Micah Zevin (Credit: Susan Weiman). (middle) Joanna Fuhrman (Credit: Micah Zevin). (bottom) Audience members at the open mic (Credit: Micah Zevin).