Marge Pellegrino, author, teaching artist, and project manager for The Hopi Foundation's Owl & Panther project, blogs about P&W–supported programs with refugee families.
When the University of Arizona's Poetry Center asked me if our families would write poems in response to drawings by Vietnamese children for their upcoming Speak Peace exhibit, I jumped at the chance. Our participants are as young as five and as old as sixty. They're from Bhutan, Congo, Ethiopia, Iraq, Nepal, and Somalia. Many carry private memories of armed conflict, some the scarcity they experienced in refugee camps. Others still witness a family member's haunting nighttime battles with post-traumatic stress disorder. We had never come this close to addressing their backgrounds directly.
With a grant from Poets & Writers we were able to bring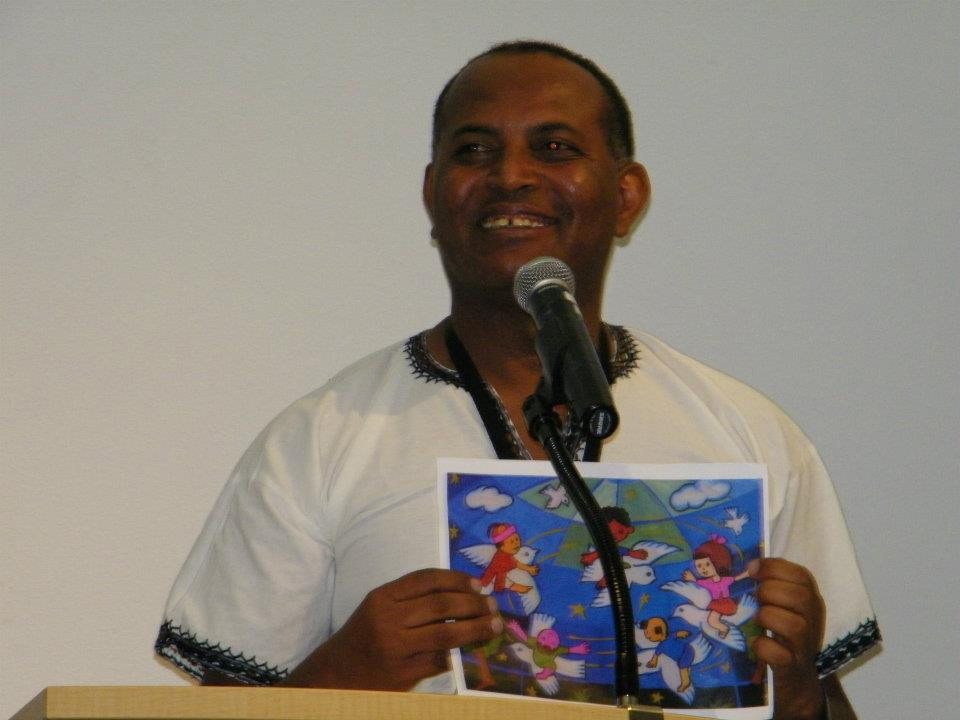 Christopher Mcllroy to work with us and meet the challenge that would allow our refugee families to speak up for peace—and for those brave enough—to talk back to war. McIlroy recently published Here I Am a Writer, stories and poems by Native American students in the Arts Reach Program in Tucson. Mcllroy knows how to inspire. He was willing to coach our volunteers, which included artists, retired social workers, a psychologist, a graphic designer, students, and writers, so they would feel confident in working on poems one-on-one with our clients. He worked with a variety of approaches to address this difficult topic and invited the volunteers to put pen to paper to create their own poems before they started to work with our families.
With this foundation in place, we were ready to get to work with the participants. This was the first time some of our newer clients ever wrote a poem. We invited one of our participants from Ethiopia to choose one of the Vietnamese student's images and express his response in music. Others wrote poems, then broke their poems apart and put the words back together again in a new order. After three writing sessions we were ready to rehearse. Oh, the poetry! But, also the drama and song!
The resulting performance was, for some, the first time they ever spoke before a group, and certainly the first time they saw themselves on television, when the local public television station's Arizona Illustrated covered our Speak Peace event. After each workshop and reading, each person was applauded and validated. And, in that space where they wrote and spoke peace, they were, for a time, at peace.
Photo: Tilahun Liben  Credit: Aspen Green
Support for Readings/Workshops events in Tucson is provided by an endowment established with generous contributions from the Poets & Writers Board of Directors and others. Additional support comes from the Friends of Poets & Writers.