Sarah Browning, director of Split This Rock and DC Poets Against the War, blogs about the P&W–supported Split This Rock Festival in Washington, D.C.
What is a poet to do? The world seems to be exploding around us: The earth is warming at an alarming rate; the right wing attacking the basic human rights of women, LGBT people, and people of color; the rich trying to buy elections; and so many Americans and others around the world suffering from poverty, violence, and repression. How do we keep on writing our poems, telling our stories, perfecting our craft, as this madness rages around us? Split This Rock will offer answers to such questions for the more than 500 poets of all ages who will converge in Washington, D.C., this month to join with others in wrestling these questions to the ground and speak out for another world.
Split This Rock Poetry Festival: Poems of Provocation & Witness, March 22 to 25, will be the third Festival of Poems of Provocation & Witness that we've presented with Poets & Writers' support. The funds from Poets & Writers are helping us bring five of the most visionary voices of our time to the D.C. stage: Sherwin Bitsui, Douglas Kearney, Rachel McKibbens, Jose Padua, and Minnie Bruce Pratt. Other stellar citizen-poets include Homero Aridjis, Kathy Engel, Carlos Andrés Gómez, Khaled Mattawa, Marilyn Nelson, Naomi Shihab Nye, Kim Roberts, Sonia Sanchez, Venus Thrash, and Alice Walker. And, as this will be the tenth anniversary of June Jordan's death, the festival will celebrate and honor the life and legacy of this poet-essayist-activist and teacher.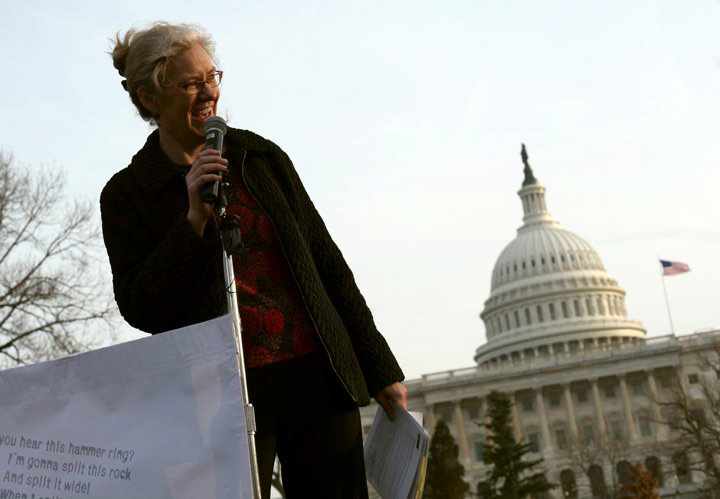 Panels presented during the festival will address the ways in which "poets (like June Jordan) have been at the forefront of many liberation struggles in the Americas and how poetry has sustained others in their pursuit of social justice."
White poets who write about race will invite attendees to think about the legacy of slavery and genocide in our country and the ways this history plays out today. Educators will consider strategies for teaching the great diversity of American poetry. And, poets who are organizers for environmental justice will ask, "Who will speak for the river?"
At Split This Rock, we encourage participants to have the difficult discussions they might not have elsewhere and to step outside their self-identified group(s) to attend a reading, workshop, or discussion that might be new to them.  We must talk to one another and read one another's work—across our differences—if we are to figure our way out of the many messes we find ourselves in as a nation.
Friday, March 23, at 4:30 PM, we'll head to the Supreme Court to use our art form—poetry—to demand that the very rich stop hijacking our national conversation. Money is not speech, the poets will declare in a group poem, created spontaneously on the spot. Poetry is speech!  Please join us!
Photo: Sarah Browning.  Credit: Jill Brazel.
Support for Readings/Workshops events in Washington, D.C., is provided by an endowment established with generous contributions from the Poets & Writers Board of Directors and others.  Additional support comes from the Friends of Poets & Writers.