P&W–supported poet and playwright Robert Francis Flor, graduate of the the Artist Trust EDGE Writers Development Program and former board member of ArtsWest Theater, blogs about making connections with other writers.

My favorite part of a reading is the Q&A. At a reading I recently attended, a young man raised his hand and posed a question to Rick Barot, one of the poetry panelists. He asked what a career as a poet was like, as he was interested in pursuing the writing life. Rick is a highly respected poet and has authored two collections, The Darker Fall and Want. A former Wallace Stegner Fellow and a teacher at both Warren Wilson College and Pacific Lutheran University, I knew Rick's answer would be meaningful. As it turned out, he had so much to share he conversed with this young man after the program.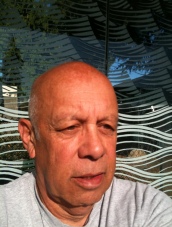 This month, Voices of the Asian American Experience from the University of Santa Cruz included twelve poems about my Alaska cannery experiences, and The Thymos Book Project out of Portland, Oregon, will include three of my poems. In addition, Pinoy Heroes, a vignette about my father and uncles, will soon be published. On April 18, I read the vignette for first time at Seattle University. I hope that if I am asked about writing careers, I'll be able to offer the same level of sage advice to students as Rick.
Advances in technology makes it easier than ever to make connections with other writers. Through these bridges, I hope to help foster a new generation of poets and writers... something I've always thought was incredibly important.
Photo: Robert Francis Flor.
Support for Readings/Workshops events in Seattle is provided by an endowment established with generous contributions from the Poets & Writers Board of Directors and others. Additional support comes from the Friends of Poets & Writers.