P&W-supported poet/activist Kelly Harris, community outreach chair for the New Orleans chapter of the Women's National Book Association, blogs about her love for New Orleans.
Before moving to New Orleans for love in 2008, I was a writer who required complete silence to write. Often I'd find a corner of a library, pull my hoody over my head, and dig in. Sometimes I'd plug my ears with headphones without any music. I know, I know, weird, but I needed to tell myself (and show everyone around me) I was occupied.
New Orleans is not a quiet place. It occupies you. Since moving from the Midwest (Cleveland, Ohio) to the South, I've had to adjust how I write. Some family members have wondered how I could be a candidate for marriage because I seemed eerily comfortable as a loner. My husband is always amazed at how often I leave my phone at home on purpose. There's a reason... I'm easily distracted. With so many stimuli, I wonder how poets find useful silence.
By now you're asking, "Kelly, where is there a quiet place in New Orleans?" I don't know, but, strangely, I have found the daily commotion in New Orleans to be useful.
New Orleans Streetcars: Maybe it's the nostalgic wooden seats and clicks of the metal wheels against the metal tracks that inspire me as a writer. Riding a streetcar allows me the opportunity to sightsee, and overhear some of the most interesting conversations.
Rue De La Course on Oak Street: The café is an old, two-story bank with high ceilings. The way voices bounce off the walls create the feel of an old movie where two lovers reunite.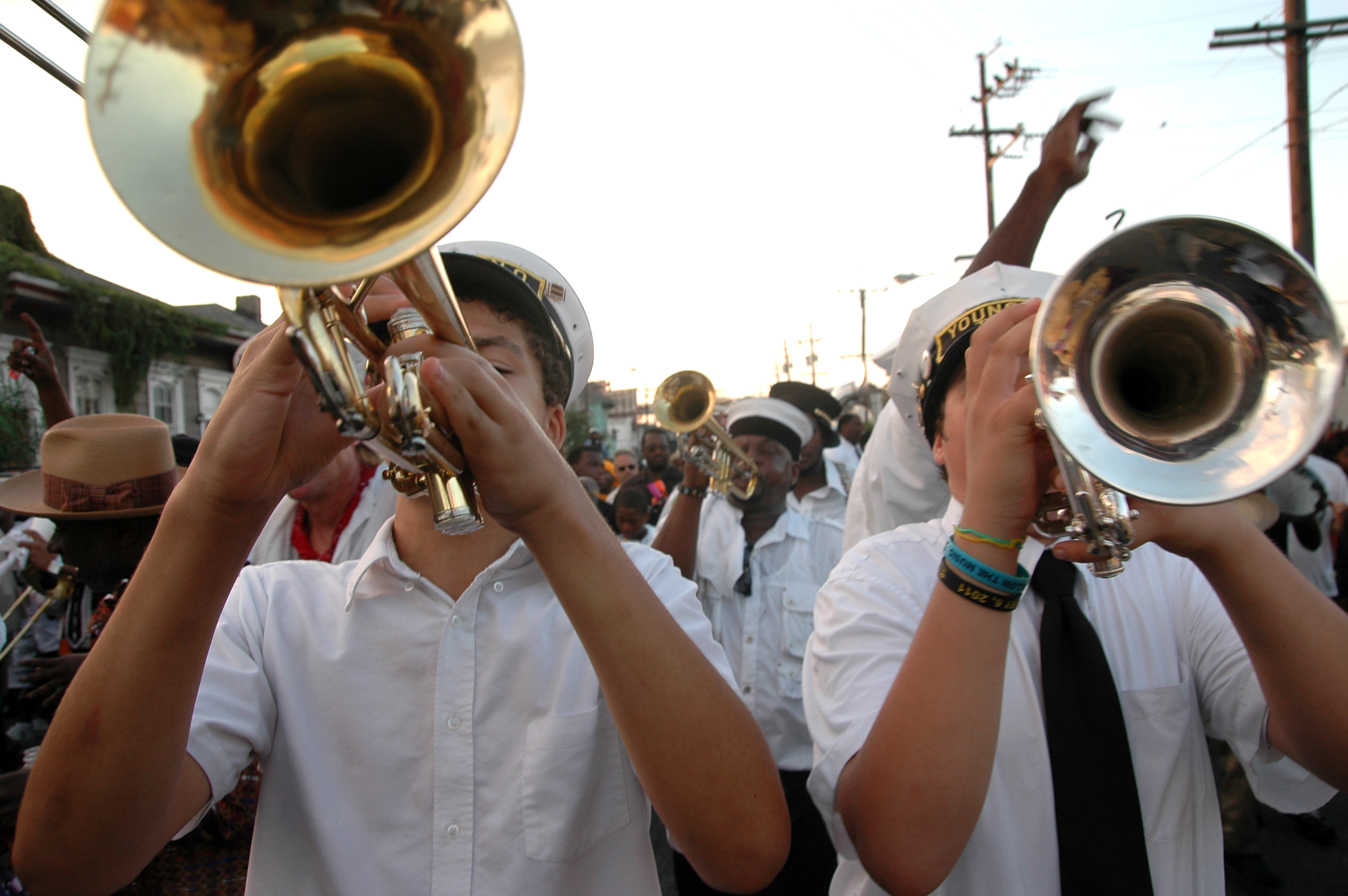 The Moonwalk: This paved sidewalk beside the Mississippi River has nothing to do with Michael Jackson. It's called the Moonwalk in honor of former mayor Maurice "Moon" Landrieu. From here you see the Crescent City Connection Bridge connect the east and west banks of the city. Café Du Monde is steps away.
The combination of music, history, and culture makes this a place where a poem waits to happen.
Photo: (top) Kelly Harris; (bottom) Marching band. Credit: L. Kasimu Harris.
Support for Readings/Workshops events in New Orleans, is provided by an endowment established with generous contributions from the Poets & Writers Board of Directors and others. Additional support comes from the Friends of Poets & Writers.