For the next few weeks Camille Rankine, program and communications coordinator at Cave Canem Foundation, will give us the rundown on the longtime P&W-supported literary organization.
Toi Derricotte and Cornelius Eady founded Cave Canem in 1996 with the intuition that African American poets would benefit from having a place of their own in the literary landscape. That summer, twenty-six poets gathered at Mount St. Alphonsus Conference Center in Esopus, New York. "The first night when everyone sat in a circle and started breaking down about how they had never felt safe and never studied with an African American poet, you could see something had really happened," Toi Derricotte recalled. "People broke open," said Cornelius Eady, describing the first workshop in an interview for the Poetry Foundation. "And then everyone hung out by the river and built a fire and really claimed the space."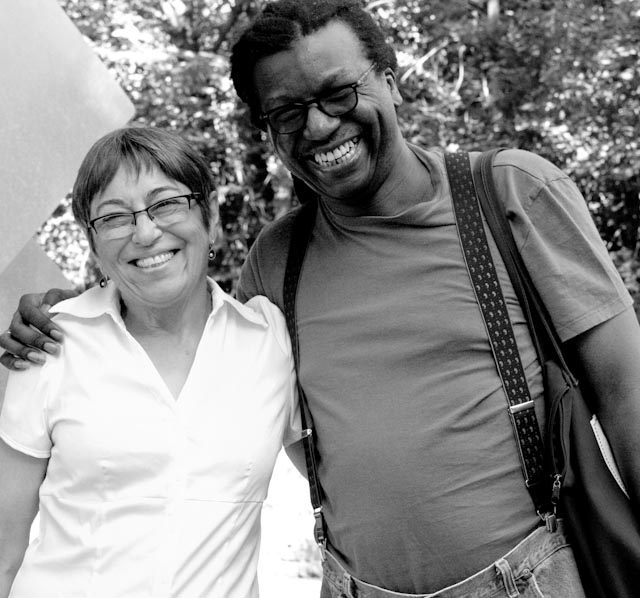 In the fifteen years since its founding, Cave Canem's community has grown to become an influential movement with a renowned faculty and high-achieving national fellowship of over three hundred, many of whom have been P&W-supported and/or listed in the Directory of Poets & Writers. From inception, the organization's week-long writing retreat has provided sustenance and a safe space to take artistic chances.
This June, the tradition will continue at the sixteenth annual summer retreat, held at the University of Pittsburgh at Greensburg in Pennsylvania. Here, fifty-four fellows will commune with their peers and study with world-class poets Toi Derricotte, Cornelius Eady, Terrance Hayes, Carl Phillips, Claudia Rankine, and Natasha Trethewey. As Harryette Mullen, recipient of P&W's fourth annual Jackson Poetry Prize, put it, in this environment "black poets, individually and collectively, can inspire and be inspired by others, relieved of any obligation to explain or defend their blackness."
In addition to the retreat, several public readings, including a tented event at City of Asylum/Pittsburgh on June 23, will showcase the work of fellows, faculty, and visiting poet Amiri Baraka. 
Photo: Cave Canem Founders, Toi Derricotte and Cornelius Eady. Credit: Rachel Eliza Griffiths
Support for Readings/Workshops in New York City is provided, in part, by public funds from the New York State Council on the Arts, and the New York City Department of Cultural Affairs, with additional support from the Louis & Anne Abrons Foundation, the Axe-Houghton Foundation, the A.K. Starr Charitable Trust, and the Friends of Poets & Writers.