The Jackson Poetry Prize honors an American poet of exceptional talent who deserves wider recognition. It was established in 2006 with a gift from the Liana Foundation and is named for the John and Susan Jackson family. Eligible poets must have published at least two books of acknowledged literary merit. The $50,000 prize is designed to provide what all poets need: time and encouragement to write. There is no application process for the Jackson Poetry Prize; nominees are identified by a group of poets selected by Poets & Writers who remain anonymous; final selection is made by a panel of esteemed poets.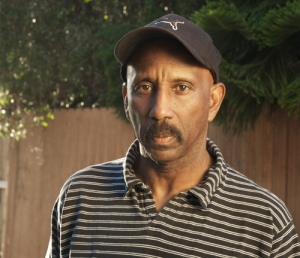 Will Alexander (Photo by Raman Rao)
The 2016 Jackson Poetry Prize recipient is Will Alexander. Poets Elizabeth Alexander, Rae Armantrout, and Terrance Hayes served as judges. In selecting Mr. Alexander as the tenth recipient of the prize, the judges issued the following citation:
"Great musicians are more than musicians—they are poets and spiritual forces," pioneering jazz pianist Cecil Taylor once said. It could similarly be said that great poets are more than poets—they are linguistic musicians and spiritual forces working sometimes just out of earshot. Will Alexander is such a poet. A sampling of poem titles like "Clairvoyant Hummingbird's Braille," "Exercise In Particle Neutrino," "Concerning Forms Which Hold Heidegger in Judgment," and "Water on New Mars" suggest his peerless inventiveness over the last three decades. His work seems shaped according to Arthur Rimbaud's insistence that "the poet makes himself a seer by a long, prodigious, and rational disordering of all the senses." In Alexander disordering the senses involves an intimacy that perceives the textures of the natural world, and an openness that perceives the vastness of the cosmos. Themes become, to cite his poem, "Body as A Vertiginous Lumen," "like conundrums in their basic arcs and specifics" as he combines ecology, philosophy, and neurology with a lyrical ease that is as spellbinding as it is underappreciated. It's telling that he is a visual artist and musician as well as a poet. Imagery often morphs into idiomatic improvisations bidding readers into symphonic verbal domains. During a 2015 lecture at the California College of the Arts in San Francisco Alexander described his work as "insurrectional smells of the spirit." Indeed, every poem reads like a subversive, alchemical wonder. It is tempting to label Alexander a surrealist or experimentalist, but he is truly a singular voice. Ultimately, his poetry is rooted in a belief in the transformative powers of language. In Compression and Purity, he writes, "my feeling is that language is capable of creating shifts in the human neural field, capable of transmuting behaviors and judgments." Will Alexander's body of work reveals the power of a discursive poetics guided by social prerogative. We hope the 2016 Jackson Prize alerts audiences to one of our most original contemporary poets.
Celebratory Reading, West Coast
Will Alexander
Introduced by Rae Armantrout
Hosted by
Poets & Writers and Beyond Baroque Literary Arts Center
November 5, 2016, 8PM
Beyond Baroque
Venice, California
Learn more and purchase tickets here.
Past winners of the Jackson Poetry Prize are:
2015 - X.J. Kennedy
Judges: Heather McHugh, Vijay Seshadri, and Rosanna Warren
2014 - Claudia Rankine
Judges: Tracy K. Smith, David St. John, Mark Strand
2013 - Arthur Sze
Judges: Reginald Gibbons, Natasha Trethewey, and C. D. Wright
2012 - Henri Cole
Judges: Louise Glück, Marilyn Hacker, and James Tate

2011 - James Richardson
Judges: Mark Doty, Rita Dove, and Gerald Stern
2010 - Harryette Mullen
Judges: Fanny Howe, Ted Kooser, and C.K. Williams
2009 - Linda Gregg
Judges: Brenda Hillman, Edward Hirsch, and Charles Simic
2008 - Tony Hoagland
Judges: Philip Levine, Robert Pinsky, and Ellen Bryant Voigt
2007 - Elizabeth Alexander
Judges: Lucille Clifton, Stephen Dunn, and Jane Hirshfield
View photos of the 2015 Jackson Poetry Prize reception honoring X. J. Kennedy.
View photos of 2014 Jackson Poetry Prize reception honoring Claudia Rankine.
View photos of the 2013 Jackson Poetry Prize reading honoring Arthur Sze.
View photos of the 2012 Jackson Poetry Prize reading honoring Henri Cole.
View videos of Harryette Mullen reading her work at a Poets & Writers event.
View a video of Linda Gregg reading her work at a Poets & Writers event.

View a video of Tony Hoagland reading his work at a Poets & Writers event.

View a video of Elizabeth Alexander reading her work at a Poets & Writers event.