Poets & Writers presents the Amy Award each year to recognize promising women poets, age 30 and under, living in the New York City metropolitan area or on Long Island. Winners receive a modest honorarium and give a reading in New York City. The award was established in 1995 by Paula Trachtman and Edward Butscher of East Hampton, New York, in memory of Ms. Trachtman's daughter, Amy Rothholz, an actor and poet.
Poets & Writers is pleased to announce the winners of the 2013 Amy Award: Desiree Bailey, Emily Barton, Nabila Lovelace, and Shireen Madon. The winners will read on October 2nd, 2013 at The New York Society Library. This event is open to the public. Email Friends@pw.org for more information.
Read Excerpts From the 2013 Winning Entries
Read Updates from Past Winners
Past Winners
Genevieve Burger-Weiser
Lisabeth Burton
Alexandra Cordera
Rio Cortez
Caitlin Doyle
Dorene Evans
Hafizah Geter
K. D. Henley
Shannon Holman
Ava Hu
Sarah Ruth Jacobs
Courtney Kampa
Simone Kearney
K. Morgan Keenan
Eugenia Leigh
Amanda Lichtenberg
Kerry Ann Minto
Annabelle Moseley
Idra Novey
Stella Padnos
Alison Roh Park
Cecily Parks
Prudence Peiffer
Shabnam Piryaei
Frances Justine Post
Hila Ratzabi
Jendi Reiter
Christie Ann Reynolds
Anne Marie Rooney
Jessica Saffer
Mrigaa Sethi
Laurie Siegal
Jessica Max Stein
Leigh Stein
Tamara Tiska
Alexandra Wilder
Wendy Wisner
Jenny Xie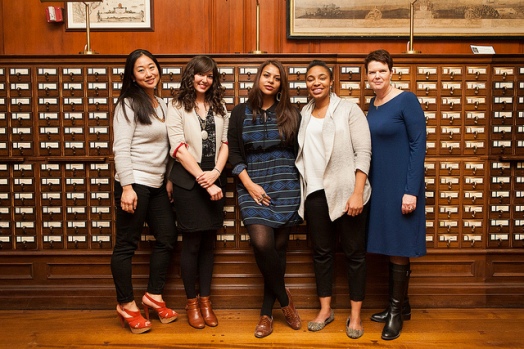 Above: winners Alison Roh Park, Christie Ann Reynolds, Rio Cortez, and Hafizah Geter with guest poet Anne Marie Macari and the 2012 Amy Award Reading at the New York Society Library. See more photos from the event on Facebook or Flickr. Photo by Yoon Kim.