We asked SPLAB project director Paul Nelson to update us on Poets & Writers-sponsored author Nathaniel Mackey who recently gave a reading and hosted a workshop in Seattle.
The SPLAB Visiting Poet Series welcomed Nathaniel Mackey to Seattle March 11 and 12, 2011. This event set a new high water mark for SPLAB.

The prose reading on Friday night at the Northwest African American Museum was Mackey's first Seattle reading in seventeen years. He read from his novel From a Broken Bottle Traces of Perfume Still Emanate. Letters from N to a mysterious figure known as the Angel of Dust relate the experiences of a jazz band in Los Angeles in the late seventies/early eighties. Jeanne Heuving of the University of Washington, Bothell interviewed Mackey, and a Q & A followed, fully engaging the audience.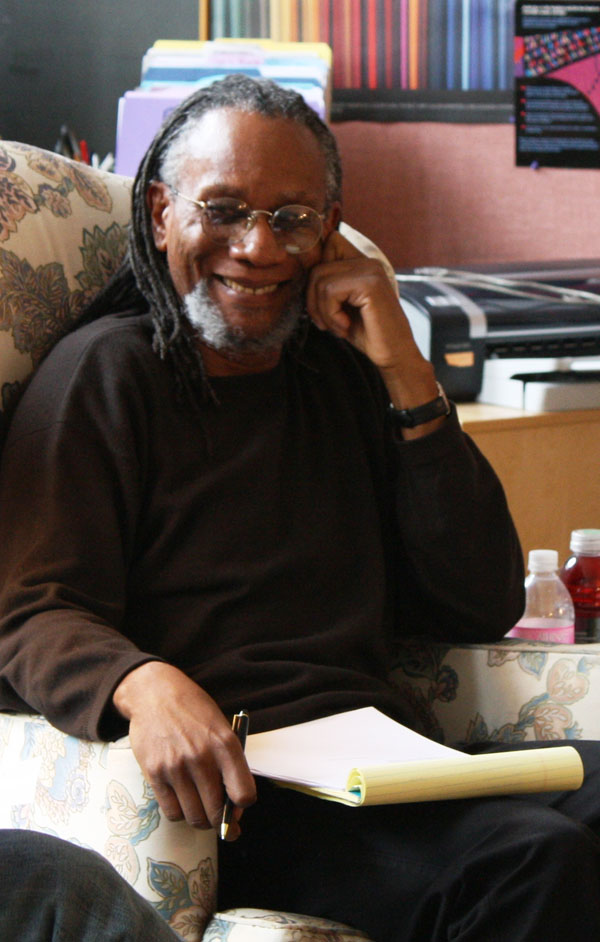 Mackey also led a workshop at SPLAB on Saturday, during which he suggested we consider "incident versus narrative" and said he was interested in the "vivification of incident," as well as consideration of the "sound/sense ratio" of poems. His grace and warm presence allowed for intensity, and his insights, often delivered at the end of each poet's feedback, were very incisive.

Saturday night's reading included work from Splay Anthem, Nod House, and new work from an as-yet-untitled collection. The two threads of his ongoing serial poem, Mu and Song of the Andoumboulou, continued into these last two as-yet-unpublished works. The Andoumboulou, as Mackey points out in Splay Anthem, are "rough draft human beings" from the Dogon culture of West Africa. Lines such as "each the other's increment" and "star wobble gave us away" give one a sense of Mackey's reach, from the indigenous and intimate to the galactic.

The visit leveraged contributions from local and regional arts funding agencies, new partnerships, as well as community contributions of lodging and meals. The first grant, from Poets & Writers, acted as catalyst for the rest of the contributions.

Photo: Nathaniel Mackey. Credit: Meredith Nelson
Support for Readings/Workshops events in Seattle is provided by an endowment established with generous contributions from the Poets & Writers Board of Directors and others. Additional support comes from the Friends of Poets & Writers.