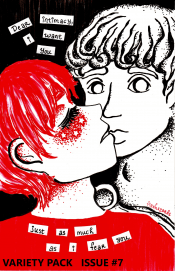 Genres Published:
Poetry, Fiction, Creative Nonfiction, Translation
Subgenres:
Autobiography/Memoir, BIPOC Voices, Creative Nonfiction, Cross-genre, Experimental, Feminist, Fiction, Flash Fiction, Formal Poetry, Graphic/Illustrated, Historical, Humor, LGBTQ Voices, Literary Fiction, Lyric Essay, Micro-poetry, Narrative Nonfiction, Nature/Environmental, Nonfiction, Poetry, Political, Pop Culture, Prose Poetry, Regional, Short Fiction, Speculative Fiction, Translation, Visual Poetry, War, Young Adult
Accepts Unsolicited Submissions:
Accepts Simultaneous Submissions:
Issues per Year:
2 (for 2023 there will only be one main issue however)
Editorial Focus
Variety Pack tries to live up their namesake! A bedrock of diverse voices, expressing a variety of arts & letters. Open to both genre and literary. Sure there's an aesthetic, but it's a broad atlas rather than a narrow stream!
Tips From the Editor
Please read our guidelines carefully! Read previous issues, but also feel free to send us something that we haven't published yet. Note* Reading periods will be subject to change. 
Contact Information
Jared Benjamin, Founding Editor & Reviews Editor
Last updated: Aug 29, 2023