October writer-in-residence Sehba Sarwar blogs about Voices of the Displaced, a workshop led by P&W-supported Voices Breaking Boundaries (VBB). A writer and multidisciplinary artist, Sarwar uses her poetry, prose, and video/art installations to explore displacement and women's issues on a domestic and global level. Her first novel, Black Wings, was published in 2004, and she is currently working on a second manuscript tentatively entitled "Island."
In the spring of 2003, I began co-facilitating a Voices Breaking Boundaries (VBB) writing workshop with another Pakistani poet Shaista Parveen. At that time, VBB was still young—we were in our third year and I had recently quit working at a high school, where I had been teaching creative writing and journalism. I didn't have much salary in those days and my only income was through workshops that VBB writers and I taught at local schools.
Though I had fun wi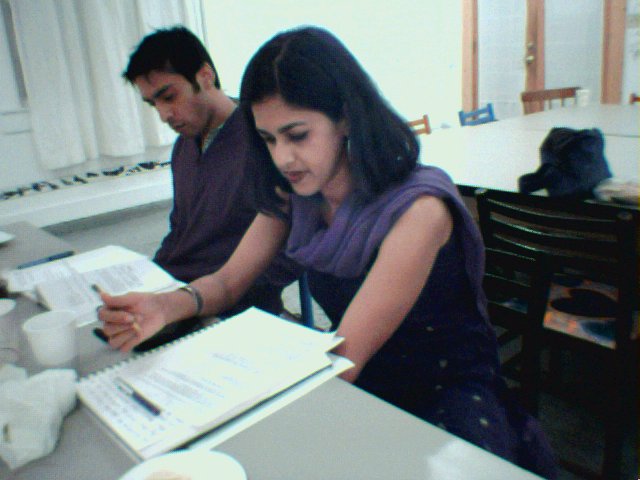 th teenagers, I wanted to work more with adults. So Shaista and I began planning a workshop that spoke to the rootless-ness we both felt, whether we were in Karachi, Houston, or somewhere else. Shaista and I dedicated much thought to our workshop title—just as VBB co-founders and I had spent time honing in on the right title for "our" organization three years earlier. We finally agreed on "Voices of the Displaced," a title that rang true for us. It also attracted a pool of Houston-based writers who were born in other countries or elsewhere in the United States, who had come from communities of color, or identified themselves as GLBT/queer. Project Row Houses offered us a meeting space and co-sponsored the series. We sent out emails inviting people to join—VBB didn't even have a website at that time. Our first group was intimate with only six participants, but over time, the group expanded. We always brought food and drinks and our gatherings offered formal writing but also a sense of community.
VBB's Voices of the Displaced series lasted about two years, ending a few months before my daughter was born. But once the formal workshops ended, a group of us filled the void by forming a writing/performance group, Displaced Corps. For another year, we met weekly to write, critique each other's work, and perform together.
Since that initial spurt of adult workshops and then subsequent break, VBB has gone back to offering writing workshops for educators and students. We also continue working on the issues we explored through Voices of the Displaced by producing theme-specific multidisciplinary shows such as Politiqueer, Artists/Mothers and What's Color Got to Do With It?
Often I think about the title of our group and recognize that the feeling of "displacement" is true of communities not just in Houston but also in urban spaces around the world. To live in the same city as our grandparents, attend the same schools and colleges as our parents, or stay in the neighborhoods in which we were born is becoming rare. Human migration and movement makes the recording of memories and family stories precious and so much of VBB's work continues to be focused on revisiting histories through different lenses, capturing neighborhood stories, and teaching workshops that create connections between the past, present, and the future.
Photo: Sehba Sarwar (right) with another workshop participant.

Support for Readings/Workshops events in Houston is provided by an endowment established with generous contributions from the Poets & Writers Board of Directors and others. Additional support comes from the Friends of Poets & Writers.