Lisa Bowden is the publisher and co-founder of the P&W-supported Kore Press in Tucson, where P&W has been supporting literary events since 2008. A poet who works with dancers and musicians, she is also an award-winning book designer and currently serves on the advisory board of Girls Write Now. A graduate of the University of Arizona, Bowden has made her home in Tucson for nearly three decades.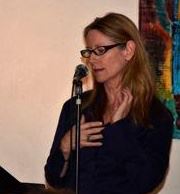 What makes your press and its programs unique?
Kore is one of six presses left in the country dedicated to publishing the intellectual and creative work of women writers. The press is also entering its nineteenth year, which is a bit of a coup for a small, nonprofit house.

In addition to publishing, we have educational and literary activism projects that take writing off the page to engage the public in innovative ways. For example, we just completed a Big Read using Emily Dickinson as our focus of inquiry to help heal our city after the 2011 shootings. We collaborated with forty organizations, businesses, and individuals to reinterpret Dickinson's work and find new ways of reading and writing (using dancers, musicians, actors, students, libraries, pastry chefs, the bus system, translators, a videographer, visual artists, etc.). P&W helped fund a writing workshop by visiting poet/art critic Eva Heisler.

What recent projects have you been especially proud of and why?
We adapted the book Powder: Writing by Women in the Ranks, from Vietnam to Iraq to the stage. We used the production, "Coming in Hot," as a tool for civil discourse by touring it in high schools and non-theater venues to get people talking about difficult issues women face in war times.

Kore also runs an after-school writing-as-activism program for teen girls and transgendered youth to help them get their story into public circulation. Most recently, the girls created a short film based on peer interviews exploring issues of sex and identity, which screened in our local independent movie house.

What's the most moving thing that's happened at an event you've hosted?
After watching our play, female veterans who had never been able to talk about their experiences overseas felt a catharsis and liberty to speak. One female veteran, who ended up following us as we toured the play to high schools to answer students's questions, said that seeing the play and working with us saved her life.

How has literary presenting informed your own writing and/or life?
I am honored whenever I'm listed as a reader or speaker at someone else's literary program, as I know how hard the work is! After doing so much of the same work myself, it's always nice to be on the other side. It's also heartening, as a writer, to participate and learn from fellow presenters and writers. It's such a rich writing community we have in the United States.

What do you consider to be the value of literary programs in your community?
Tucsonans are fortunate to have both the University of Arizona and the Poetry Center in our city, as well as many non-university/institutional literary organizations that do a variety of programming. We are steeped in literature of all kinds. We relate with and through a love of words, understanding, and staying in positive conversation with our crossroads culture and western borderlands.
Photo: Lisa Bowden. Credit: Sam Ace.

Support for Readings/Workshops events in Tucson is provided by an endowment established with generous contributions from the Poets & Writers Board of Directors and others. Additional support comes from the Friends of Poets & Writers.