Kristen E. Nelson is a founder and the Executive Director of Casa Libre en la Solana, a non-profit writing center in Tucson, Arizona. P&W has co-sponsored the center's Weekend Residency program for the past four years. Nelson is the author of Write, Dad (Unthinkable Creatures Chapbook Press, 2012), and has recently published work in Denver Quarterly, Drunken Boat, Tarpaulin Sky Journal, Trickhouse, Dinosaur Bees, and Everyday Genius.
 

What makes your organization and its programs unique?
The mission of Casa Libre en la Solana is to support and enhance the creativity of professional and novice writers by providing a community venue for classes, readings, and other professional development opportunities.

The diversity of our programs and high level of community involvement is what makes Casa Libre stand out. In addition to our own creative writing workshops and reading/performance series, we provide an event base for many other Tucson groups, including Kore Press, Queer People of Color, Pan Left Productions, Read Between the Bars, and the Tucson Youth Poetry Slam.

What recent program have you been especially proud of?
Participants in our program Made for Flight, a transgender youth and ally empowerment workshop series, walked in the annual All Souls Procession in Tucson, a huge community procession to honor the lives of ancestors and loved ones who have passed away.

Made for Flight incorporates transgender history, ally development, creative writing, and kite building to commemorate the lives of the transgender individuals who have been murdered in the last year. TC Tolbert, Casa Libre's assistant director, began this program three years ago, and this year we had approximately one hundred people show up to help us carry the kites that Tucson youth created in the procession.

It is inspiring to see the large number of allies who show up to lend their support to bringing awareness to the disproportionate number of transgender people (specifically women of color) who are murdered each year.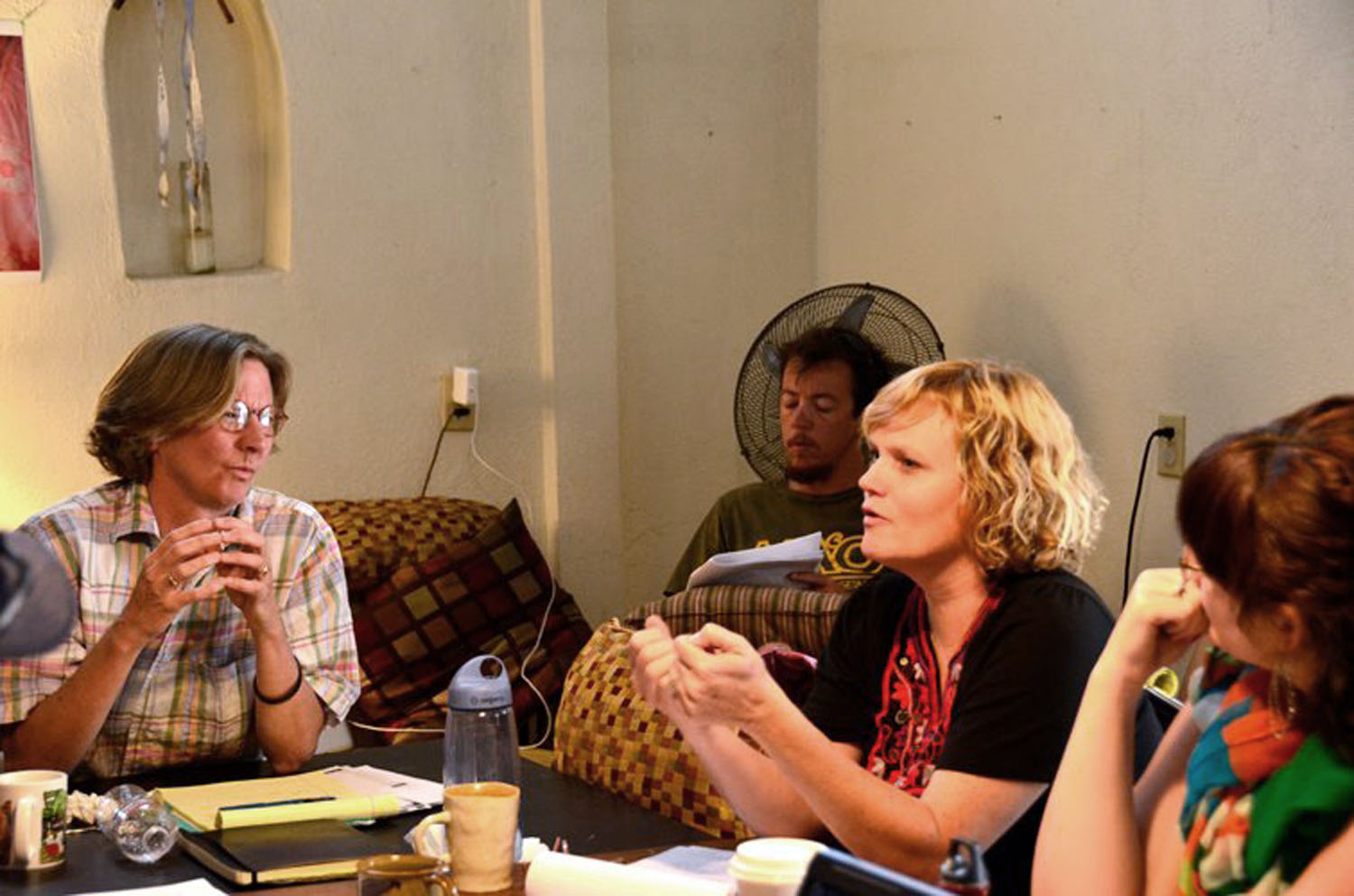 How do you find and invite writers?
Our organizational structure is a bit like an octopus. Each arm functions independently and in collaboration with the main body of the organization. Each of our programs is curated by a different local writer drawing from a diverse group.
I curate our Weekend Residency programs and through personal or professional connections have invited Camille Dungy, Samuel Ace, Maureen Seaton, and most recently Rebecca Brown to lead a weekend full of workshops and reading series. All of these Weekend Residencies could not have happened without the generous funding provided by Poets & Writers.

How has literary presenting informed your life and writing?
Casa Libre is my life. I live on the grounds in a community of seven households of writers and artists. Since I founded this place nine years ago, the programs and people who are a part of it have shaped who I am. This community is full of thinkers and creators. Every day there are conversations in our courtyards about writing projects, creative inspiration, and new programs. The Casa Libre community extends far beyond our grounds into Tucson and across the country. Passionate people who care about writing and creating come here. This is a nourishing place that I am proud to be a part of and call home.

What do you consider to be the value of literary programs for your community?
The staff and board members of Casa Libre are deeply invested in fostering creativity. We are devoted to honoring and making space for thinking, writing, conversation, art-making, and performance in a world dearly in need of artistic vision, creative solutions, and celebration of the human mind. Because we believe expression is a vital part of nourishing the human spirit, Casa Libre inspires writers and artists to take risks and manifest their artistic dreams.
 
Photo: Kristen E. Nelson. Credit: Sarah Dalby. Photo: Casa Libre's Weekend Residency with Rebecca Brown (at left). Credit: Samuel Ace.
Support for Readings/Workshops events in Tucson is provided by an endowment established with generous contributions from the Poets & Writers Board of Directors and others. Additional support comes from the Friends of Poets & Writers.