Joy Leonard, teaching artist and program director at New Settlement's Program for Girls & Young Women serves adolescent girls in the Southwest Bronx with arts and leadership development classes after school, on weekends, during school breaks, and in the summer. Participants in the program are young women of color, 99 percent from low-income families, often attending underperforming schools. The program strives to connect young women with established artists and educators, who will introduce them to relevant, high-quality materials and guide their development as artists, while also supporting their engagement with social justice issues. In her other life, Leonard is a mother of two boys, an actor, director, and executive producer of the Synaesthetic Theatre Collective.
This spring we were fortunate enough to find (with the help of the Readings & Workshops Program at Poets & Writers, Kamilah Aisha Moon: author, poet, and gifted teacher. Kamilah led a seven-session workshop series titled Drop the Mic for program participants ages fourteen to twenty. Kamilah began each session with a group reading of two or three selections of poetry, linked by themes or similar poetic devices, and then led the group in a conversation about what they noticed, what resonated with them, and how language was used. She would then offer the group a writing prompt for the evening, related to the readings and conversation.
Participants wrote about their names, their perceptions, and evoked places of memory. Inspired by Langston Hughes's "Mother to Son" and Gwendolyn Brooks's "We Real Cool," they experimented with writing from the perspective of someone else, in a voice not their own. Kamilah selected relevant pieces from a wide range of poets, with a heavy concentration of women and people of color, but she also kept the young women tuned in with critical discussions of motifs in popular songs, like Beyonce's "Lemonade," and encouraged them to relate to works that moved them. In response to Nina Simone's "Blackbird," one young poet wrote:
Why you wanna fly, Blackbird? You ain't ever gonna fly.
Flying is for the Good, never for the 'hood.
Us, suspended in the air – you, paying your fare. Ha!
So why you wanna fly, Blackbird? You ain't gonna make it.
All that you can do is get on a plane, so please, face it.
Birds of a feather flock together. You the one getting blown away in the bad weather. Ha!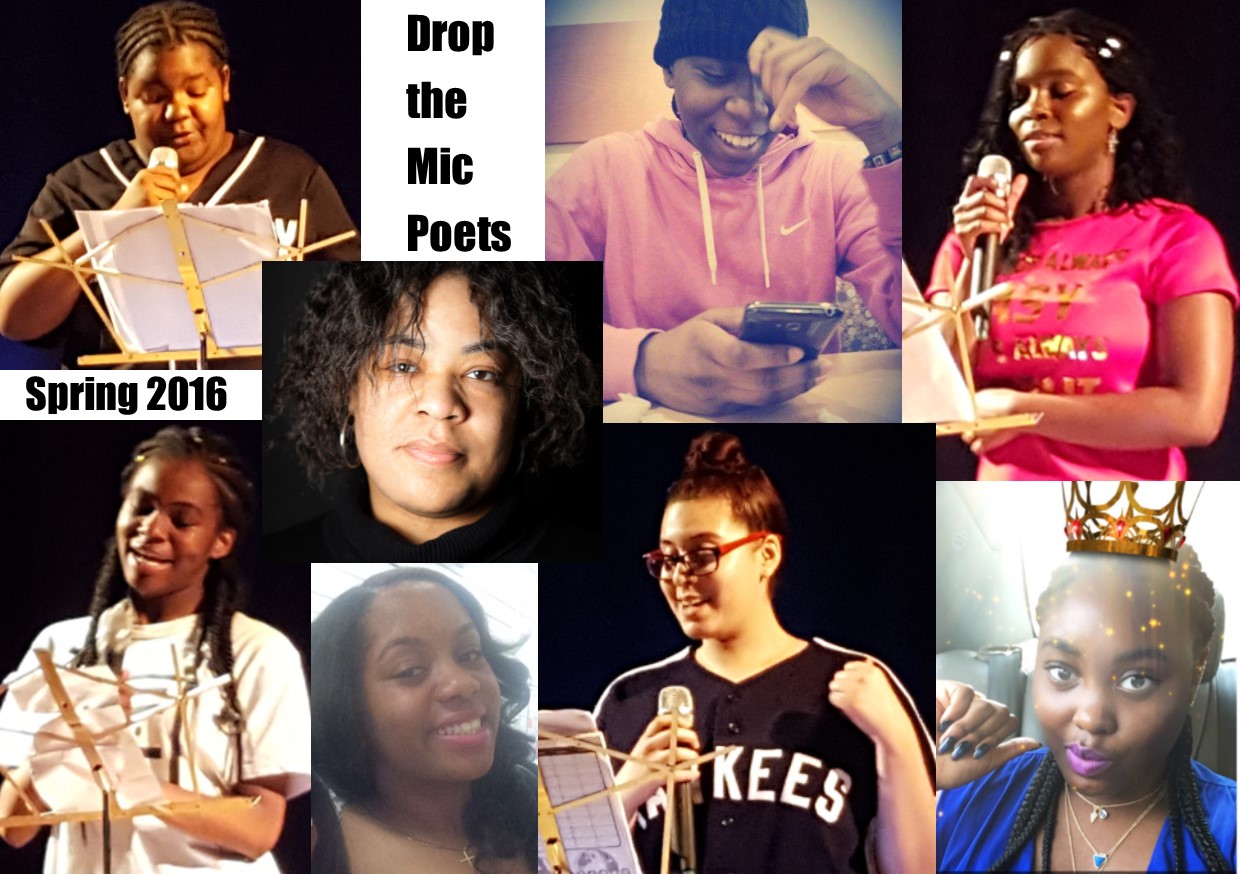 Kamilah effectively drew them into expressing opinions and considering why poets had chosen the language, rhythms, and images used in each piece. While the group was often loud, raucous, and challenging to channel in conversation—you know, teenagers—once Kamilah explained the prompt for each evening, they settled down to commit themselves to paper with a seriousness and focus that sometimes surprised the program staff. Everyone wanted Kamilah to read their work and provide feedback. They wrote funny, daring, surprising pieces, and over the course of the workshop it was clear they felt comfortable enough to risk expressing themselves in new ways.
The Program for Girls & Young Women is indebted to Poets & Writers, and Bonnie Rose Marcus, in particular, for enabling us to work with Kamilah Aisha Moon, a poet and teacher with the experience and compassionate personality to effectively support, inspire, and challenge our young poets.
For more on the Program for Girls & Young Women, visit their Facebook page. For samples and video clips of the young poets performing work created in the workshop, visit the Drop the Mic 2016 website.
Photo (top): Joy Leonard. Photo credit: Chris Nichols. Photo collage (bottom): Kamilah Aisha Moon and participants. Photo credit: Kamilah Aisha Moon, Rachel Eliza Griffiths.
Support for Readings & Workshops in New York City is provided, in part, by public funds from the New York State Council on the Arts, and the Department of Cultural Affairs, with additional support from the Louis & Anne Abrons Foundation, the Axe-Houghton Foundation, the A.K. Starr Charitable Trust, and the Friends of Poets & Writers.