JP HOWARD, aka Juliet P. Howard, is a poet, a Cave Canem fellow, a member of the Hot Poets Collective, and a native New Yorker. She curates and nurtures Women Writers in Bloom Poetry Salon (WWBPS) and blog. WWBPS hosts monthly literary Salons in New York, and the blog accepts submissions of poetry from women. JP has been selected as a 2014 VONA/Voices Poetry Fellow, a 2012 and 2011 Lambda Literary Foundation Emerging LGBT Voices Fellow, and a 2011 Cave Canem Fellow in Residence at the Virginia Center for the Creative Arts. She was a finalist for Astraea's Lesbian Writers Fund for Poetry and the recipient of a Soul Mountain Retreat writing residency. Her poems have been published in Adrienne: A Poetry Journal of Queer Women, the Best American Poetry Blog, MiPOesias iPad Companion, African Voices Magazine, Kweli Journal, the Mom Egg, "Of Fire, Of Iron," Talking Writing, Muzzle Magazine, Connotation Press, TORCH, Cave Canem Anthology XII: Poems 2008-2009, Cave Canem XI 2007 Anthology, and Promethean Literary Journal. She was awarded an MFA in creative writing from the City College of New York in 2009, holds a BA from Barnard College, and a JD from Brooklyn Law School.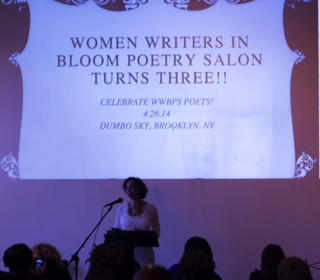 Women Writers in Bloom Poetry Salon (WWBPS) is a dream come true! After receiving my MFA from the City College of New York in 2009, I wanted to continue to be a part of a community of poets and decided sometimes we have to create the community we desire. WWBPS is a Literary Salon Series, modeled after traveling salons that were popular during the Harlem Renaissance. Our first Salon was held during National Poetry Month in April 2011 and was created with the goal of establishing a venue where women writers could come together in a supportive, creative, and nurturing space. The Salon is also open to men. As curator and nurturer of WWBPS, I host monthly literary salons and writing workshops throughout New York. Poets & Writers has generously funded WWBPS since 2012.
Our monthly Salons have grown and can now accommodate between twenty-five to thirty participants. We have served over six hundred participants in the past three years and continue to expand opportunities for Salon members. This year I started a Spring Reading Series "Celebrating a Sacred Space for Women's Voices: Women Writers in Bloom" at the Bowery Poetry Club, featuring dynamic and diverse Salon poets. This new Series, also funded by Poets & Writers, has its next installment on May 18, 2014, at 1 PM. We had our first out-of-state Seattle-based Salon during AWP at an off-site venue this year. I was recently awarded my very first Brooklyn Arts Council (BAC) Community Arts Fund Grant on behalf of the Salon. This grant allowed me to rent the gorgeous DUMBO Sky venue for our April celebration. Last month WWBPS was one of four literary organizations whose members were invited to participate in Poets & Writers' fifth annual Connecting Cultures Reading, which was a true honor for the Salon and our members.
It has been an amazing feeling to watch the Salon blossom in both membership and outpouring of support. Our three-year anniversary celebration on Saturday, April 26, at DUMBO Sky was one of our largest, most successful events to date! We had nearly seventy guests in attendance. It was wonderful to have the support of Poets & Writers for this anniversary celebration. Our featured poet, phenomenal performer Mahogany L. Browne, performed an excerpt of her manuscript turned multi-media poetry production, #redbone, along with musical accompaniment by Mel Hsu. The performance was inspirational and mesmerizing. Since a large goal of the Salon is to support and nurture women writers, I also honored two long-time Salon members: dynamic poets Cheryl Boyce-Taylor, curator of the Calypso Muse Reading Series and the Glitter Pomegranate Performance Series, as well as Lorraine Currelley, founder and director of Poets Network and Exchange, were presented with certificates of appreciation in recognition of their outstanding dedication to our writing community. This event was spectacular! Salon members and volunteers donated tons of food, wine, beverages and gave freely and generously of their time. This was an event created for our community and was truly a success because of our community!
Photo: (Top) JP Howard, (Middle) JP Howard, Cheryl Boyce Taylor, Mahogany Browne. (Bottom) JP Howard, Lorraine Currelley. Photo Credit: Akinfe Fatou.
Support for Readings & Workshops in New York City is provided, in part, by public funds from the New York State Council on the Arts, and the New York City Department of Cultural Affairs, with additional support from the Louis & Anne Abrons Foundation, the Axe-Houghton Foundation, the A.K. Starr Charitable Trust, and the Friends of Poets & Writers.