Mong-Lan, a Fulbright scholar and recipient of a Stegner Fellowship at Stanford University, has published seven books of poetry, most recently, Dusk Aflame: poems & art (Valiant Press, 2018), and three chapbooks. Her poetry has been awarded the Juniper Prize and the Pushcart Prize, and has been included in anthologies such as the Best American Poetry series. Mong-Lan is also a visual artist, musician, Argentine tango dancer, performer, and educator. She left her native Vietnam one day before the last evacuation of Saigon.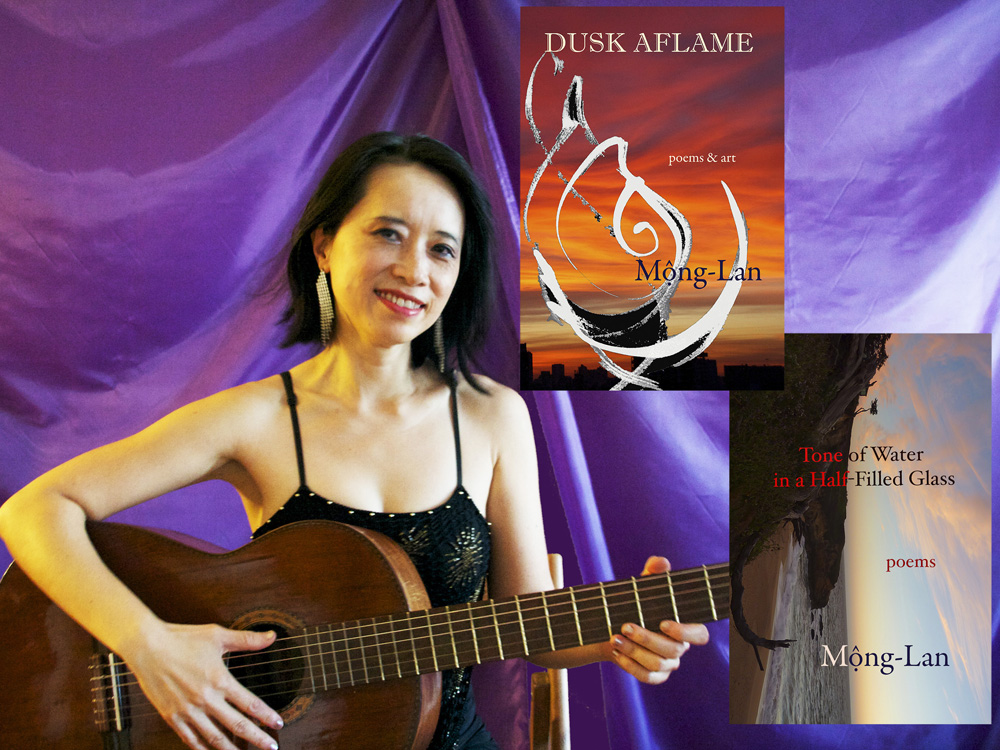 I'm grateful that Poets & Writers has cosponsored me for three events: The Poets in Play poetry reading at the Soup Full Café in Corning, New York; a poetry writing workshop a day later at the ARTS Council of the Southern Finger Lakes; and a convivial reading at Wheeler Hill hosted by poet Michael Czarnecki of FootHills Publishing, which published my most recent chapbook, Tone of Water in a Half-Filled Glass. Finally, I taught a workshop for the Watkins Glen Writers Group, and later gave a reading. Through the generosity of Poets & Writers, I was able to promote my seventh book, Dusk Aflame: poems & art, and new chapbook.
This was my first time participating in programs, readings, and workshops in upstate New York. I found everyone to be kind, curious, and inquisitive. My events in Corning, Wheeler Hill, and Watkins Glen have gone remarkably well with lively, attentive audiences. In each of the readings, in addition to reading and performing my poetry, I also performed several tangos and sang, accompanying myself on the guitar. My multimedia performances included recordings of my jazz piano arrangements which played in the background while I recited my poems. Workshop participants were refreshingly open with a willingness to read and experience diverse writers, and a desire to talk about and discuss new ideas and strategies. Some audience members joined me from one event to the other, driving the long, winding roads from town to town.
Without Poets & Writers' cosponsorship, I would not have been able to make this tour to upstate New York. Thankfully, Michael and Carolyn Czarnecki of FootHills Publishing hosted me in their rustic off-the-grid home on Wheeler Hill during most of my time there. Michael, with his indefatigable energy and generosity, drove me to and from readings and workshops, and introduced me to his friends and colleagues. I've met wonderful poets and writers such as Steve Coffman, Mary A. Hood, and Martha Treichler, who studied with Charles Olson all those years ago. I've enjoyed sharing my writing, books, art, knowledge, and teaching with this community, and am deeply grateful.
Support for the Readings & Workshops Program in New York is provided, in part, by public funds from the New York State Council on the Arts, with additional support from the Friends of Poets & Writers.
Photo: Mong-Lan with her book covers (Credit: Mong-Lan).