Melba Joyce Boyd is Distinguished Professor and Chair of Africana Studies at Wayne State University in Detroit, Michigan, and the author of thirteen books, including nine collections of poetry. She is the recipient of two Library of Michigan Notable Books awards, an Independent Publishers Award for Poetry, a Michigan Individual Artist Award, and was a finalist for the 2010 NAACP Image Award in Literature.
Before the powers that be decided there should be yet another Detroit Renaissance, the arts community was active, vital, and invigorating the city's center. On Saturday, September 20, 2014, from noon till sundown, Detroit was the site of the third annual Midtown Literary Walk. The weather was congenial and the settings sunlit, like the mood of the audience, sauntering from an historic location to a new-age café, wandering through an art gallery, and sipping wine with poetry in the garden of a nineteenth-century mansion.
The Midtown Literary Walk is the brainchild of Carole Harris, Detroit artist and designer known nationally for her quilt art, who partnered with M. L. Liebler, Wayne State University professor, award-winning poet, and cultural organizer extraordinaire, to plan and execute the project.
It was a mellow and memorable day, imbibing literature with aromatic, herbal teas at SocraTea, listening to writers framed by sculptures and paintings at N'amdi's Gallery, and engaging the melding of secular voices into sacred space at the Hannan House. At five events in four locations, hundreds gathered to listen to a stellar lineup of writers, featuring award-winning writers, spoken word artists, and musicians.
Charles Baxter, acclaimed novelist, poet, editor and essayist; Laure-Anne Bosselaar, winner of an American Library Association Notable Books award for Poetry; and Melba Joyce Boyd, recipient of an Independent Publishers Award and two Library of Michigan Notable Books awards, read their works.
The program showcased Ann Holdreith, a Pushcart Prize nominee; Walter "The Soul" Lacy, a poet and hip-hop artist; and Lisa Lenzo, who received a PEN Syndicated Fiction Project Award and won first prize from the Georgetown Review in 2013 for her story "Strays." They graced the stage with M. L. Liebler & the Good Shepherd Poetry Blues Band.
Detroit Poet Laureate Naomi Long Madgett, winner of the 2012 Kresge Eminent Artist Award, was the veteran writer and guest of honor, while Adrian Matejka, whose book The Big Smoke (Penguin, 2013) was a finalist for the 2013 National Book Award and for the 2014 Pulitzer Prize in Poetry, came from Indiana University to read.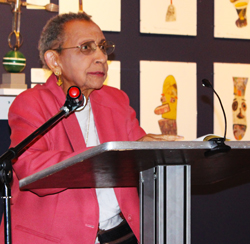 Others featured included fiction writer and poet Peter Markus, a Kresge Arts Fellow in Literary Arts in 2012; Christine Rhein, who is the recipient of the 2008 Walt McDonald Poetry Prize; and Judith Roche, who has received two American Book Awards and two nominations for the Pushcart Prize.
In addition to sites that hosted the event, cosponsors for the Lit Walk included: the Readings & Workshops Program at Poets & Writers, Wayne State University Press, the Wayne Writers Forum, Wayne State University's Department of English, and the Knight Foundation. The Lit Walk, which is free and open to the public, has become an annual tradition in Detroit, nurturing literary culture in the heart of the cultural center of the city.
Photo: Lit Walk Writers (top) Naomi Long Madgett (bottom) Photo Credit: L. Bush
Support for Readings & Workshops events in Detroit is provided by an endowment established with generous contributions from the Poets & Writers Board of Directors and others. Additional support comes from the Friends of Poets & Writers.