TC Tolbert often identifies as a trans and genderqueer feminist, collaborator, dancer, and poet but really s/he's just a human in love with humans doing human things. The author of Gephyromania (Ahsahta Press 2014) and three chapbooks, Tolbert also coedited (with Trace Peterson) the anthology Troubling the Line: Trans and Genderqueer Poetry and Poetics (Nightboat Books 2013). His favorite thing in the world is Compositional Improvisation (which is another way of saying being alive).
The Courting Risk reading series annually presents the work of emerging writers working in multiple modes and art forms—from drama and music to visual art, film, and new media. The particular focus is on work that engages with difficult subject matter, writers who are LGBTIQ, women writers, and writers of color. The series has been proud to showcase many writers in the early stages of brilliant careers, and to present a lively, moving and engaging multi-genre performance for audiences.
Dear reader,

My job was to describe the incredible time we had back in April at Casa Libre in Tucson, Arizona. Khadijah Queen was visiting—she had curated a Courting Risk reading and there were six of us sharing the bill. The evening was wonderful. It was well attended and it brought folks to Casa Libre we'd never met before. The readers read new work and experimented with old work. It brought people together in the midst of uncertainty. Fear and joy were shared. In other words, it did exactly what the best poetry events will do. 

I'm failing at my job already because I absolutely suck at narrative. Maybe that's related to my trans-ness. The body did one thing; the voice did another. We keep changing. I trust it's not the summary that matters. Let's begin again. And again. I wrote an essay after that evening. I'd like to share it now. Enacting the principle of Courting Risk.

—TC Tolbert

"The sound of snow letting go/What are mountains"

I remember sitting at Bentley's with my mom and my girlfriend. It was my mom's first visit to Tucson. I hadn't started testosterone yet, but I was wearing a compression shirt and consistently being referred to as "he." I'm still a little bit suspicious when things are easy or good. I didn't understand why she no longer seemed angry with me. When I say I want to be a nurse, what I really mean is that I want to live closer to mystery. I think (too much) about security but I don't actually care about a career. The other day I woke up at 3:00 AM because a jackrabbit landed on me.

For a long time after rolling a friend over to discover that what was supposed to be her face had been replaced by a mess of blood and dirt and swollen skin, I asked every health care provider I could find if the human body is more fragile or more resilient than it seems. Last week, B took his shirt off in the snow and I couldn't help staring at his little man-belly. A day later, an avalanche covered where we were standing, and we were all sunburnt. Lidia Yuknavitch says: The body is the ultimate container for the disparate. I didn't know I could love J, K, or B because I thought I knew them already. The only moments that matter to me are when I realize I don't actually know anything.

I'm a little freaked out about my climbing assessment tomorrow. But academia has felt so sad lately. Which is another way of saying wasteful. I keep buying apples and then eating the meals provided for us here on base. Psychotherapy taught me that I need people. But M says it's not an "evidence-based practice." I'm terrified of substituting efficiency for effectiveness. Every time I realize how accustomed I am to approximation, I can't decide if that's surrender or despair. Actually, I don't have to climb anything. I just need to be able to identify good anchors. And I need to manage some risks while avoiding others. And I need to inspire at least a little bit of confidence. And I need to know how to rescue someone on a releasable rappel.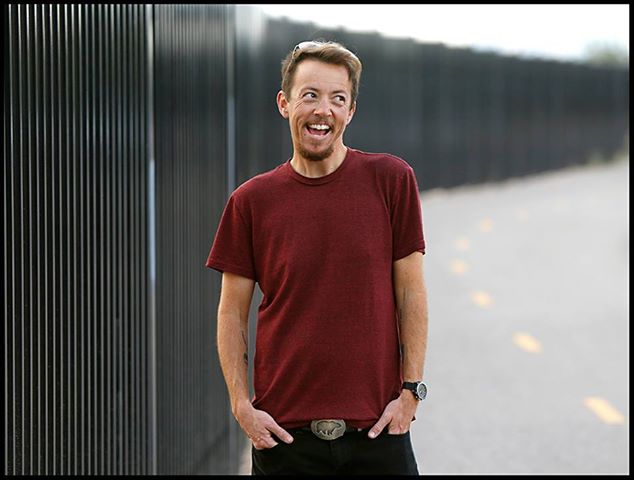 My mom (hell, my entire family back in Tennessee) is religious. Pentecostal. I've spoken in tongues before. The tension over me coming out as queer and then trans had been there for years. She said she'd been praying for God to change me for as long as she could remember. Then she said: I found a new prayer. (All the doctors said the answer is "more resilient.") She asked God to change her. As it turns out, no amount of insurance will actually keep you safe. I'll buy it because I tend to follow directions but my only real comfort is this.
Photos (top: left-right): TC Tolbert, Kristen Nelson, Shelly Taylor, Bill Wetzel, Amy Lukau, Khadijah Queen. Photo credit: TC Tolbert; (bottom): TC Tolbert. Photo credit: Mamta Popat
Support for Readings & Workshops events in Tucson is provided by an endowment established with generous contributions from the Poets & Writers Board of Directors and others. Additional support comes from the Friends of Poets & Writers.