Instructor of applied theater at Cornish College of the Arts, Caroline Brown has facilitated workshops for diverse groups, including veterans, AIDS widows in Kenya, and incarcerated women, as well as P&W-supported writing/performance workshops with BABES Network-YWCA and Compass Housing Alliance in Seattle, Washington. Caroline shared some reflections on her work with us.

What makes your writing workshops unique?
For the most part, my focus has been on the use of theater and performance as a means of helping marginalized communities share their stories with a wider audience. Writing has inevitably been an integral part of this process.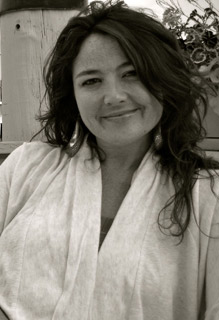 What techniques do you employ to help writers open up?
I conducted a five-week writing workshop with Seattle-based BABES Network-YWCA, an organization that supports women living with HIV/AIDS. I asked the women to help me create group guidelines for the duration of the process. One woman shouted "spelling doesn't count!" I was so pleased to hear her say this, as I know were the rest of the women. This simple guideline gave the women permission to avoid self-editing, trust their instincts, and find their voices.

I offer exercises that reveal commonality and reduce feelings of isolation amongst the group. I do this by asking participants to create collective poems or short stories that reflect both the diversity and similarities of the group. While conducting the workshop with Compass Housing Alliance, an organization that provides services and housing to homeless and low-income people, we created a composite character that reflected each individual's respective experience. The group chose a key turning point for the character and took turns answering questions as that character. They were able to collectively narrate the story of how he met his goals. I feel strongly that the participants would not have been as engaged had the same subject matter been discussed outside the context of a fictional story.

What are the benefits of writing workshops for underserved groups?
The work can be tiring and there are times when I yearn for a more conventional career. It is during moments of doubt that I remind myself of experiences such as the one I had working with incarcerated women in the Rhode Island state prison system. Upon completing a writing exercise one of the women asked me through tears if "we did these exercises on the outside." She was being released from prison the next day and was scared of "going back to her old ways." The workshops helped her to recognize herself as a good person, something she had never felt before. Her fear was that without such an outlet, she might forget this feeling and start making unhealthy decisions again. What stopped me in my tracks was the fact that such workshops are not so readily available to those who need them the most.
 
What effect has this work had on your life and/or your art?
I am inspired by the risks individuals take within the creative process and the freedom they gain from doing so. My greatest challenge in this work is to remember how important that journey is to everyone, including myself. After seven years of encouraging others to endure the challenges that come with the creative journey, it is important to remind myself to embark on the same. I owe it to myself as well as to those who have shown so much courage in the face of their own hesitations toward the creative process.
 
Photo: Caroline Brown. Credit: Sven McNichols.

Support for Readings/Workshops events in Seattle is provided by an endowment established with generous contributions from the Poets & Writers Board of Directors and others. Additional support comes from the Friends of Poets & Writers.