Since 2007, P&W has supported literary events in Houston, Texas. Literal, Latin American Voices, an award-winning bilingual magazine, was among the first Houston organizations supported by P&W. We asked its founder and director, Rose Mary Salum, author of the short story collection Spaces in Between, to share her experience as a presenter of Latin American literature and art.

What was your most successful literary program?
One of the most successful programs we hosted this year was Poetics of Displacement: Latin American Émigré Writers and the Creative Imagination. When Gisela Heffes invited us to collaborate with Rice University on this series, we immediately agreed. The response was amazing, especially to Sergio Ramírez, who I introduced! People approached me to express their absolute satisfaction.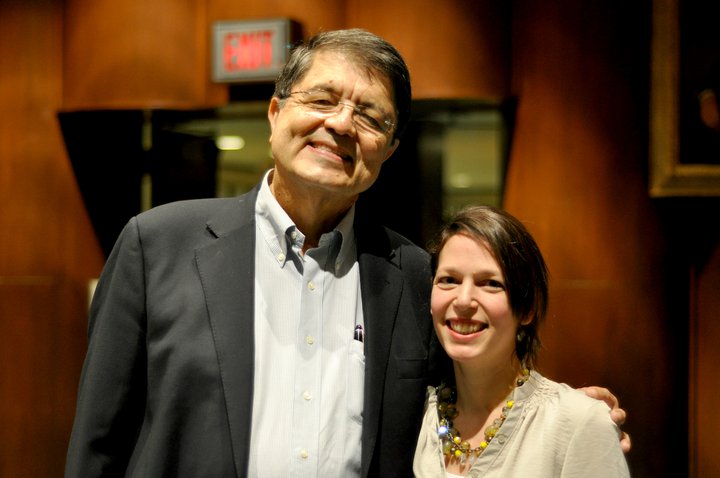 What makes your programs unique?
We invite established authors from Latin America, who are perhaps not as well-known in the United States. Everyone is familiar with the boom authors—the García Marquezs and Vargas Llosas. Besides these magnificent authors, there is a vast array of writers who are innovative and at the vanguard of literature. We have always questioned the practice of promoting writers familiar to our audiences to minimize the risk of failure. Ultimately, the quality of work is what must win in the end. Having a magazine with these characteristics (bilingual with Latin American subject matter, but still international) puts us in the peculiar place of voicing a de-centered point of view that steers away from the dominant culture, and we want to keep going this way. The United States is becoming more and more aware of the vast repository of literature that exists "down there."

How do you find and invite readers?
I carefully choose dates and venues to make it easy for people to visit. There's a huge niche for Latin American writers and readers in the United States, but we are scattered. Houston is a gateway at the perfect geographical point of connection between a continent with two languages. The mission of Literal is to exploit this location and get these cultures closer to each other.

Has literary presenting informed your writing life?
Every time I research new authors and read their books, their work has such an impact on me that some of my guests become characters in my fiction.

What is the value of literary programs in your community?
We cannot ignore the globalized world where influences roam freely. A program about literature is all about exchanging ideas, perspectives, and culture. Having said that, the programs we organize are always centered on the idea of being a platform for dialog, even if we are not familiar with other cultures within our own borders. "There is a tendency to abstract and aestheticize the colossal displacement of peoples and their cultures generated by globalization," explains Lorraina Pinnell. A publication like Literal has a special role in addressing, in concrete terms and forms, cross-cultural contacts whirling through Canada, the United States, and Latin America. For our part, we are dedicated to resisting this tendency to abstract an entire reality; the publication and, moreover, the events we organize present distinct regions of the Americas in their various and sometimes clashing embodiments.
Photo: P&W-supported writer Sergio Ramírez with Gisela Heffes of Rice University. Credit: Enrique Vazquez.

Support for Readings/Workshops events in Houston is provided by an endowment established with generous contributions from the Poets & Writers Board of Directors and others. Additional support comes from the Friends of Poets & Writers.