In early September, P&W-supported writers Alma García, Felicia González, and Emily Pérez read at Columbia City Gallery in Seattle as part of a collaboration between visual and literary artists. Project codirector Lauren Davis describes the event.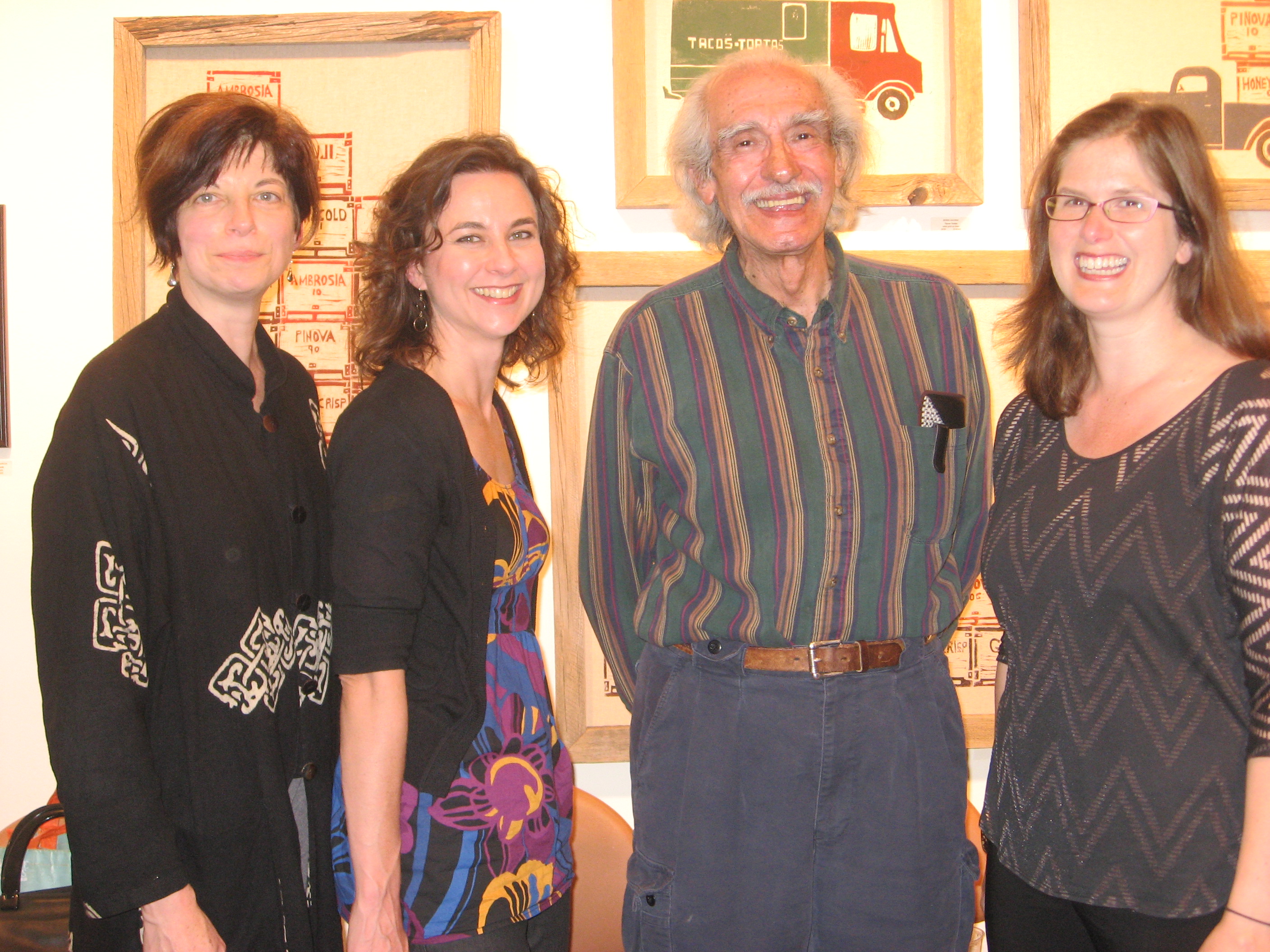 On a hot summer evening in Seattle, four writers presented new works responding to Rooted: Latino/a Artists' Connection to Native and Adopted Lands, an art exhibit at Seattle's Columbia City Gallery. The exhibit, a partnership between Columbia City Gallery and La Sala, a nonprofit Latino/a artists' network, brought together regional visual artists and writers exploring themes of roots, family, identity, and home.
"For those of us who migrate to a new home, we not only carry our culture and customs but also the sense that we are being, or have been by generations past, uprooted; replanted," said Juan Alonso-Rodriguez, curator of Rooted. Inspired by the theme of the exhibit, writer Wendy Call invited José Carrillo, Alma García, Felicia González, and Emily Pérez to create new works responding to select artworks from the gallery exhibit.
The gathering crowd fanned themselves with gallery postcards while listening to flute music played by José Carrillo. Laughter filled the room as the crowd of artists, writers, observers, and people from the neighborhood welcomed each other. The Columbia City Gallery, a community-based arts cooperative, provides a vibrant arts center in the heart of South Seattle and supports a wide range of cultural programming for the diverse neighborhood.
As the final strains of music faded from the air, the writers gathered in front of the crowd with the Rooted art exhibit as their backdrop. First to read was Emily Pérez. Her poems "When Needed" and "Dear Dove" responded to paintings by artist Blanca Santander, images of dreamy earth goddesses rendered in bright colors. She finished her delicate set with the poem "Ambition," inspired by images of clouds by photographer Eduardo Nuñez.
"Hello, my name is Alma García, and I'll be your fiction writer tonight," the next writer announced upon taking the floor. García, exploring a series of screen prints by Boris Gaviria, read the short story "Harvest," which depicted a day in the life of Octavio and Licho, two apple-farm workers in eastern Washington. Gaviria's crisp images of stacked apple crates and farm trucks gave illustration to the sights, sounds, and smells of the world García's characters inhabited.
The next writer, Felicia González, stirred the muggy room by requesting the audience stand up and come closer to view a series of small drawings by Arturo Artorez. The group formed a semicircle around the artwork, while Gonzalez stood in the middle of the room and read her poem "Stranger in a Familiar Land."
The evening concluded with the magnetic José Carrillo reading a suite of four short poems "Rooted: in Four Movements," inspired by the works of painter Consuelo Murphy and printmaker Gloria Garcia.
At the Rooted reading, four writers brought visual artwork to life in new ways. Reciprocally, the artwork provided a focal point for listeners' eyes while the spoken words transported their minds. The blend of words, art, music, and community was a perfect union on one of the last warm days of the Seattle summer.
Photos: (Top, from left to right) Writers Felicia González, Alma García, José Carrillo, and Emily Pérez. Bottom: Alma García (right) with artist Boris Gaviria, whose work is behind them. Credit: Donna Miscolta
Support for Readings/Workshops events in Seattle is provided by an endowment established with generous contributions from the Poets & Writers Board of Directors and others. Additional support comes from the Friends of Poets & Writers.