Readings & Workshops (West) director Jamie Asaye FitzGerald blogs about Poets & Writers' seventh annual Los Angeles Connecting Cultures Reading at Beyond Baroque Literary Arts Center in Venice, California.
Each year for the past seven years, Poets & Writers has held the Los Angeles Connecting Cultures Reading, which astounds audiences with the diversity of its performers and their unique voices, and the power of the work read to redeem, heal, and delight.
We select five organizations that serve culturally diverse groups and have received support from the Readings & Workshops (R&W) program to help curate the event. Each organization chooses readers to represent them at the reading. This year's event was held at Beyond Baroque on June 4, 2017 and included 826LA, a writing and tutoring center; Beyond Baroque, a literary/arts center; the Boyle Heights Arts Conservatory, serving homeless and at-risk youth; Bittersweet: The Immigrant Stories, a reading featuring the voices of immigrant writers; and Urban Possibilities, serving the urban poor of Los Angeles. It's wonderful to witness the general comradery between the presenters as they meet and discover one another's work.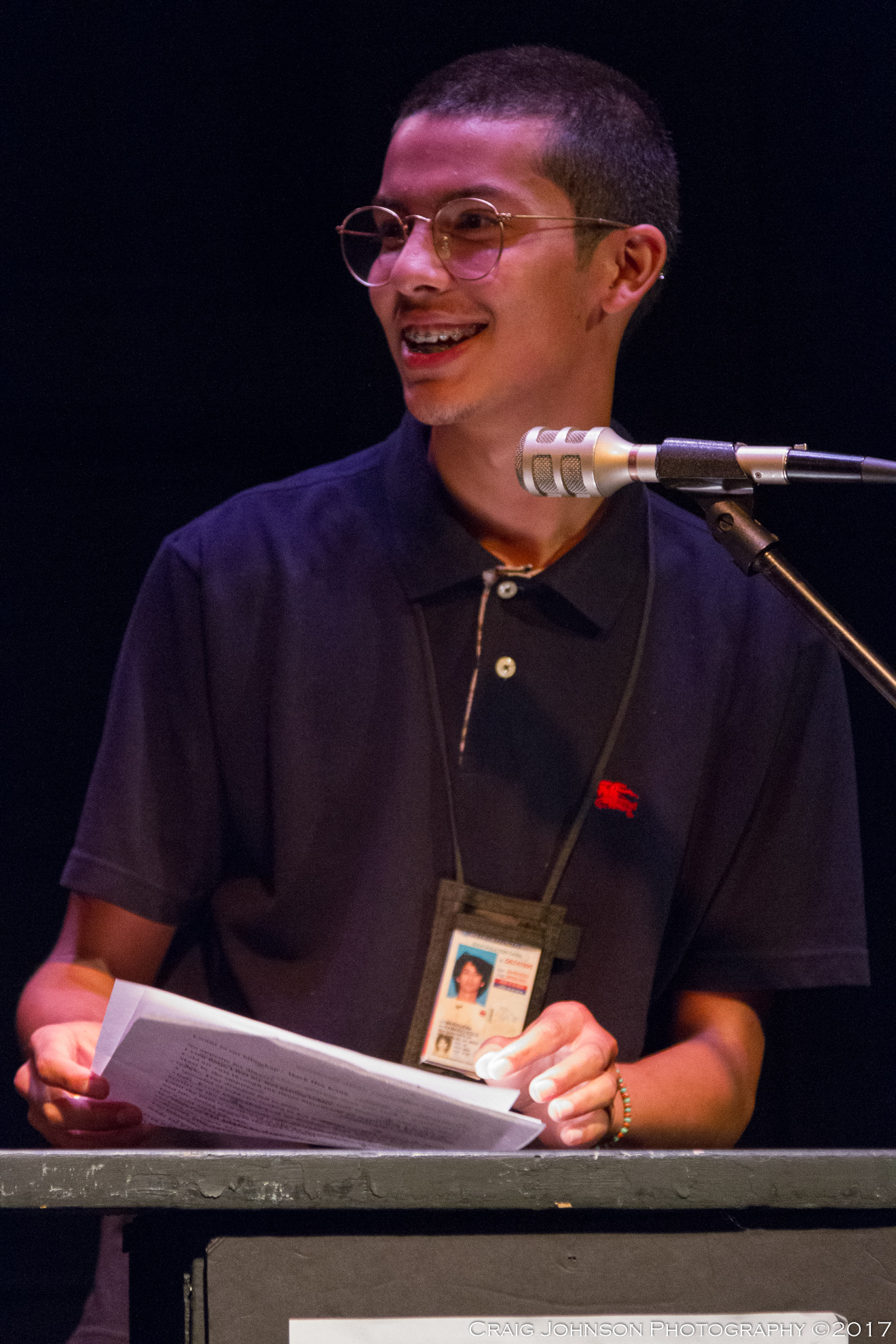 Among the eleven readers, who all gave strong readings, were four teen writers, including Xolo Maridueña, a fifteen-year-old sophomore who attended a R&W–supported writing workshop with Jeff Chang at the Boyle Heights Arts Conservatory in March. Xolo read his first poem ever—a poem about falling in love, in which he wrote: "When I would see her, the butterflies in my stomach would turn into pterodactyls," an experience I'm sure many in the audience could relate to. Also writing on the theme of love was another teen writer, Ashla Chavez Razzano, representing 826LA, who wrote, "a spider's web taught me to love." Nadia Villegas, also representing 826LA, read a poem about how "blue nail polish is freedom," and Vera Castañada from the Boyle Heights Arts Conservatory called the neighborhood around Cesar Chavez Avenue where she grew up, "the West Coast Ellis Island."
So Hyun Chang, representing Bittersweet: The Immigrant Stories, read in Korean his poem "Sugarcane Arirang," recounting the first Korean American's long days in the sugar fields of Hawaii, where they would chant a song of hope, "arirang, arirang," to help pass the time. Hack Hee Kang read a poem using the Korean dish bi bim bap to convey a sense of loneliness and longing, and Jun C. Kim moved silently as a recording of his poem played over the loud speaker.
Ambika Talwar, who hails from India, read on behalf of Beyond Baroque rich, evocative poems about searching for home and "the true power of your own volition." Jessica Ceballos y Campbell also representing Beyond Baroque, read her poem from Only Light Can Do That, a collection of stories, poems, and essays published by PEN Center USA in response to the 2016 presidential election and ensuing events. Her poem, dedicated to her parents and "all of the magicians" spoke of those who make "gardens, in a world that would prefer us not to exist" and how "When man, woman, and child pour their bodies across the man-made borders they are executing a willed-intention to change what they know of the world…."
Yvette Jones-Johnson, the executive director of Urban Possibilities, spoke powerfully about homelessness in Los Angeles, citing lifelong poverty, losing everything, life after incarceration, abuse, and military trauma as some of the factors contributing to the high rates. Her readers, Keith Brown and Norma L. Eaton, are both alums of the Urban Possibilities writing empowerment program. Brown, a veteran who hails from the U.K., read a gorgeous pastoral poem reminiscent of Wordsworth, and Eaton astounded the audience with a devastating poem about her experience of homelessness. After the reading, she commented: "I felt as though I was the Reincarnation of Maya Angelou! She Understood 'Why the Cage Bird Sang' And I know how it feels to be homeless and destitute, knowing that 'My Name Is Forgotten.'  I wanted the Message to be conveyed with the hope of transforming the hearts and changing the stigma of homelessness…. Sharing the stage with the other artists was phenomenal.  I sat and feasted at the table of literary Art."
We give our thanks to the organizations, project directors, and writers who made this event possible, as well as Beyond Baroque, for hosting and for their support.
To keep up with Readings & Workshops news and events, such as Connecting Cultures, please be sure to sign up for our quarterly newsletter, Readings & Workshops Presents.
Major support for Readings & Workshops in California is provided by the James Irvine Foundation and the Hearst Foundations. Additional support comes from the Friends of Poets & Writers.
Photos (top): Teen poet Xolo Maridueña representing the Boyle Heights Arts Conservatory (Credit: Craig Johnson Photography). (bottom): (left to right) Brandi Spaethe, Norma L. Eaton, Keith Brown, Jamie Asaye FitzGerald, Eyvette Jones-Johnson, Ambika Talwar, Hack Hee Kang, audience member, Tanya Ko Hong, Jun C. Kim (Credit: Craig Johnson Photography).