Caridad De La Luz is considered one of America's leading spoken word poets known as "La Bruja." She was awarded Comité Noviembre's Puerto Rican Women Legacy Award in 2014, the Edgar Allan Poe Award for excellence in writing from the Bronx Historical Society in 2013, and honored as a Bronx Living Legend by the Bronx Music Heritage Center. She was presented with a Citation of Merit from the Bronx borough president and named "Top 20 Puerto Rican Women Everyone Should Know." The New York Times called her "a juggernaut" and she is best known for her captivating performance on the HBO series Russell Simmons Presents Def Poetry.
On August 19, 2016, I performed as host and master of ceremonies for Bronx Fashion Week for the third time since it began. What was unique about this summer fashion show was that it celebrated young fashionistas, designers, and child models ranging from three years of age to teenagers. The performance on the runway went seamlessly, pun intended, and proud parents sat in the audience beaming with pride. It took place in the center of the Mall at Bay Plaza in the Bronx, allowing shoppers unaware of the event to come and look on from all levels of the mall. They cheered and watched excitedly. It was a lovely sight and for most of the models, it was a first time experience.
I performed a poem I wrote called "The Bronx," an ode to the borough I love so dearly. Born and raised, I will always reside here. It felt so empowering to share that poem to close the event, leaving the audience with words to ponder and pride to celebrate. The audience walked away knowing that after a lovely event held in our very own community, great events will continue to take place, but what they don't know is that this event was made possible by Poets & Writers.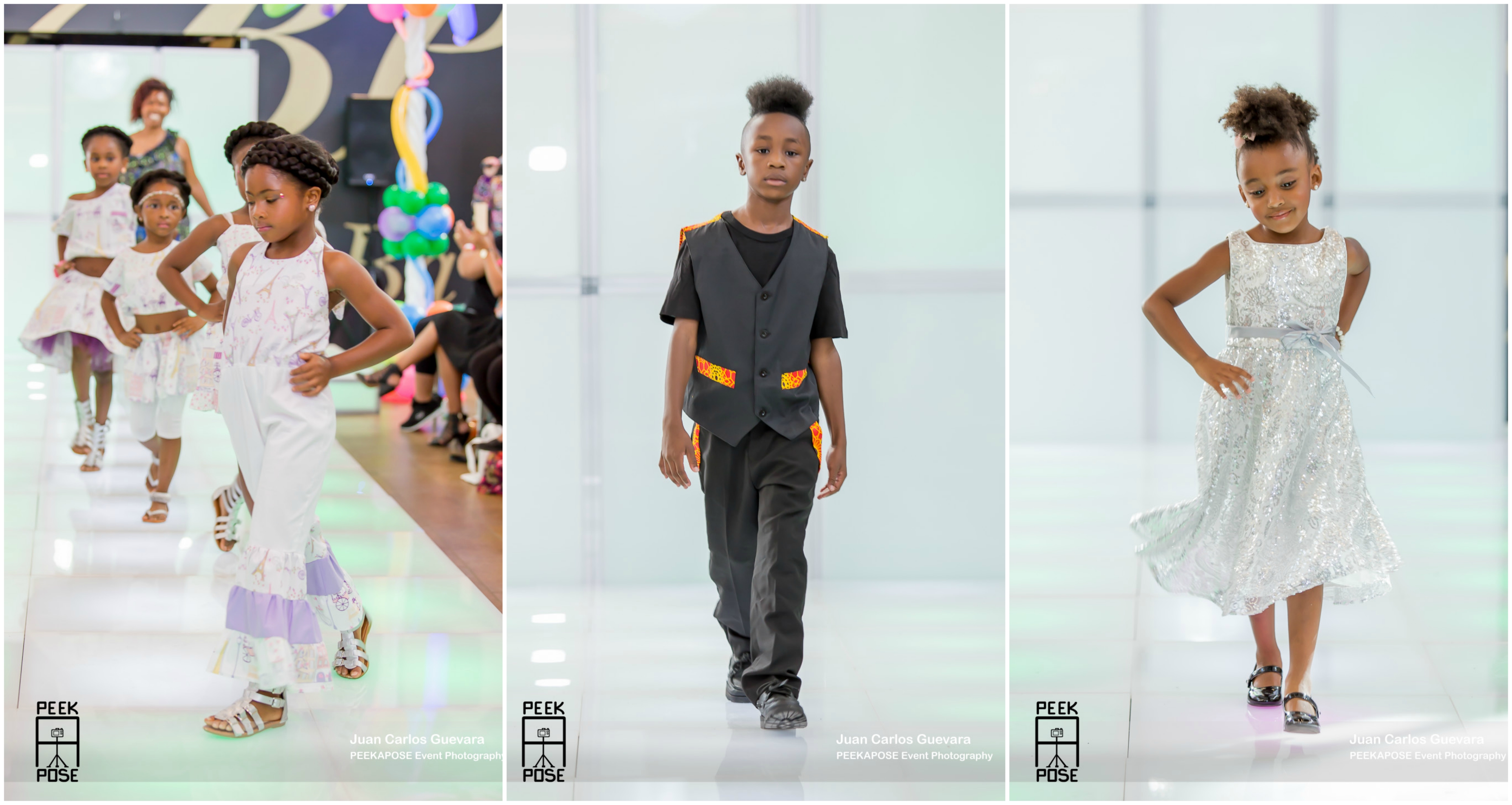 Poets & Writers has funded performances organized by community producers that I've been hired to host. With their openness to fund and support me, I have been able to incorporate elements of poetry and spoken word onto the platform of the runway in the fashion world where poetry is rarely, if ever, heard.
So many literary events have taken place over my twenty-year career with the support of Poets & Writers, helping me to reach my community and expand their awareness of what being a contemporary poet and writer really means. My mission is to inspire people to express themselves more openly and poetically, and thankfully, Poets & Writers has been instrumental in that mission.
Poetry has always been a platform where beautiful things emerge, so now it can be said that poetry is in fashion—even on the runway.
Photos: (top) Caridad De La Luz takes the stage. (bottom) Young models walk the runway. Photo credit: Juan Carlos Guevara Peek-A-Pose Studio.
Support for Readings & Workshops in New York City is provided, in part, by public funds from the New York State Council on the Arts, and the New York City Department of Cultural Affairs, with additional support from the Louis & Anne Abrons Foundation, the Axe-Houghton Foundation, the A.K. Starr Charitable Trust, and the Friends of Poets & Writers.