Longtime P&W-supported writer Patricia Roth Schwartz blogs about the literary happenings across Seneca County, New York.
What can you say of a region that boasts scenic views rivaling those of England's Lake Country? Where grapevines laden with fruit slope down to lakeshores in late summer? Where over one hundred wineries offer tastings, lakeside cafés? Eleven lakes offer angling, paddling, and sailing. Mennonites' horses and buggies traverse country roads creating a landscape that seems over a century old.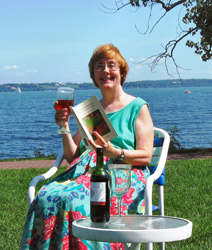 It's a poet's world. Making connections with other poets and writers, though, isn't easy. Without the kinds of venues more urban areas can sustain, this loose collection of hamlets, villages, townships, and two small cities, Auburn and Geneva, has had no central clearinghouse for writers.
Still, we're out here. Some at local colleges, some transplanted, educated and polished, others untutored having written secretly for years. We are seniors eager to write memoir, teens braving an open mic, mothers with toddlers and manuscripts in tow, retirees finally finding time to write.
The number of literary events, and venues for them, has grown in recent years. Public libraries offer most of the literary programming: readings by published authors, writing workshops, poetry readings. An evening at Seneca Falls Public Library on April 1st, with featured readers and an open mic, was particularly successful. The Seneca County Arts Council which maintains a small space in Seneca Falls full of vibrant artwork, has also hosted literary-based workshops.
Mary Genter, aka "Marabee, your hometown muse," has started a reading series at Riverbend Café in Auburn. Charlotte Dickens of Watkins Glen has curated a P&W-supported reading series, now held in Montour Falls near the southern tip of Seneca Lake, for twenty years. I've begun an open mic series at ZuZu Café in Seneca Falls. Writer/ publisher Steve Tills sponsors events at Buffalo Bill's Family Restaurant and Tap Room in Shortsville; John Cieslinski of Macedon, uses his charming bookstore, Books, Etc., for readings and author appearances. Fatzinger Hall above Waterloo Library, a Victorian lecture hall where Susan B. Anthony and Frederick Douglas both appeared, hosts a reading series.
We learn about what's happening through e-mails, fliers, news articles, and word of mouth. As a sense of community begins to gel, Tills and I have formed a grassroots organization, the Literary Guild of the Finger Lakes, hoping to bring all of this together. Our inaugural P&W-supported reading, "An Evening of Poetry," at Fatzinger Hall, was attended by poets from Auburn, Geneva, and Rochester.
Should you travel here, look for me lakeside, sipping wine and writing poems.
Photo: Patricia Roth Schwartz. Credit: Sandy Zohari.
Support for the Reading/Workshops in New York is provided, in part, by public funds from the New York State Council on the Arts, with additional support from the Friends of Poets & Writers.