For the month of September, longtime P&W-suported writer Patricia Roth Schwartz blogs about her experience in Seneca County, New York.
October in the Finger Lakes flares out in a profusion of color: scarlet maples, golden beech, burgundy sumac. Deer leap across country roads. I drive to the tiny village of Ovid where history has left its imprint, especially in the form of a charming set of Greek Revival county courthouse buildings (now a museum) in descending sizes known as The Three Bears.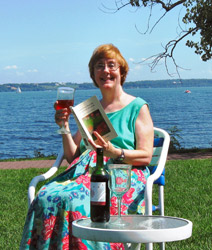 I eat my picnic lunch at a table outside the adorable structures (Baby Bear is as big as a child's playhouse) savoring sunshine and drifting leaves. Spotting a tiny thrift shop across the street, I'm there in a flash. It's full of almost all new clothes, each item a dollar! Soon, clutching five items, I approach a sweet-faced lady in her 80s who serves as volunteer cashier. Suddenly I realize I've left home with no cash! The thrift shop does not accept credit cards or checks. The cashier tells me I can come back later to pay. "We close at one." I say, "But I'm doing a poetry reading at the Edith B. Ford Memorial Library." I point to the flyer in the store window.
Behind me another shopper speaks up. "Here—" she pushes a five dollar bill toward me. "I'll send you a check," I say and thank her profusely. She says, "No need." "I'll come over to the library," offers the cashier, Anna, who'd been telling me earlier about growing up nearby on a farm. "You said a friend of yours was coming." "Yes, I can borrow five dollars from her," I say. So it's settled; I go next door to a small supermarket. I need a Reese's Peanut Butter Cup. (It's been that kind of day.) I have a little change; I'm sure it's enough. But at the cash register I'm counting out pennies. Behind me, another Ovid angel appears. A young man plunks down coins, insists on paying for me. I walk across the street to the library in a pleasant daze, convinced I've entered another plane of existence, one that is utterly charmed.
A small group gathers for my reading. I sit in a comfy rocker in the children's reading nook, encouraging everyone to sit in a semicircle around me. Halfway through the reading, Anna, the thrift shop cashier, enters. She's brought her lunch, a large submarine sandwich. Sitting discreetly at the back table, she eats it, crumples up the wrapper, then moves up to the semicircle. I read poems about my family, my childhood in West Virginia—memories, stories. Afterward we talk. "When I was married," the widowed Anna says, "I had a notebook I used to write in. My husband thought I was pretty good." I don't think Anna has ever been to a poetry reading before. We encouraged her to get another notebook and start up again.
Photo: Patricia Roth Schwartz. Credit: Sandy Zohari.
Support for the Reading/Workshops in New York is provided, in part, by public funds from the New York State Council on the Arts, with additional support from the Friends of Poets & Writers.