P&W–supported poet Michael Medrano will blog about the literary climate in California's underserved Central Valley throughout the month of July. Medrano is the author of Born in the Cavity of Sunsets (Bilingual Press 2009). His poems have appeared in Askew; Bombay Gin; The Cortland Review; The Packinghouse Review; Rattle; and The Yellow Medicine Review among other publications. He is the host of Pakatelas, a literary radio show, streaming worldwide at www.kfcf.org, and hosts the Random Writers Workshop in Fresno, California.
I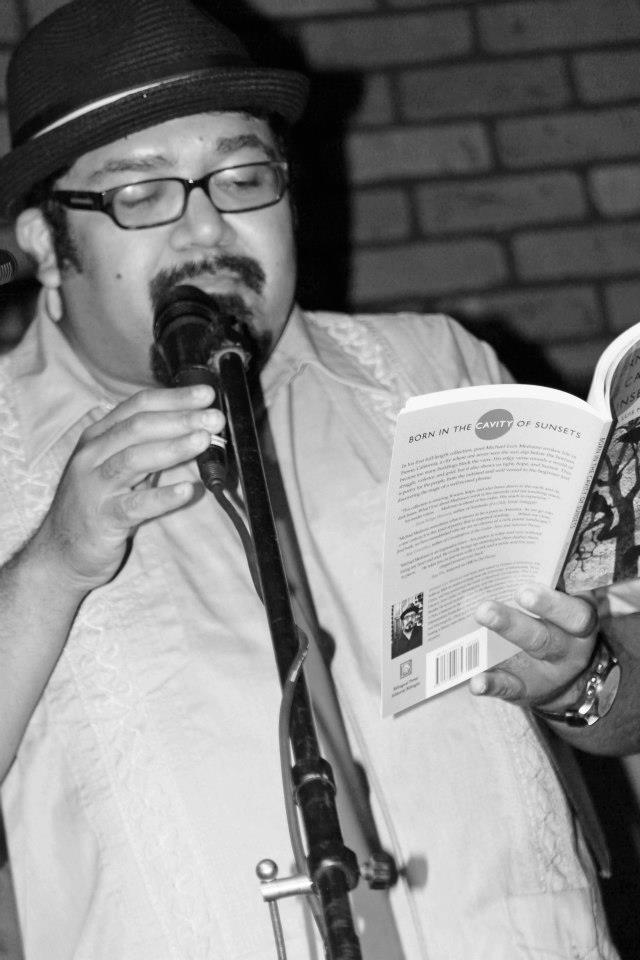 t seems there has always been poetry on the radio in Fresno. Preston Chase and Lee Underwood broadcasted their literary show in the late nineties, in a studio above the garage of a residential home, former headquarters of KFCF 88.1 FM. One time they welcomed poets Estela Molina, Tim Z. Hernandez, and yours truly to an hour of interviews and round-robin poetry. We were in our early twenties, squeaky, and reading from home-made chapbooks we sold at open mics for a couple of bucks.

Before Underwood/Chase there was Chuck Moulton—the poet who wrote Lion in the Fire—who was known for arriving to his live radio show later than his guests. According to current station manager Rych Withers, Moulton also fancied a false set of teeth he'd pop out of his mouth whenever he got the chance. Ah, the spontaneity of poets on the radio!

It was only a matter of time before I, too, was drawn to radio. After graduate school in Minneapolis, I got on the radio and featured my new poetry friends. That is how Pakatelas was born. During my initial year at KFCF, I recruited poet/screenwriter David Campos to co-host, and we developed into quite a team. We interviewed local and national writers including Lee Herrick, Sasha Pimentel, Daniel Granbois, and many others.

In the beginning we stuttered and frequently stopped takes. We were poets, after all, not radio DJ's. Thank God for the pre-recorded show—otherwise we'd be radio losers scribbling poetry at some random coffee shop!

When David left to pursue an MFA at the University of California, Riverside, I wanted to try something different. A fan of talk radio, I decided to try the live format. I couldn't tell you who my first live guest was—such is the energy of live radio—but writers who were reluctant to try the new setup were often surprised by how comfortable they were in the spontaneous format. I remember fiction writer Daniel Chacon's startled face when I told him we were going live, minutes before the start of the show. Poor Corrine Hales was battling allergies, but she still kicked literary butt in the studio! On a recent show, I juggled two call-ins from the L.A. area along with the two guests in the studio, who were promoting a local poetry reading. It was hands down my most complex show to date.

"Pakatelas" comes from the title of an epic poem written by the late poet Andres Montoya. It is a Spanish term that comes from the ice factories Montoya famously wrote about. From what I've been told, "Pakatelas" is slang for "pack those things." It also describes the manic energy poets experience when presenting a new poem at a reading—or the marriage between verse and the countdown from the board operator in the studio booth.
Photo: Michael Medrano.
Major support for Readings/Workshops in California is provided by The James Irvine Foundation. Additional support comes from the Friends of Poets & Writers.