P&W-supported writer Melissa Petro recently led a memoir-writing workshop for current and former sex workers at Red Umbrella Project in New York City. Petro's work has appeared in the Huffington Post, Daily Beast, Salon, Jezebel, Guardian, and elsewhere. She lives in New York City and teaches for Gotham Writers Workshop.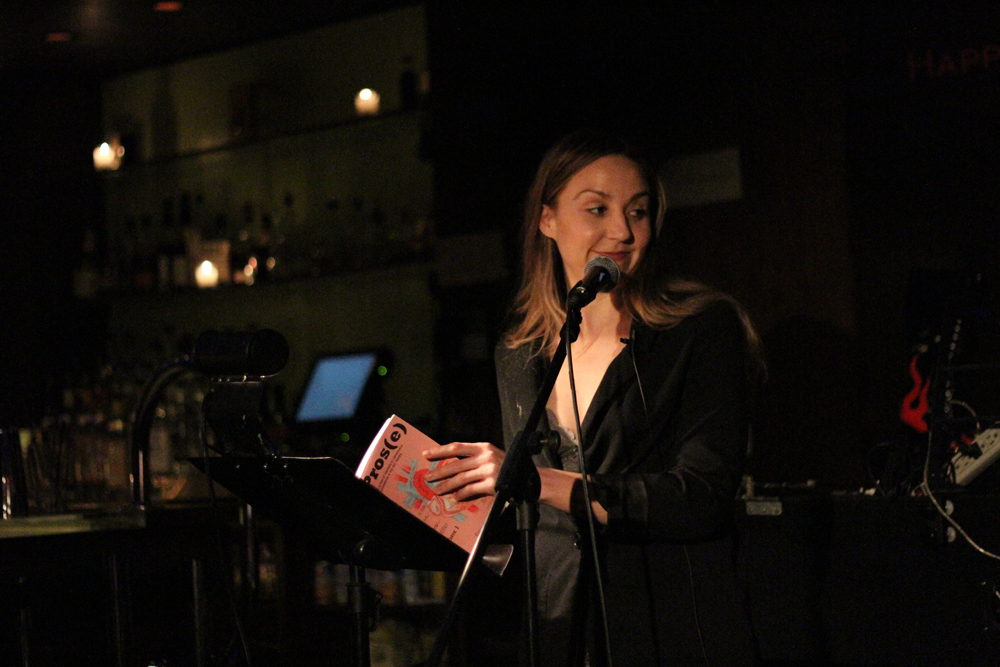 When people with no experience or personal knowledge hear the phrase "sex work," one media misrepresentation may spring to mind: Julia Roberts in a cut-out mini dress and patent leather knee-high boots or—just as bad—that floor-length red velvet gown.
This is not an accurate picture of people who trade sex for things they need—or of what happens when people do—according to Red Umbrella Project, an organization that provides storytelling, media, and advocacy training and support for people in the sex trades who wish to speak out about their experiences.
On December 6, 2012, Red Umbrella Project celebrated the graduating class of the Becoming Writers Workshop, an eight-week memoir-writing workshop for individuals with experiences in the sex trade, made possible in part by a grant from Poets & Writers. The evening was part one of a two-night event (the second will be on January 3, 2013) and featured one half of the class sharing original material conceived in class, which was published in the inaugural issue of PROS(E), the literary journal of Red Umbrella Project (available for sale at http://www.redumbrellaproject.org/buy-prose-issue-1/).
The purpose of the workshop, like all Red Umbrella Project programming, was to challenge common misconceptions and erroneous representations of sex workers by allowing individuals with experiences in the sex trade to represent themselves publicly and in print.
The organization combats stigma and discrimination while providing people in the sex trade with communication and transferrable job skills. People turn to the sex trade to generate income for as many reasons as there are sex workers, and yet given the prevalence of misinformation about the trade, sex workers' personal stories are oftentimes surprising.
In 2010, I lost my job as a public elementary school teacher after it was discovered that I was writing and speaking about my past experience moonlighting as a call girl on Craigslist while earning my masters in creative nonfiction from the New School. Since losing my job, I have dedicated myself to the task of changing people's negative perceptions of current and former sex workers by continuing to tell my story in all its richness and by teaching other individuals with minority experiences to tell theirs.
At the event, readers included "Dominick," a former gay male escort; Aimee Herman, a queer performance poet living in Brooklyn; Essence Revealed, whose story chronicles the highs and lows of being a black woman working in Manhattan's gentlemen's lap dance club scene; as well as eighties porn actress and activist Veronica Vera, who recreated for a raptured audience the moment she became co-star to her then-friend Annie Sprinkle.
The January 3 event boasts an equally diverse line-up. Expect anything and everything—anything and everything, that is, except just another "Pretty Woman."
Photos: Top: Melissa Petro reads from the anthology PROS(E). Bottom: Red Umbrella staff and participants (left to right): Melissa Petro, Veronica Vera, Niesha Sharay Davis, Aimee Herman, Essence Revealed, Dominick, and Audacia Ray at Happy Ending Lounge. Credit: David Kornfield.
Support for Readings/Workshops in New York City is provided, in part, by public funds from the New York State Council on the Arts and the New York City Department of Cultural Affairs, with additional support from the Louis & Anne Abrons Foundation, the Axe-Houghton Foundation, the Cowles Charitable Trust, the Abbey K. Starr Charitable Trust, and the Friends of Poets & Writers.