Tanyia Johnson and Stephen Gros are literary event producers with the Houston-based organization Make.Play.Speak. They team up to create unique events, such as Kerouacfest: Go!Go!Go! and the upcoming Word Around Town Tour, both supported by P&W. Together, Johnson and Gros answered our questions about the work they do.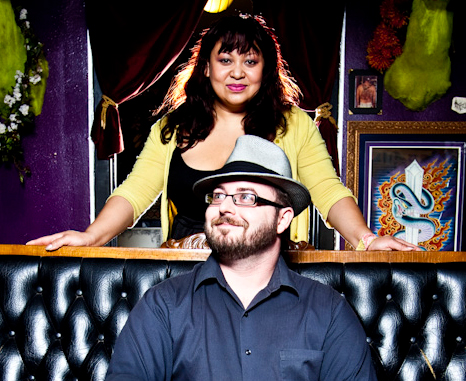 What makes your programs unique?
Johnson: We try to create events we would want to attend. My experience with performance is from theater, and Stephen is an active poet and performer, so our programming takes an all-inclusive approach. We want to create events that can be experienced on different levels—visual, auditory, and kinesthetic—and try to incorporate these models throughout our programming.

What recent project have you been especially proud of?
Gros and Johnson: Our recent project was KerouacFest: Go!Go!Go! March 9, 2013, an all-day event dedicated to legendary Beat writer Jack Kerouac. The event was held at the Orange Show Monument. The Orange Show was built by Houston mail carrier Jeff McKissack between 1959 and 1979. It was McKissack's opus to the orange, his favorite fruit. This space is an amazing folk art environment filled with mosaics, found objects, and has an unusual layout design, so it was perfect for our event.

With a venue that has multiple performance areas and so much character, we had to develop programming that would feel right for the space. We included a mini biographical exhibit, a panel discussion, a crowd-sourced aggregate poem using Twitter, a DJ playing records from the Beat era, a variety of food trucks, poetry buskers banging out spontaneous poems, plus two incredible jazz bands, and live screen printing. All of that before we even add in the youth slam performance by Meta-Four, well-known Houston writers reading from Kerouac's On The Road, or the incredibly talented P&W-supported poets—Marie Brown, Salvador Macias, BGK, Chris Wise, and Seth Walker—performing their own work. 

We chose poets who weren't necessarily writing in the style of Kerouac, but would evoke performances that reflected the jazz culture Kerouac desired to embody in his work. Overall, the event was very successful and rumors are already circulating of a follow-up festival next year.

How do you find and invite readers?
Gros: For the Word Around Town Tour we've recently instituted a Poet Draft. The Word Around Town Tour is an annual weeklong poetry marathon held at a different venue every night for seven days each summer since 2006, and it's grown every year since it started. The current lineup consists of 21 poets plus seven veteran features. At that size, it can be tough to keep it fresh and find new talent. The Draft solves this problem. It's essentially a big open mic where poets get ranked by the organizers and the winners get a spot in the lineup for the tour.

How do you cultivate an audience?
Johnson: At events, we encourage attendees to sign-up on MailChimp or find us on Facebook. Stephen has hosted and produced shows for many years, so he's built up a network of followers. Houston has a pretty active poetry community. We also make a big effort to access people who usually aren't attending these events. We try to get exposure through different media—radio, print, and online—to highlight the events we organize.

Can you speak to the value and challenges of collaboration?
Gros: For me, collaborating is a way to stay fresh. Having a different perspective brought to your vision can make the event become something remarkable. Specifically, Tanyia brings a knowledge and experience of event management and stage production, along with an endless stream of inspiring ideas, which makes her an asset on any team. Couple that with her unflappable dependability and professionalism, and it's clear that she is the perfect collaborator.
Johnson: Collaboration is definitely a necessity for me because I am not a writer or a performance poet. I seek to collaborate with folks to create an artistic experience with a literary focus. My personal artwork has always been mixed-media, so I view this as an extension of mixed-media. The biggest challenge for me is scheduling. When you have more than two people collaborating, it's tough to get everyone together at the same time.

How has literary presenting informed your own writing and/or life?
Gros and Johnson: Literary presenting has informed and influenced every aspect of our lives. We take vacations around the many annual events we produce. We're more likely to buy new microphone equipment than new clothes. The list goes on. We live and breathe interdisciplinary art and literature events.

What do you consider to be the value of literary programs for your community?
Gros: Without literature, a community has no soul. Literary programs and live events inform and educate in an active, intellectually challenging way that other activities simply can't compete against. Literary events provide knowledge of our shared literary heritage, while at the same time increasing awareness of cultural values, history, sociology, psychology, and almost every other branch of study. Reading, writing, and sharing with others are some of the most important things a community can do together.
Photo: Tanyia Johnson and Stephen Gros. Credit: Eric Kayne.
Support for Readings/Workshops events in Houston is provided by an endowment established with generous contributions from the Poets & Writers Board of Directors and others. Additional support comes from the Friends of Poets & Writers.