Marea Gordett, owner of Big Mind Learning, an educational firm serving students in the Capital region of New York, and author of the poetry book, Freeze Tag, published by Wesleyan University Press, blogs about her P&W–supported writing workshops at the Marillac Family Shelter in Albany.
When I moved from Boston to Albany, New York, in the 1990s, I was bereft at losing the teaching connections I had found in a large metropolitan area. While I knew there were various programs in the area—the New York State Writers' Institute was one—I didn't feel a part of the literary community. A friend recommended I apply to the Readings/Workshops program at Poets & Writers for funding, and I've been thrilled ever since to find this network again through my work in community centers, libraries, and senior centers throughout Albany County and at the beautiful Arkell Museum and Canajoharie Library in Montgomery County.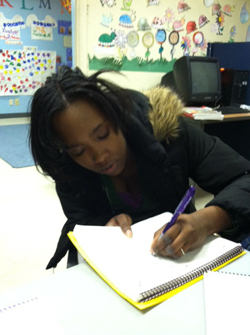 In these workshops, I am not only aware of what I receive from and give to writers, but also how the group itself develops its own identity and offers its own gifts. When we create a space that allows us to freely write about joy, pain, and longing and encourages others to listen to these often long-withheld emotions—amazing changes can happen. Regardless of differences in age and experience, we all write from a deep, secret place. And then we share, which helps us feel a growing sense of peace and helps to diminish loneliness.
This was especially evident to me this winter when I conducted a workshop at the Marillac Family Shelter in Albany. Part of St. Catherine's Center for Children, this emergency housing program for homeless families meets the initial need for shelter and assists families in empowerment and education. I found a warm welcome when I proposed a writing workshop for teens and mothers called "You Are Unlimited." In this pilot program, held once a week for five weeks, a core of eight people and a constantly-changing extended group gathered in a well-maintained recreation/computer room and wrote, shared, and performed their poems and life stories. As I entered the room every Thursday, mothers with babies and young children would clear the space and shut the door. The dedicated teens, with their mothers usually sitting on couches a few feet away, would be hushed and ready to write, even after a full day of school.
Participants wrote long Delight Chants in response to Nikki Giovanni's poem, "Ego Tripping," and celebratory litanies after hearing Nazim Hikmet's poem, "Things I Didn't Know I Loved." After overcoming their initial resistance and with support from staff members, the writers eagerly embraced the free-form poems and wrote lines such as the following:
My real name is J.H.
I want it to mean beautiful. I am a tornado.
I am a spinner. I am a very big swirl.
The enthusiastic staff members wrote with the students and mothers, gently encouraging them. When one of the mothers shared her work, the others followed, and eventually everyone lined up to have his or her work videotaped, accompanied by the applause and shouts of an appreciative audience. When one staff member read her words, everyone nodded in agreement:
I didn't know I loved the table
until I missed the love that surrounded it.
I didn't know I loved rice
until we had to do without it.
I didn't know I loved the tides
until they washed away my impatience.
This spirit of warmth and camaraderie vanquished pessimism and sadness, if only for an afternoon. I'm tremendously grateful to the support of Poets & Writers for letting my teaching come to life again, and helping me bring to various corners of my region workshops that help restore trust. Especially during this time of resignation, Poets & Writers gives solace and hope.
Photo: Workshop participant. Credit: Marea Gordett

Support for Readings/Workshops in NewYork is provided, in part, by public funds from the NewYork State Council on the Arts, with additional support from the Friends of Poets & Writers.