Poet Kelly Norman Ellis, author of Tougaloo Blues and longtime P&W-supported writer and presenter of literary events, dotes on Chicago's South Side and the Neighborhood Writing Alliance.
I've lived and worked on Chicago's South Side for almost thirteen years. As an educator and writer, I am attracted to organizations that express a commitment to writing and art outside the academic community. Our writing program at Chicago State seeks to coalition build with community organizations so that our students realize the benefits and necessity of teaching outside of the academy.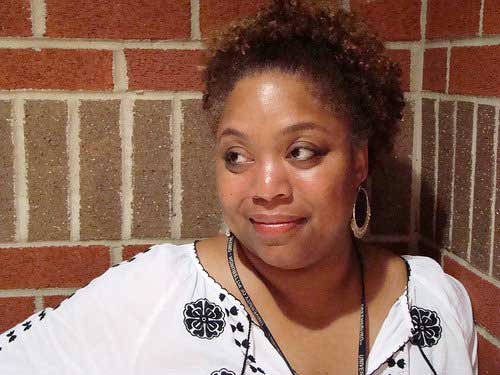 The Neighborhood Writing Alliance (NWA) located on the South Side of Chicago fills this need. NWA runs writing workshops for adults in low-income neighborhoods throughout Chicago, and publishes selected pieces from those workshops in its quarterly award-winning publication, Journal of Ordinary Thought (JOT). Founded in 1996 by Hal Adams, Deborah Epstein, and Sunny Fischer, NWA grew out of JOT, which was founded by Hal Adams in 1991.
Hundreds of Chicago adults have participated in NWA writing groups in a range of settings—from public libraries and public schools (where parents participate) to social service agencies and public housing projects. Workshops are conducted across ethnic lines. In one workshop, I taught African Americans born in Chicago, Mississippi, and Jamaica; Polish immigrants; fourth generation Irish Americans and second generation Mexican Americans. Participants in these workshops write primarily from their own experience, but through writing and discussion make connections between their personal experiences and broader social issues.
Workshop leaders are Chicago-based professional writers and arts educators such as Krista Franklin, Toni Asante Lightfoot, Parneshia Jones, Tony Lindsay, Carlos Flores, and Valerie Wallace, to name a few. NWA also has an impressive Writer's Advisory Council, which includes Achy Obejas, Alex Kotlowitz, television journalist Bill Kurtis. The legendary Studs Turkel also served on the council before his death.
Our MFA program at Chicago State believes in the connection of writing and social justice. NWA demonstrates this principal at work by providing internships to our writing students on the graduate and undergraduate level, allowing them to experience the successful marriage of art and activism.
Photo: Kelly Norman Ellis. Credit: Natasha Marin.

Support for Readings/Workshops events in Chicago is provided by an endowment established with generous contributions from Poets & Writers Board of Directors and others. Additional support comes from the Friends of Poets & Writers.