If you attend poetry events in California with any regularity, you are likely to see Joyce Jenkins, who—with her long, wavy hair and graceful demeanor—is unmistakable in a crowd. Jenkins is the editor and executive director of Poetry Flash, Literary Review & Calendar for the West and chair of Northern California Book Reviewers. She is also the author of Portal and Joy Road, a limited edition chapbook. Her poems have appeared in Parthenon West Review, Ambush Review, ZYZZYVA, Addison Street Anthology: Berkeley's Poetry Walk, The Place That Inhabits Us: Poems of the San Francisco Watershed, and elsewhere.
Jenkins received an American Book Award in 1994 and the PEN Oakland Josephine Miles Lifetime Achievement Award in 2006, among other honors. Poetry Flash received Litquake's 2012 Barbary Coast Award. For many years, P&W has provided support to the Poetry Flash Reading Series and Watershed Poetry Festival in Berkeley. We were thrilled to be able to ask Jenkins a few questions about her 40 years at the helm of the "Flash."


What makes Poetry Flash and its programs unique?
Publishing Poetry Flash: Literary Review & Calendar for the West for over 40 years has been an unparalleled journey for myself and associate editor Richard Silberg. We've documented poetry and changes in writing over an incredibly turbulent and transformative time, and acted as both a forum and catalyst for the development of literary communities up and down the West Coast. Thoughout the years we've always remained open to all styles and poetics.

Poetry Flash evolved from its 1972 origins as a single sheet to a monthly tabloid to its current incarnation as an online magazine. Today, Poetry Flash publishes a literary events calendar for all of California, poetry and fiction book reviews, poems, interviews, tributes, essays, memoir, calls for submissions, news, and online archives. Other publications offer book reviews, interviews, and poems, but lack the same historical perspective and that certain Poetry Flash attention to detail. Also, everything we publish is entwined with our involvement in events and outreach (a legacy from years of distributing the Flash as a free paper).

We have published 302 print issues of Poetry Flash that will continue to echo and provide future generations with essential literary documents that detail the history of poetry on the West Coast. We have that deep well to draw from in our efforts to further our collective understanding of the present.

Our other projects include the Poetry Flash Reading Series at bookstore venues in Berkeley and Oakland, and the annual presentation of the Northern California Book Awards in San Francisco—now in its 33rd year. Also, there is the annual Watershed Poetry Festival, directed by Mark Baldridge and supported in part by Poets & Writers, which will celebrate its 18th year on September 28, 2013, in Berkeley.

What recen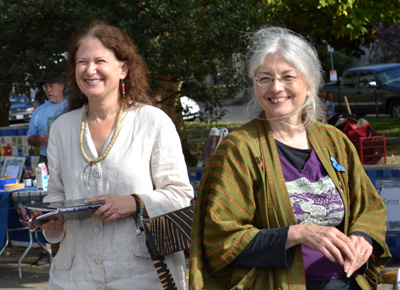 t project have you been especially proud of?
I am proud of Watershed. It is a real statement to be there, to take part, and "stand up for the earth" as a poet, through poetry. I'm proud of the gorgeous hand-printed broadsides that commemorate and support the festival, the annual "Creek Poem" installation on the grounds of the festival, and the event for high school students at Berkeley High, which is held the day before the festival.

I'm also gratified and humbled by the number of incredible poets we have hosted in our reading series, from Czeslaw Milosz to Louise Glück. Furthermore, we have had the honor of recognizing amazing poets and writers through the book awards—talented writers from Al Young, Kay Ryan, and Adrienne Rich to Robert Duncan, Lawrence Ferlinghetti, and Maxine Hong Kingston.

What's the craziest (or funniest or most moving or most memorable) thing that's happened at an event you've hosted?
There are too many to choose from! My favorite was when Kenneth Rexroth escaped from the hospital, or said he did, to read at the San Francisco International Poetry Festival in 1980—an event that I directed and Poetry Flash co-sponsored. I had an image of him ripping tubes out of himself! Anyway, he arrived in a great flourish and gave me the critical once over. Then he extended his arm, and we promenaded about the lobby of the Palace of Fine Arts.

Other moments include a choral reading of "The State of the Planet" at Watershed by Robert Hass. There was Joy Harjo's saxophone and "Eagle Poem" wafting across the park at another Watershed. And the time that Wanda Coleman read so fiercely and beautifully that she... well, she didn't levitate, but it was close. We are talking a higher vibration. And maybe for just a moment there was a kind of translucence—her movements and language were so concentrated she almost became pure energy for a moment there.

How has literary presenting informed your own writing and/or life?
Literary presenting, whether through live events or through publishing Poetry Flash, either online or in print, is my life. I have learned so much—I've felt like I've been in graduate school for 40 years.

What do you consider to be the value of literary programs for your community?
Poetry Flash's mission is to build community through literature, and that's exactly what readings do—event by event. They give poets especially the sense that someone is listening, someone cares, and they are appreciated. It feeds back into better work and more awareness. We learn so much about other poets and writers whose work we may not have delved into. At the Poetry Flash Reading Series, we present many fine younger or emerging poets whose names may not yet be widely known. Our audiences hopefully will trust our curatorial instincts and try our readings, even if they don't yet recognize the names. Our readers are excellent!

What are you most excited about in today's changing literary landscape?
I'm most excited about the fact that—whatever changes technology or society brings us, whatever new forms poetry and writing take on—creative writing and reading willl continue to flourish in an amazing variety of ways. The explosion of readings, access to evolving modes of publication, and writing "springboards" and shelters provided by universities have all contributed to the preservation and continued growth of the literary arts. No matter what, poetry and writing will always remain central to human consciousness and our culture.

Photo 1: Joyce Jenkins. Credit: Mark Baldridge. Photo 2: Jenkins (at right) with Jane Hirshfield at the 2011 Watershed Poetry Festival. Credit: Sharon Coleman.
Major support for Readings/Workshops in California is provided by The James Irvine Foundation. Additional support comes from the Friends of Poets & Writers.