Poet Joseph O. Legaspi cofounded Kundiman, a nonprofit organization that serves Asian American poets. He blogs about curating P&W–supported Kundiman & Verlaine, a New York City–based reading series that has been running for ten years. The author of Imago (CavanKerry Press) and the forthcoming chapbook Subways (Thrush Press), he lives in Queens, New York, and works at Columbia University.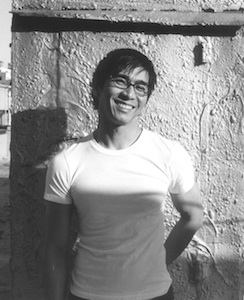 It started with an experiment. Before the poet Sarah Gambito and I fully conceived of Kundiman, the nonprofit we founded to serve Asian American poetry, there were the poems. At the time, in 2003, we were interested in the idea of poems as physical objects, as solid and tangible art pieces. We were also regulars imbibing lychee martinis at Verlaine, a bar on the lower east side of Manhattan where we befriended Gary Weingarten, a photographer and one of the owners of Verlaine. Presented with our idea, he provided us with the blank canvases: the walls inside Verlaine onto which we hung blown-up prints of poems. Words against a sheer white backdrop loomed large: our poems, as well as others by Prageeta Sharma and Li-Young Lee. Like a gallery, we hosted an opening with an amazing turnout.
When such a partnership presents itself, you run with it. The March 17, 2013, P&W–supported reading marked the tenth year of Kundiman & Verlaine, the only reading series that highlights Asian American poets. Over 130 readers have graced our stage, among them luminaries like Mei-mei Berssenbrugge, John Yau, Kimiko Hahn, Vijay Seshadri, Patrick Rosal, and Cathy Park Hong, along with emerging Asian American talents. In the spirit of community building, we have also invited poets from other literary circles like Cave Canem, LouderArts, and Acentos. Through the years, the series has exemplified the multiplicity and vitality of voices within the Asian American (and greater) literary community. At the March reading alone, for instance, were the following participants: Mandy Gor, a poet, painter, seamstress, and banker raised in Texas; Seni Seneviratne, a Sri Lankan living in England; and Kit Yan, a transgender spoken word phenomenon. The audience, from seemingly divergent backgrounds, were brought together by poetry. The Kundiman & Verlaine reading series embodies this spirit: big-hearted and celebratory. The lounge atmosphere helps, as well as the hour-long open bar before each reading.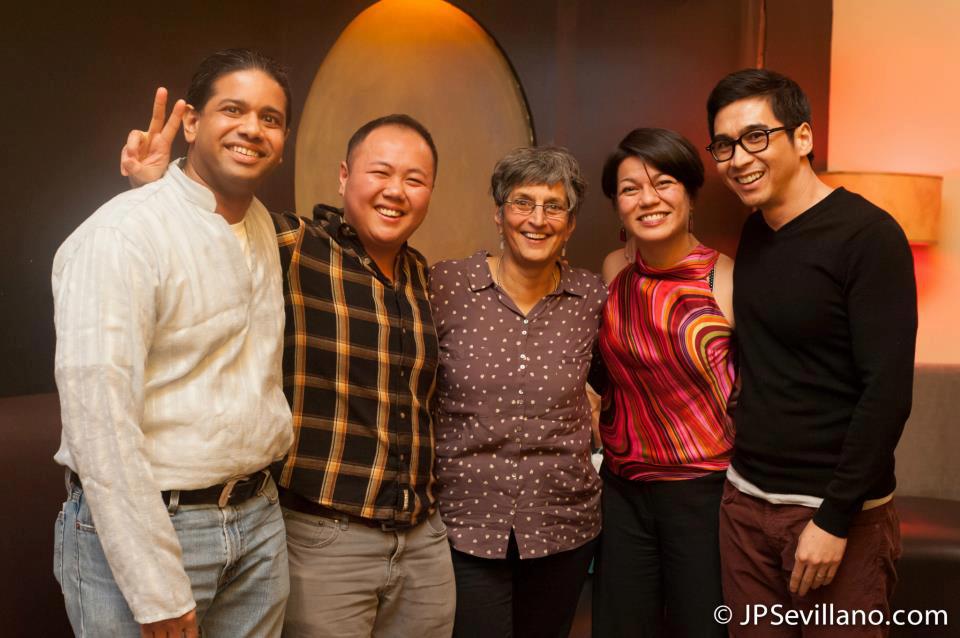 The bottom line is that for a literary series to thrive, much generosity is needed: a place for gathering, a co-host/co-sponsor who shares your vision, an open-minded audience, and kind readers. Recently, another act of generosity: Poets & Writers, through its Readings/Workshops Program, has been able to provide honoraria to qualified readers. How lovely it's been to compensate poets for their time and craft. Kundiman believes in paying poets, but because of our limited funds, we've been unable to do so—beyond the gift bags we give to readers as a token of our appreciation. Because of such patronage and generosity, the Kundiman & Verlaine reading series continues to be a welcoming, warm environment, full of heart.
Photo: (Top) Joseph O. Legaspi. Credit: Emmy Cateral. (Bottom, from left to right) Vikas Menon, Kit Yan, Seni Seneviratne, Mandy Gor, and Joseph O. Legaspi. Credit: JP Sevillano
Support for Readings/Workshops in New York City is provided, in part, by public funds from the New York State Council on the Arts and the New York City Department of Cultural Affairs, with additional support from the Louis & Anne Abrons Foundation, the Axe-Houghton Foundation, The Cowles Charitable Trust, the Abbey K. Starr Charitable Trust, and the Friends of Poets & Writers.