P&W-funded Jamaal May is a poet from Detroit, MI, where he taught poetry in public schools and worked as a freelance audio engineer and touring performer. His poetry won the 2013 Indiana Review Prize and appears in journals such as Poetry, Ploughshares, and The Believer. Jamaal has earned an MFA from Warren Wilson and fellowships from Cave Canem and Bucknell University. His first book is Hum (Alice James Books, 2013), and he is founder of the Organic Weapon Arts Chapbook Press.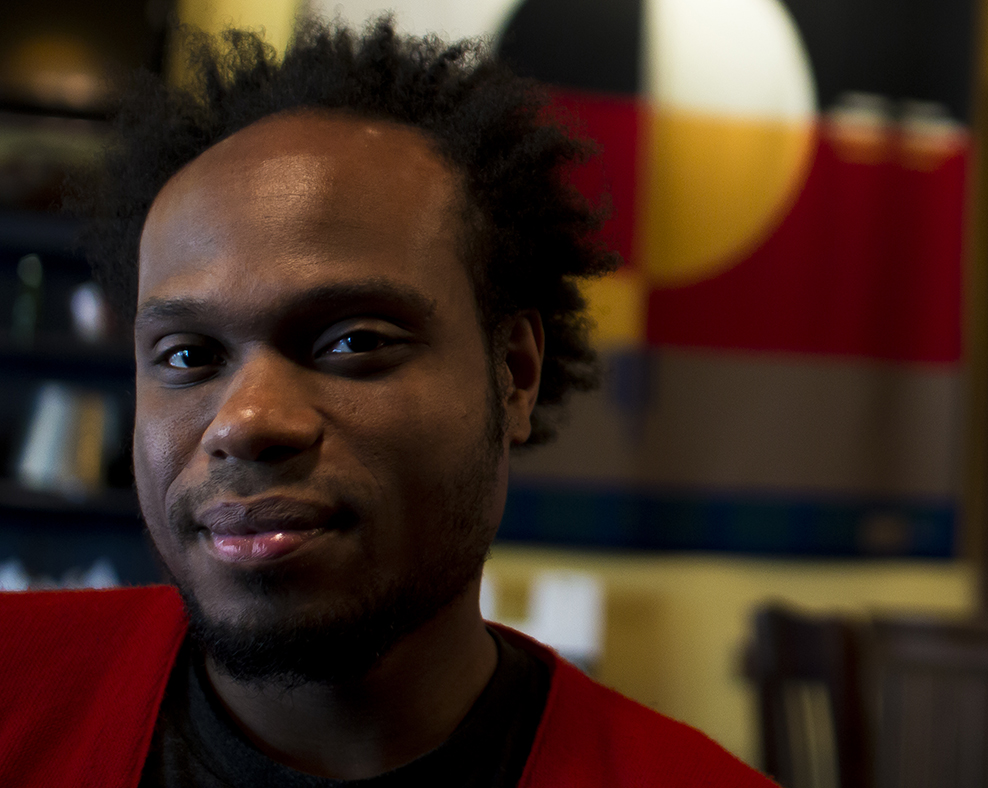 I.
Years ago, Poets & Writers funded my visit to a small community college that drew much of its student body from surrounding rural towns. The organizer's interest in bringing in writers stemmed from a desire to inspire her students to seek new possibilities and unfamiliar experiences. I've noticed that from at-risk youth centers to affluent private colleges, all professors and organizers share this common goal. So common, I've started to think of it as a key component to my broader mission.
I keep this in mind when facing not so awesome interactions. During a public access television interview at the aforementioned college, a friendly student led with a question that began, "So, being from 'the hood'..." Those are her quotation marks, not mine, articulated in the air with her fingers. And yes, it went right where you think it did. Then, she sat back and waited for me to explain how I managed survive a post-apocalyptic wasteland, avoided getting hooked on crack, and somehow learned to read and write powerless behind the control room glass. For this student, my being a black guy from Detroit was like having a hobbit from the Shire in studio. I used it as an opportunity to talk about how poetry facilitates a dialogue where I can push back against such limited views and encourage people to open their eyes wider to the world.
This broadening of view is a two-way street. Looking back, I'm pretty sure my ability to keep it cool in that situation and make it a teachable moment is tied to an experience I had just a couple of hours earlier. During the reading I arrived at a poem called "The Movement of a Trapped Animal" which looks at the psychological effects of war on both soldiers and the supposedly unaffected populace that implicitly funds it. Before I started, I sized up the burly guy in the back sporting a shaved head and a sleeveless POW/MIA t-shirt. I took a deep breath and jumped into the piece, not sure how he would feel about it and by extension if he'd ask me to step outside for a "discussion." In the post-reading Q&A the vet raised his hand and, when called upon, offered what is still one of the most moving and encouraging compliments I've ever received after a reading. As a veteran with friends suffering from PTSD, as a man who felt many Americans ignore the weight of war, he thoroughly appreciated the poem and was visibly moved by it. My prejudices—the ones that almost kept me from reading the poem—were exploded in a way I aspire to do for others.
II.
For years now I've done my best to live and create under a simple doctrine: Generate the best work I can, make that work available, and be good to people. Recently, author Neil Gaiman gave similar advice in a commencement speech, telling graduates that freelancers keep getting work because their work is good, they turn it in on time, and people like them. He goes on to say you usually only need two of the three. This may be true for my ideology as well, but when all three gears are turning in the machine, you get someone like David Blair. Blair was a singer/songwriter and poet from Detroit who passed away two years ago. The world is far worse for it. In life, and now in memory, he served as an example of a creative individual who did extraordinary work, made that work available by participating in countless events, and radiated a generosity, openness, and love for people that touched everyone who came in contact with him even briefly.
In a conversation about the importance of reading poems aloud in community spaces and facilitating free workshops, Blair once told me his job and mine was to be an "inspiration machine." He believed the very best thing we could do as we traverse the country was to inspire new ideas, challenge old ones, and by virtue of showing up and laying our work on the line, encourage others to explore the raw, transformative power of the arts. Let's do our best to remember the changes we've seen literature make in our own lives as we bring words and workshops into the lives of others.
Photo: Jamaal May. Credit: Tarfia Faizullah.
Support for Readings/Workshops events in Detroit is provided by an endowment established with generous contribution from the Poets & Writers Board of Directors, and others. Additional support comes from the Friends of Poets & Writers.