In September P&W-supported poet Tim Toaster Henderson was the featured performer at Coast Slam in Fort Bragg, California. First-time slam judge Gene Lock blogs about the event (with a little help by series director Christina Perez).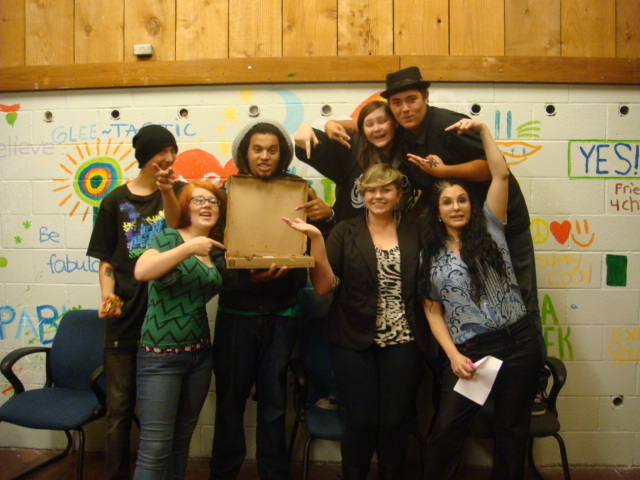 A poetry slam, we now know, has rules. Poems are orally presented, in front of a microphone. The poems must fit in a time slot of three minutes. Structure, rhyme, and meter are optional. Poets come to the front of the audience, one at a time, and deliver their work. Then the judges (there were five of us at the September slam) hold up cards ranging from one to ten, and fractions thereof. So, the poet might receive an 8.7 or a 9.3, a la Olympics. A time-/scorekeeper records the scores, discards the high and low, and averages the remainder.

In preparation for judging, my wife, Susan, and I learned that points are awarded for two components: 1) content—does the poem successfully use metaphor, alliteration, image, and tone? and 2) presentation—does the poet read the poem off paper (not so good), or deliver it from memory using voice, eye contact, and body language?

The roughly ten poets that night ranged from high school students to middle-aged folk. Some poems were funny, political, or whimsical. Some seemed highly personal—chronicling inner turmoil, thoughts of suicide, etc. These poems were especially moving. If nothing else, this contest gave the poets an appreciative, or at least open-minded, audience, and it let them communicate effectively, and get feedback in the form of applause.

The featured poet of the night was Tim Toaster Henderson. He is big, with a mess of huge hair constantly spilling from a grey knit hat. He spoke of being biracial and performed a poem about a man going back to 1968 and having a conversation with Martin Luther King Jr. Another poem was a satire about the unconscious racism of a classmate's mother. Hilarity turned biting, leaving us all to question how we too, might display our unwitting racism. When Tim switched topics, we learned about the short lives of insects and roared with laughter at their sex lives.

If I'd never gone, I wouldn't much think about how such an event benefited poets, especially those wrestling with demons past and present. Now I see that it takes quite a bit of nerve and public speaking ability to deliver these poems to strangers.

The moderator, a poet herself, kept the program upbeat, and moving along well. My wife Susan was so inspired that she wrote a poem about the slam:

Slam

A metal chair
unfolded, absorbing
cold from the night air.

A clipboard clutching woman,
a white blaze
adorning her black hair.

A confident couple
she white, he half,
his tallness topped
with twisted tendril hair
ease concealing the depths
they will soon share.

A freshman poet,
his proud family filling out a row.
A pink-haired poet,
bubbling with anger and woe.

A tortured young woman
pushing back.
A bitten camper,
repellent left out of her pack.

A writer
with language and humor
at her command.
A first-timer
with notebook trembling in hand.

Gutsy people
seeking community,
rebuffing society,
altering history,
exploring mystery,
resolving polarity,
evoking hilarity

Opening themselves
to us more timid.
Photo: Tim Toaster Henderson (with pizza box) at Coast Slam. Credit: Tony Greene.
Major support for Readings/Workshops in California is provided by The James Irvine Foundation. Additional support comes from the Friends of Poets & Writers.