We asked Emily Rubin, author of the debut novel, Stalina, to share her experience running the P&W-sponsored Dirty Laundry reading series.
In 2005, I cofounded Wash and Dry Productions to produce Dirty Laundry: Loads of Prose (DLLOP), the reading series that takes place in working Laundromats across the country. The idea to bring writers to local Laundromats came about one evening in a brainstorm session over a couple of beers with my friend and writer Gregory Rossi. We wanted to organize a series in a nontraditional setting where writers could share their work with their fans as well as people outside the literary community.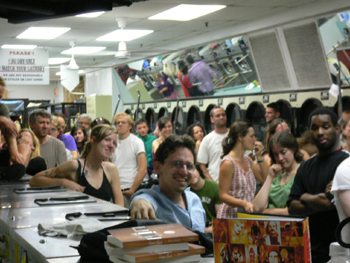 Sitting outside at Zum Schneider, a new German beer garden on Avenue C, on the Lower East Side of Manhattan, we looked down the avenue considering places we might hold the readings. There was a bodega, a church, a Chinese restaurant, and then, at East Fifth Street, the Ave C Laundromat. Our eyes opened wide and we knew we had our venue. At the time, the third annual HOWL! Festival was organizing and the producers invited us to participate. Sam Lipsyte and Legs McNeill read at the first Dirty Laundry: Loads of Prose to more than seventy people at the Avenue C Laundromat that August. The writers and audience were enthusiastic and wanted to know when and where the next Laundromat reading would take place.
Since then there have been more than thirty readings and close to one hundred writers have been presented in between the washers and dryers throughout the New York City metropolitan area. We have taken the show on the road and presented local writers in Laundromats in San Francisco; Boulder, Colorado; and Stockbridge, Massachusetts.
Poets & Writers' Readings/Workshops program funded a dozen readings in New York City from 2006 to the present. The Lower Manhattan Cultural Council and Meet the Composer have provided additional funding for the program. The series has been covered extensively in the press with articles in the Villager, Time Out NY, Brooklyn Rail, and several international journals as well. It has also aired on television on NBC, Reuters, and the NY Bureau of Russian TV, featuring radio interviews with writers and myself for National Public Radio and the BBC. 
Photo by Taka Kawasaki.
Support for Readings/Workshops in New York City is provided, in part, by public funds from the New York State Council on the Arts, and the New York City Department of Cultural Affairs, with additional support from the Louis & Anne Abrons Foundation, the Axe-Houghton Foundation, the A.K. Starr Charitable Trust, and the Friends of Poets & Writers.