Feliz Lucia Molina was born and raised to Filipino immigrants who ran crisis heterotopias (board-and-care facilities) in San Fernando Valley, California. She holds a BA from Naropa University, an MFA from Brown University, and will be joining the School of Social Service Administration at the University of Chicago this fall. A poetry editor at the Los Angeles Review of Books, her books include Undercastle (Magic Helicopter Press, 2013), The Wes Letters (Outpost19, 2014), and the forthcoming Thundercastle and Roulette. Her work has appeared in Jacket2, Open Space, Fence, PEN America, and elsewhere. She is based in Chicago and the Southern California desert.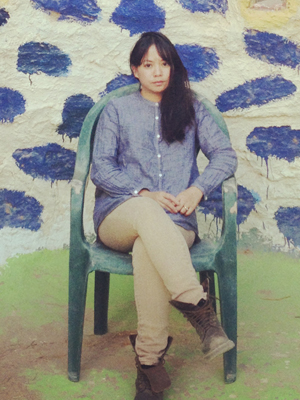 Desert Poetry was conceived and organized by me (Feliz Lucia Molina), Ben Segal, Joseph Mosconi, and Harmony Holiday. The idea for this event transpired at the beginning of nationwide marches and uprisings during the first one hundred days of the number forty-five administration. We sent out a call for the sole purpose of offering space for poets and writers to gather in the Southern California desert (Joshua Tree and Landers) to share concerns, thoughts, practices, and research on issues that are in direct response to the political present. The response to our call was overwhelming as it culminated into a series of twenty-four workshops, readings, and presentations during the weekend of April 7–9. People traveled from far distances including Chicago, Pittsburgh, Oakland, Santa Cruz, New York, Wisconsin, San Diego, and Los Angeles. It was an immediate collective and collaborative atmosphere as people volunteered to help with various tasks.
We created a private Facebook event page to share updates and information regarding the event. Noah Cicero, a writer based in Las Vegas, wrote on Facebook of the event: "Yesterday I went to Desert Poetry in Joshua Tree…. There were like forty poets in the desert, some came as far as upstate New York and Chicago, some with doctorates, some just getting their undergrad, but everyone was allowed to speak and be listened to on an equal footing. I have probably never seen a group with such a lack of hierarchy in my life." While there were closer to eighty people in attendance, it is true that the mood was indeed non-hierarchical; this was not a goal, but was something that arose in the moment as the urgency to gather and convene was realized.
Poets & Writers provided a number of workshop grants that made it possible to host Joy KMT, Lily Hoang, Cathy Linh Che, and Harmony Holiday who led marvelous and thought-provoking workshops on Black Quantum Futurism Poetics, radical self-care, embodied fairytale magic-making, and the possibilities collectivity within a present-future Black Arts Movement.
We are so grateful to the following presenters for leading us through a collective re-alignment in the great expanse of the Southern California desert.
Zack Haber with an exercise on playful relation with the body; Jeanine Webb with Guided Stargazing and Radical Cosmology; Trinie Dalton with Hi-Desert Wildflowers, Hummingbirds, Rainbows; Elisabeth Houston with BABY; Raquel Gutiérrez with improvisational dialogic dyads & The bordering nowhere of difficult terrains; Amanda Ackerman and Michelle Detorie with Feral Writing Practices: Writing across species boundaries and across the terrestrial terrain; Mg Roberts with The bits of life. Everything. Fluxes. Fevers. (Here.) A poem.; Lisa Fishman and Richard Meier with Teaching Against Commodification; Saehee Cho with Making Flatbread While Camping (absent at the last minute but there in spirit); Suzanna Zak with How to Sleep and Eat Outside; Emerson Whitney with Trans non-assimilationism and radical alterity; Vi Khi Nao with The Ethics of Deportation; Veggie Cloud (Kate Wolf and Courtney Stephens) with a film-screening of Robert Kramer's "MILESTONES;" Ben Segal with Open Discussion on Entering Local Politics; Avi Varma with Co-Work Space for Potential Dropouts; Danielle Pafunda and Reagan Wilson with Working Through Pain; Jennifer Scappettone with Boom, Strike, Bust-Reocuppy Mining, & Weighing the Cloud; ARMED RADII and Mayakov + sky Platform with Post-crisis Poetics: Writing the World System; Anthony McCann with Hike & Reading (to Samuelson Rocks); Melissa Mack with Sonic Meditations; and a distributed molecular guide to the Mojave exploring the poetics of scale as a tactics of resistance to dominant desert representations by Brett Zehner and Kylie King.
For more information about the full program of Desert Poetry, please visit: armsandhugs.tumblr.com. Another event in 2018 is in the planning stages to be announced soon.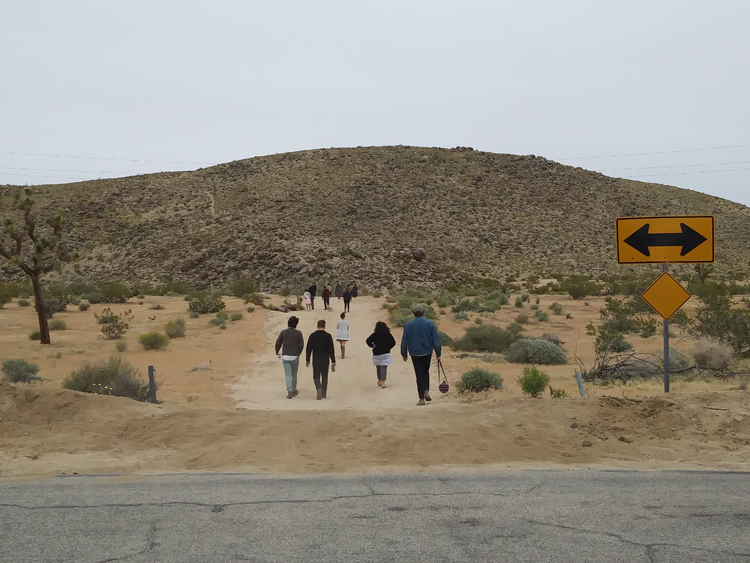 Major support for Readings & Workshops in California is provided by the James Irvine Foundation and the Hearst Foundations. Additional support comes from the Friends of Poets & Writers.
Photo: (top) Feliz Lucia Molina (Credit: Feliz Lucia Molina). Photo: (bottom) Desert Poetry event (Credit: Feliz Lucia Molina).