Cybele Knowles works as a program coordinator at the University of Arizona Poetry Center, where she coordinates the PW-funded Center's Reading and Lecture Series, Classes & Workshops program, and Closer Look Book Club. She holds an MFA in fiction from the University of Arizona and an MA in English from U.C. Berkeley. Her poetry and prose have appeared in the Destroyer, Spiral Orb, Diagram, Pindeldyboz, the Asian Pacific American Journal, Faucheuse, and the Prose Poem.
In my final post, I'll share some homage tattoos spied in and around the University of Arizona Poetry Center. These tattoos reference poets, writers, artists, and artworks that have a special significance to the wearer.
My interest in such tattoos originated when poet Philip Jenks came to Tucson in 2010 to appear in our Reading and Lecture Series, a program supported by the Poets & Writers Readings/Workshops program. I knew about Philip's fabulous tattoo of Emily Dickinson, and asked him if I could take a picture of it. He was gracious enough to allow me to capture his Emily in all her glory.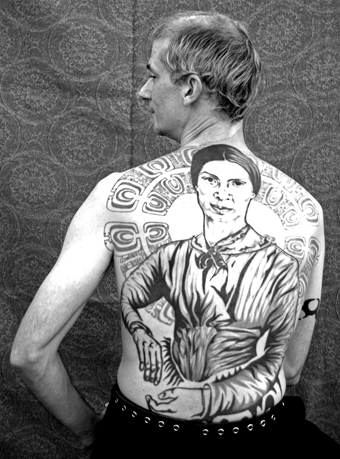 This is a powerful Emily Dickinson, with large hands and a tribal halo. Philip also chose to depict Emily as she might have looked in her later years (the only known photos of Emily are from when she was very young). As you can imagine, encountering Philip and his Emily sparked in me an interest in other tattoos that reference loved writers, artists, and artworks. It turns out that such tattoos are everywhere at the Poetry Center, on the bodies of our visitors, volunteers, colleagues, friends, and patrons. Here are just a few homage tattoos I've discovered at the Poetry Center. With each image is a statement from the wearer about the origin, history, or personal significance of the tattoo.
Zachary Schomburg: Poet, Editor, and Poetry Center Visiting Poet (October 2012).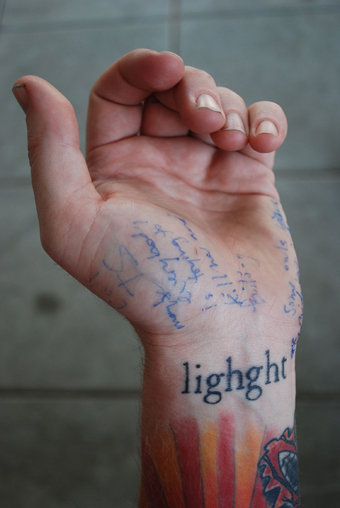 "Much of the history of this Aram Saroyan poem was spent at the center of political controversy over the value of public funding for the arts, but now it represents more of a marker of that successful resistance. This tattoo then embodies not only my commitment to poetry, this unbound experiment of language that the poem itself embodies, but also its defense. Plus, it is an entire poem I can fit on my wrist. I'm sure I'm one of many with this poem on my body, but I wear it also in unison with two of my good friends, Mathias Svalina and Joshua Marie Wilkinson. We share a Frank Stanford line too. I'm developing this compulsion of wanting to be completely covered with language and images. Tattoos and pens. I like writing on myself. When I write on myself with a pen, it quickly disappears. Without this particular photo, I wouldn't have ever remembered writing that scribble on my hand. I think it says, 'Maybe everybody is trying to kill me and failing.' I don't know if I ever called TS. Who is TS? Some owls? My fingernails are dirty."
Kate Bernheimer: Writer, Editor, and Poetry Center Colleague/Teacher/Friend.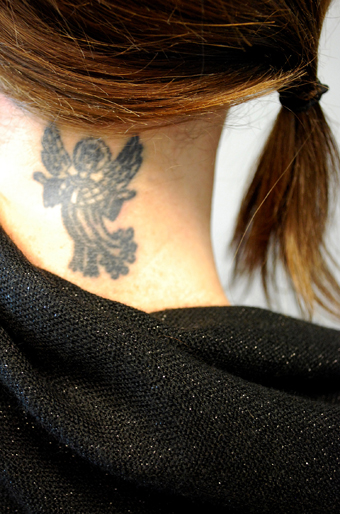 "I used to live in Portland, Oregon, and every winter I would come spend around a month in the Tucson Mountains, out near the Arizona-Sonora Desert Museum, at my friend Lydia Millet's place. I had to get out of the rain and I revere the high desert. Lydia had renovated what was basically a trailer into a compound of sorts and had space for a guest among the many creatures and incredible botany there. We would work from sunrise to sunset—we would write for more than eight hours, it was serious bliss—and then we would have drinks in her kitchen with the lights out and watch javelinas feast on a quail block. As we wrote, I could hear Lydia chortling at her computer at the other end of the house. Her laughter carried me through the end of my first two novels. In 2000, the year she wrote My Happy Life (and chortled through it, which is hilarious because it's a terribly heartbreaking book), I completed The Complete Tales of Ketzia Gold. The day I finished the novel, we drove over Gate's Pass into downtown Tucson and I got my tattoo on Fourth Avenue after having a vodka and soda at Plush, though I'm not sure if it was called Plush at the time. I think so. I had just the one drink, I wasn't drunk. I had planned on getting a tattoo of the word 'Mom' written inside a winged heart, to match Lydia's, but at the last minute I decided on the angel with chicken feet. The tattoo is a version of an illustration by Alexander Alexeieff that appears on the title page of Russian Fairy Tales, collected by Aleksandr Afanasev and translated by Norbert Guterman. She also appears in The Complete Tales of Ketzia Gold—a description of her, not a picture. Portions of the novel are based on the tales in that book, and I had the book with me when we left Lydia's spread in the desert and went into town. I pretty much took it everywhere I went, at the time, along with a collection of Brothers Grimm tales. Both have now completely fallen apart."
TC Tolbert: Poet, Assistant Director of Casa Libre en la Solana, and Poetry Center Friend.
"I got this tattoo of Marcel Duchamp's Fountain just as I was beginning my gender transition from female to something less visibly female (also often called male but, unlike many trans folks, I don't identify as male, I identify as trans—anyway). At the time I was in grad school for poetry, reading Poems for the Millennium, and it was Mallarmé, then Dada, that gave me a poetic lens for my body. And, in turn, my (trans and genderqueer) body gave me a physical/spatial lens for my poetic work. It is not an exaggeration to say that I transitioned partly because the avant-gardes (plural, as Richard Kostelanetz points out) gave me permission to interrupt the narrative, the confidence to experiment with form. Trans and queer coming-out stories are important to me, but even more encouraging, and less prescriptive, has been the work of Gertrude Stein, Stéphane Mallarmé, Marcel Duchamp, Trisha Brown, Shen Wei, and C.D. Wright. Fountain embodies Cage's dictum: It's lighter than you think. I needed that. I still do. To remember that my body (my bodies) is (are) a readymade—that I actually have very little idea of the different things it is, it can become, it can do. It's also fascinating to see how different people read the piece. Among the many guesses: an athletic cup (jock strap), a regular old urinal, a hunk of roast beef, a steak. Judith Butler says that one 'exists' not only by virtue of being recognized, but, in a prior sense, by being recognizable. So too for the trans body, the experimental poem."
Cameron Louie: Poet and Poetry Center Advisory Board Member.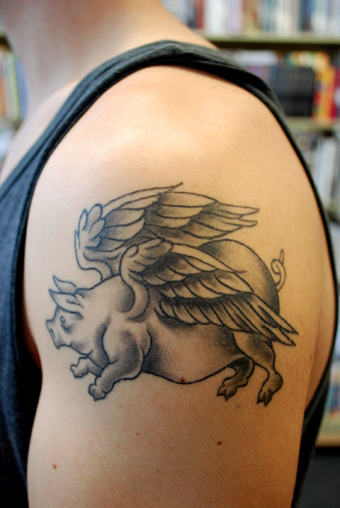 "Ad astra per alas porci: 'to the stars on the wings of a pig.' The Pigasus is, in a sense, John Steinbeck's truest signature. It symbolized him, and I think it symbolizes all of us who try at writing, as 'lumbering souls but trying to fly.' It is an impossible thing, and imaginary. Most importantly, while riding the Pigasus, one gains the gift of poesy..."
Adam Kullberg: Nonfiction Writer and Poetry Center Volunteer.
"I didn't read Ray Bradbury's The Martian Chronicles, on which this tattoo was based, until I was in my early 20s. But when I did I found myself fascinated with his use of the Martian landscape—a place I viewed as foreign, lifeless—to convey the beauty, as well as the ugliness, of the world in which I lived. I meant for this tattoo, through its watercolor style and surreal landscape, to convey one of the strengths I find in all of Bradbury's short stories and novels: that he speaks to both the artist and the child, the ordinary and the fantastic, the real and the magical, that are tethered to each of us."
Mike Powell: Fiction Writer and Poetry Center Volunteer.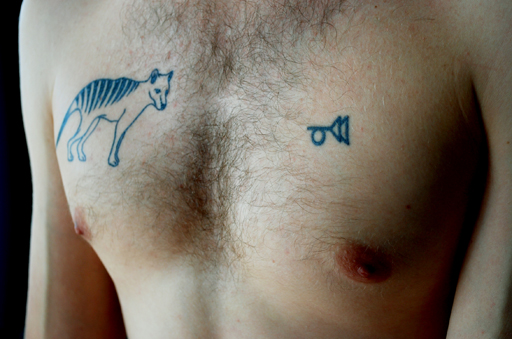 "This tattoo is of a muted post horn, the symbol of an underground mail-delivery service in Thomas Pynchon's The Crying of Lot 49. I got it when I was 19 or 20 in a strip mall next to a sushi restaurant near the edge of Charlottesville, Virginia. I imagine that some people get tattoos of images they think are singular or uniquely expressive. Part of the reason for getting this tattoo is precisely that I knew other people who already had it: friends of friends of friends, cousins of friends of friends, strangers I'd met at parties. It wasn't a mark of separation, but of connection. Plus, while I'm not particularly attached to physical mail or mail delivery, I liked the idea that the symbol belonged to an underground mail-delivery service, which seemed like an elegant metaphor for both the romantic appeal of subculture but also the superfluity of it. (The USPS has always served me just fine.) Twice or so a year, I meet people with the same tattoo. I'd be lying if I said it brought me closer to them, necessarily. Not all groups are predicated on spiritual kinship. For these people I reserve a quiet smile, and take heart in the idea that we know something, however irrelevant, that other people don't. (My other tattoo is of the now-extinct Tasmanian tiger.)"
Laura Miller: Fiction Writer and Poetry Center Volunteer.
"When I was feeling as if I'd never be a legitimate writer, a Steinbeck or a Chekhov, science fiction showed me the writer's imagination cracked open on the page and gave me a way forward. This tattoo is from the first science fiction film, Le Voyage dans la Lune, and I love the harshness of the film: the un-romanticized depiction of space, the moon-image characterizing man's capacity for destruction. I worked closely with the tattoo artist to retain that gruesome quality. The moon paradox, a symbol of darkness, of mother, of spiritual guidance, is something I think about a great deal in my fiction. Moons have—since childhood—haunted me."

Thanks to Philip, Zach, Kate, TC, Cameron, Adam, Mike, and Laura for sharing their homage tattoos, some of their favorite authors and artists, and their stories with me!
Photo Credit: Cybele Knowles.
Support for Readings/Workshops events in Tucson is provided by an endowment established with generous contributions from the Poets & Writers Board of Directors and others. Additional support comes from the Friends of Poets & Writers.