Jennifer Karmin's multidisciplinary projects have been presented at festivals, artist-run spaces, and on city streets across the United States, Japan, Kenya, and Europe. A founding curator of the Red Rover Series, she is the author of the text-sound epic Aaaaaaaaaaalice (Flim Forum Press, 2010) and her poetry was recently published in I'll Drown My Book: Conceptual Writing by Women (Les Figues Press, 2012). Jennifer teaches in the Creative Writing program at Columbia College Chicago and at Truman College, where she works with immigrants as a community educator. She will be a guest faculty member at Naropa University in the summer of 2013.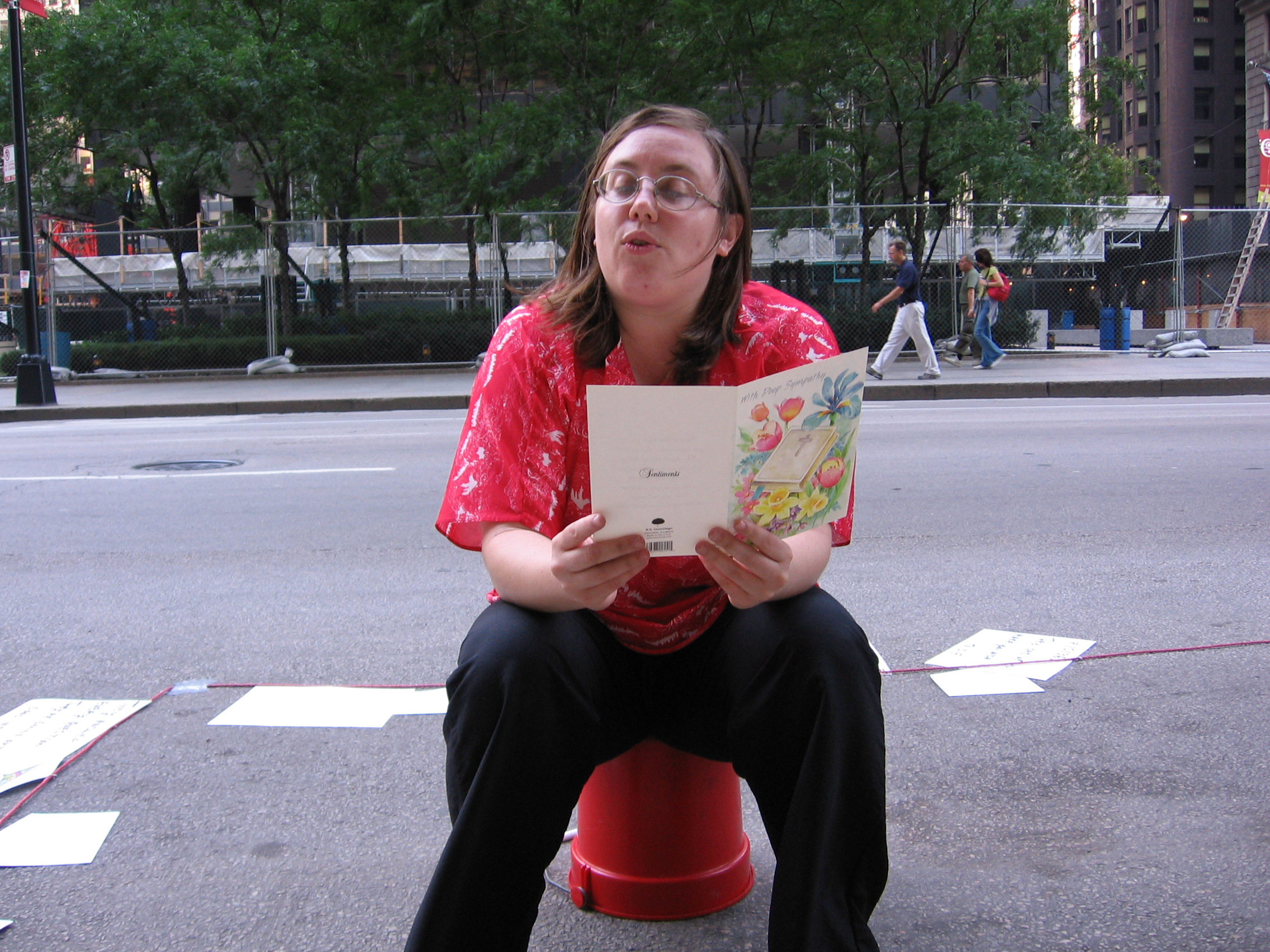 With fellow poet Laura Goldstein, I curate the Red Rover Series (readings that play with reading). Founded in 2005, each Chicago event is designed as a reading experiment with participation by local, national, and international writers, artists, and performers. To date, we have hosted over sixty events featuring a diversity of renowned creative minds. The Readings/Workshops program at Poets & Writers has helped support many of our programs in the past few years.
Here are Laura and I in dialogue about our curation:
Karmin: From the beginning with co-founder Amina Cain and our subsequent curator Lisa Janssen, Red Rover has tried to create an environment where anything can happen and often does. Our audience never exactly knows what they're walking into. We're interested in an interdisciplinary approach to events. This often includes nonliterary genres, audience participation, exploring a theme, and playing with seating in the space.
Goldstein: I really think that our series looks at all the elements of a typical series and tries to experiment with them in order to engage an audience with being as aware as possible about what they are experiencing. How are the words presented? How do I relate to the other readers tonight? How can I incorporate the space? How can I incorporate the audience? I think that these elements are taken for granted at a lot of readings.
Karmin: We see the curator as a facilitator of group experience for the writers, artists, and audience members. This is one way we're trying to challenge the usual hierarchies that often play out in the literary and art world. Our main mode of operation is collaboration.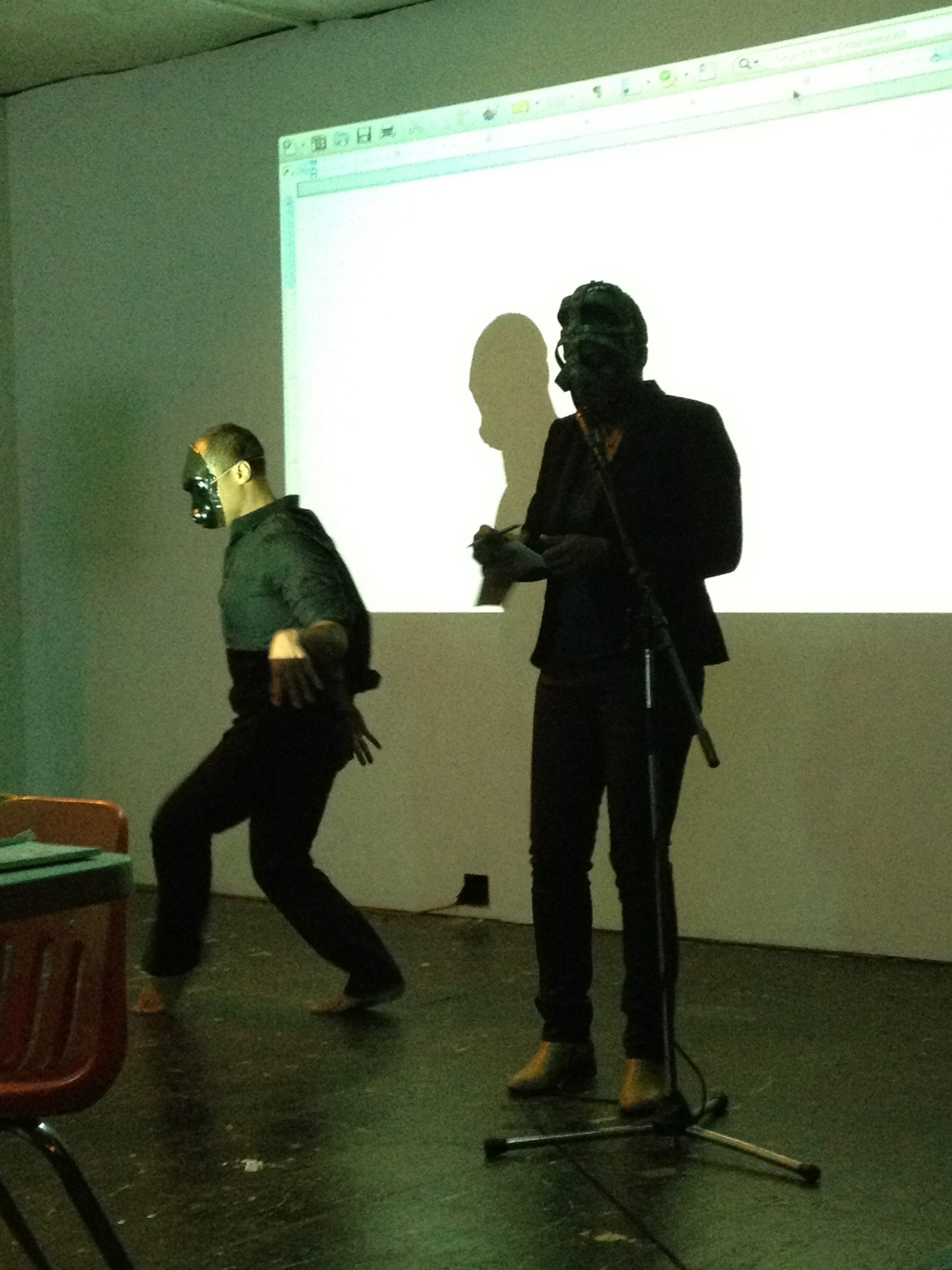 Goldstein: Sometimes people send us proposals as a group, and those are usually a pre-packaged deal. Those writers have been in contact so they come up with a title based on their proposed experiment. If we get individual proposals, we connect the performers and ask them to communicate a bit about what connects their ideas.
Karmin: To experiment is to try something new. To move out of your comfort zone. It's a kind of creative freedom where there's no success or failure.
Goldstein: We call them experiments because whoever is producing the poetry is asked to experiment with the ideas surrounding the work and turn that into a mode of presentation. We also like to call them experiments because there is less pressure on the participants to have something "perfect" or "complete"...it's just something that we are encouraging writers to try out in the community.
As part of the 2013 IN>TIME Festival, Red Rover Series brought the writers of Black Took Collective to Chicago for three February events. Co-Founded in 1999 by Duriel E. Harris, Dawn Lundy Martin, and Ronaldo V. Wilson at Cave Canem, a retreat for African American poets, Black Took Collective is a group of Black posttheorists who perform and write in hybrid experimental forms, embracing radical poetics and cutting-edge critical theory about race, gender, and sexuality. We happily received support from Poets & Writers, Creative Writing at the University of Chicago, Arts + Public Life at the University of Chicago, the Creative Writing Programs at Columbia College Chicago, and the Writing Program at the School of the Art Institute of Chicago.
Thoughts on Black Took Collective's recent Chicago visit: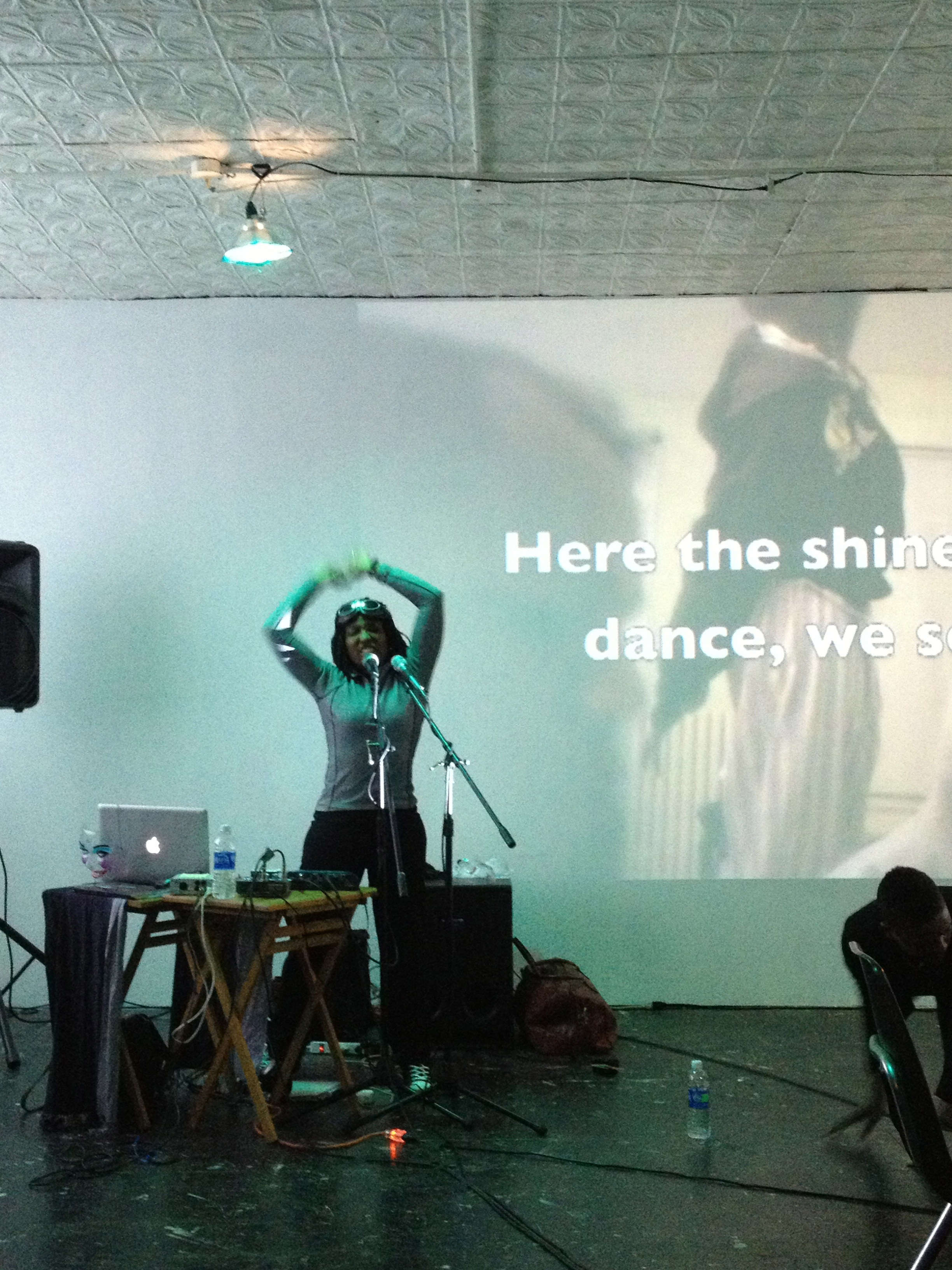 J'Sun Howard, writer and dance artist: Two Macbooks with blank documents open for the audience to read periodic automatic writing from the collective, as the piece went along, spread across opposite walls from each other. The third wall facing the audience housed another projection that was a small phantasmagoric video of smiling faces behind a clear makeup-ed mask, Wilson dancing while Lundy read, and more text in bold white letters contrasted eerily with the sleekness, absoluteness, and unfussiness of the other automatic writing projections. In the center of the floor, a table held all the equipment and was flooded with microphones, water bottles, more text, poetry books, props of a gun, and a black mask.
Kenyatta Rogers, poet and teacher: At the Black Took events, I found myself engaged in an experience that combined multiple voices and mediums to give me a different vision of myself as a Black man and in some senses a 'thing' to be feared or misunderstood.
Jen Besemer, poet and artist: Dear Plurality of One/s, To say yes and. I can't put any of my questions into words, can only nod my kangol head as the talk happens. I am obsessed with that gun, like 'is that thing loaded, little caps, what?' I want to move, too. The words I can't say in the audience I could say onstage. Now why is that? I thank you.
Laura Goldstein:
our bond as an audience in the blue light, paper is hung, within
letters skip, turn into that knot ronaldo was taking about. what fits
in frame. duriel's fairy tale: feel skin, found doubt, in you. each for
each. and dawn the tone and tongue. gently peel back the sack, give heart attack.
At the end of Black Took Collective's evening of performance, I lead a short tribute to poet, performer, and activist Jayne Cortez, who died on December 28, 2012. Calling for five volunteers from the audience, we presented a choral reading of the Cortez poem "Find Your Own Voice". One by one, I tapped the readers on their shoulders and asked each to start reading. Listening to the voices spontaneously weave together, I was reminded that curating is often a form of making a live collage and witnessing the ways creative community gets formed.
Photo: (from top) Jennifer Karmin. Credit: Amina Cain. Ronald V. Wilson, Dawn Lundy Martin. Credit: Laura Goldstein. Duriel E. Harris. Credit: Laura Goldstein.
Support for Readings/Workshops events in Chicago is provided by an endowment established with generous contributions from the Poets & Writers Board of Directors and others. Additional support comes from the Friends of Poets & Writers.